"Many think it's a life of riches and freedom. In fact it's a life of stress and strife."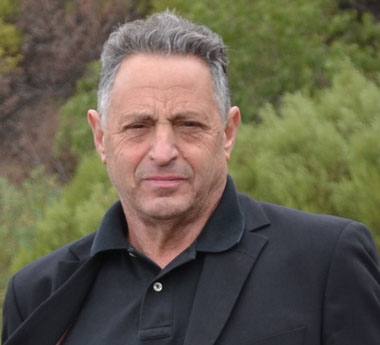 That is Salvatore Polisi's response when asked why people today are so fascinated with the mob. And, Polisi (right) should know. He spent 15 years as a known associate of the Columbo and Gambino crime families -- then called by the nickname "Sally Ubatz" ("Crazy Sal") -- and beginning this Sunday night, along with others who were involved, Polisi talks about his experiences in an absorbing six-part National Geographic Channel series called The American Mob.
Looking back, Polisi says, "I didn't know I was going to become part of history. That Life just does not exist the way we knew it in the 70's. I was there and because you're there, you have writers, investigative reporters, actors coming to you and asking about it for their projects. I was just a lucky guy to witness all this and to survive. "
When he talks about those days, the rush got from the action seems to still be with him. Polisi speaks very quickly and eloquently, drawing the listener into his stories with vivid adjectives and on-target descriptions.
Ultimately, Polisi became a government witness. He served time in the federal prison in Lewisburg, PA. There he enjoyed listening to the stories Louis "GiGi" Inglese -- on whom the character of JoJo the Whale in A Bronx Tale is based -- and he played chess and pinochle with Philadelphia mobsters Harry Riccobene and Phil Testa. "GiGi had a captivating Harlem accent," Polisi recalls, " and he loved to tell his stories."
Also in prison in 1974, Polisi says, "Riccobene and Testa knew that Atlantic City was going to have gambling. The mob paid off the people they had to. There was a little tiny casino in the Bahamas called Resorts International. The stock was on sale for about one dollar. They told me Resorts was going to open in Atlantic City and I should buy stock. It was cheap, they said, about one dollar a share.
"I got out before they did. I watched Resorts. The stock was two or three dollars. I didn't buy any. I believed in making money, not spending it."
He knew John Gotti from the first dealings the latter had with the mob and says of him, "Gotti had this old-fashioned thing about not dealing drugs. He kept his core of principles and honor. Other guys sold out those principles and their honor for money."
Among the reasons he left the Life was, he says, "There was a time when killing was only done for honor. Even my first boss and mentor Dominic Cataldo started killing people for money and he was old school. They didn't do that in the 40s and 50s. That's when I knew the honor was out the door."
Polisi is a is a natural storyteller, noting that the craving for action that got him into -- and kept him in -- the mob has changed to a craving for the spotlight.
Today, he looks back and says he didn't fear for his life. "The people I worked with were not exactly 100 watt bulbs Most of the time I thought I could outsmart them. So, I didn't feel threatened. I followed the rules."
And he did get to meet interesting people and be there when interesting events took place.
"In 1974 I was driving my lawyer, Michael Coiro around. We quietly, secretly, picked up John Gotti and drove to Roy Cohn's townhouse on the Upper East Side of New York City. The place was full of framed photos of Cohn with J. Edgar Hoover -- informal photos in frames. It was that day that John Gotti's case was fixed by Cohn.
"I was there when, as we left, Cohn kissed Gotti on the cheek. Gotti pointed his finger and said to me 'Ubatz, don't ever tell anybody that fag kissed me on the cheek.' He was cold. I never said a word."
Out of the witness protection program Polisi was the subject of a New York Magazine article by Nick Taylor. It was later a book called Sins of the Father: The True Story of a Family Running from the Mob. Last July, Polisi's book, The Sinatra Club: My Life Inside the New York Mafia, written with Steve Dougherty, was published. It followed a 2010 biopic called Sinatra Club and a 2011 documentary, Ubatz, about Polisi's life in the mob.
Today, Sal Polisi lives in California and is frequently called upon to speak of his experiences. He is proud of his family. His children are educated and lead lives quite unlike that of their father.
Meanwhile, leading a law-abiding life, at least one of Sal Polisi's habits from back in the day is still with him. For example, the club in Queens he ran for his cohorts was called -- as it was in the book and movie titles -- called "The Sinatra Club.
"That name came about because we had a jukebox at the club that played Sinatra. At first, the club had no name. Then, one day, one of the guys was on the phone with his mother, "Polisi recalls." She heard the music and asked him where he was. He replied, 'at the Sinatra Club.'"
As he did then, he still listens to a lot of Sinatra. Favorites are New York New York and My Way.
He's been called upon most recently to talk about Whitey Bulger, the Boston mobster captured last year and now on trial. In an interview in The Boston Herald, he said his advice to Bulger would be, "Get a life, pal. Apologize. And I mean that in a sincere way. You're not going to beat anything."
Here, in a radio interview earlier this year, Polisi talks about Whitey Bulger. (Note: The "Russo" to whom he refers is the FBI agent who flipped him to become a government witness.)
He says, "I think the public will soon have enough of this trial and of the mob. Whitey tried to do damage control by saying he never killed women. But, he murdered two women named Deborah. After he did these murders he said he was exhausted.That shows that murderers actually get high on killing. He's not a hero, he's demonic."
Polisi is now, as of this writing, traveling with Michael Franzese -- a former mobster who's now a motivational speaker -- to promote the National Geographic series.
"In the end," Polisi says, "everyone loses: the government, Whitey...There's no win in crime. It took me too long to figure it out."
Photos: Courtesy of Salvatore Polisi