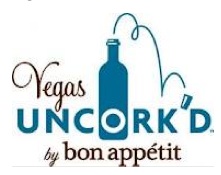 The sixth Vegas Uncork'd by Bon Appétit festival of food and wine in Las Vegas was a huge success, bringing the city's -- and the world's -- top chefs together with food lovers from several countries to taste fabulous food in a city that is becoming -- if it isn't already -- the brightest dining spot in the nation and a very bright spot in the whole world.
(Vegas Uncork'd, by the way, is written with that apostrophe between the "k" and the "d" to represent the wine cork in the logo.)
Back in February, 308 chefs and sommeliers kicked off the event with a Guinness record-breaking uncorking of 308 bottles of wine simultaneously. The actual event began with Wolfgang Puck uncorking a bottle of Mionetto prosecco to celebrate the opening of the Vegas Uncork'd and the 20th anniversary of his first Las Vegas restaurant. It was followed by a lunch at Spago hosted by Puck and Bon Appétit editor Adam Rapoport.
Four Master Series dinners hosted in their restaurants at Caesars Palace by Guy Savoy (who also hosted a Mothers Day brunch), Michel Richard, Françcois Payard, Bobby Flay and Rao's highlighted the first day of the festival. A new event this year, Follow That Food Truck mixed it up with local trucks and celebrity chefs allowing attendees to sample their fare at the Bellagio's Hidden Driveway.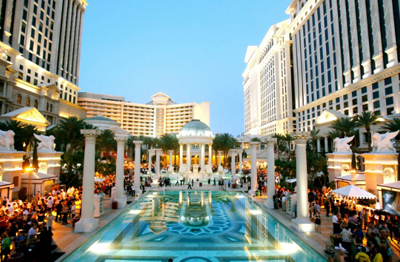 The highlight of Day 2 was the Grand Tasting at the Garden of the Gods pool at Caesars Palace (left). A record-breaking 2,500 people dined on a wide range of food prepared by more than 50 award-winning chefs. The red carpet gave Todd English, Francois Payard, Nobu Matsuhisa, Charlie Palmer, Bradley Ogden, Rick Moonen, José Andrés, Guy Savoy and Scott Conant an opportunity to enter the event in true celebrity style.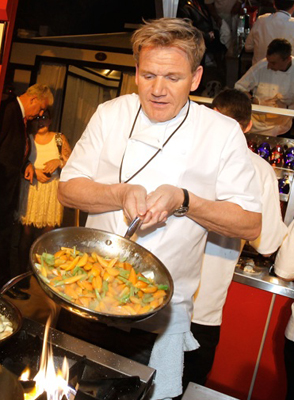 New to Las Vegas -- his eponymous restaurant opened that very day -- Gordon Ramsay (right) did the red carpet and then, like the other chefs, mingled with the guests. He even took the time -- after a woman asked him to autograph a napkin to send to her grandson who "wants to be Gordon Ramsay when I grow up" -- to get a menu from his new steakhouse to autograph instead of the napkin. His Beef Wellington samples proved to be among the most popular there.
There was also wine for every taste available so guests would likely find their favorite or, perhaps, even find a new favorite.
Although the Grand Tasting went on into the wee hours, there was even a late-night poker tournament at the Cosmopolitan Hotel and Casino's Boulevard Pool. Among those who played were Jean-Georges Vongerichten, Akira Back Francois Payard, Frank Pellegrino Sr. and Jr., Bradley Ogden, Jose Andrés, ScottConant, Stephen Hopcraft, Mary Sue Miliken, Susan Feniger and Rick Moonen. The player buy-in was $200. A 1st prize of $2,500, 2nd prize of $1,500 and 3rd prize of $1,000 were donated to Communities in Schools, Vegas Roots, a downtown community garden, and Opportunity Village, a Las Vegas program for developmentally disabled people.
The third day offered more small gatherings and demonstrations. Among these was Jean-Georges Vongerichten and his wife, Marja, host of PBS' Kimchi Chronicles, who talked about "Chronicles of A Couple That Cooks Together." Alain Ducasse talked about what makes a good party and Costas Spilladis taught attendees how to find the highest quality fish.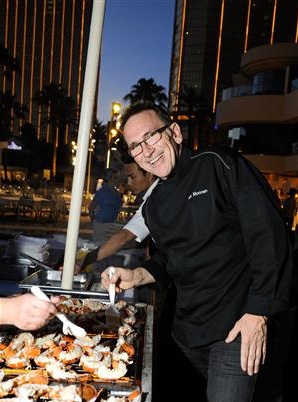 The evening offered an event extremely rare -- if not singular -- in Las Vegas. That was a Surfside Beach Clambake on the (imported) sand at Mandalay Bay Beach with traditional clambake food and the opportunity to walk barefoot in the sand. The big hits there were Rick Moonen's lobster (Moonen serving, right) and the corn on the cob served by Mary Sue Milliken and Susan Feniger. The cocktail offerings by Bombay Sapphire helped the cool "beach" breeze to its work. And, oddly, OPI nail polish was there providing fingernail touchups.
Alain Ducasse's Mix at TheHotel at Mandalay Bay, which boasts the best view to be found of the Las Vegas Strip, was the scene for an after-hours party following the clambake and on Mother's Day, guests could attend a brunch at Guy Savoy's restaurant, have steak and eggs with Charlie Palmer's Aureole or partake in an Italian brunch with the Pellegrinos at Rao's.
Judging solely from the numbers, the sixth Vegas Uncork'd was a success. That point, however, is really made by talking to those who attended. Las Vegans, like me, are very proud of the restaurants in our city, fully aware that it is a magnet for the world's best chefs. But, apparently, we're not the only ones who feel that way.
Maggie, who came with a friend from Minneapolis specifically for Vegas Uncork'd, said, "You know, we read about these chefs and their restaurants. But this is the only place I know of where I can taste their food and talk to them. It's wonderful."
Rick, in town on business from California, said, "I've been to a lot of these festivals and I've never seen anything like this. I am already planning to come back next year."
And, Sarah Riles from Canada said, "I enjoy food, and I happened to be here last year on vacation during Vegas Uncork'd. The bit I experienced propelled me to come this year to experience more. I am not a foodie or a gourmet. I just like to eat well and this is the place to do it."
For a "taste" of Vegas Uncork'd, check out this video:
Photos: Isaac Brekken & David Becker, Bon Appétit. Used with permission.