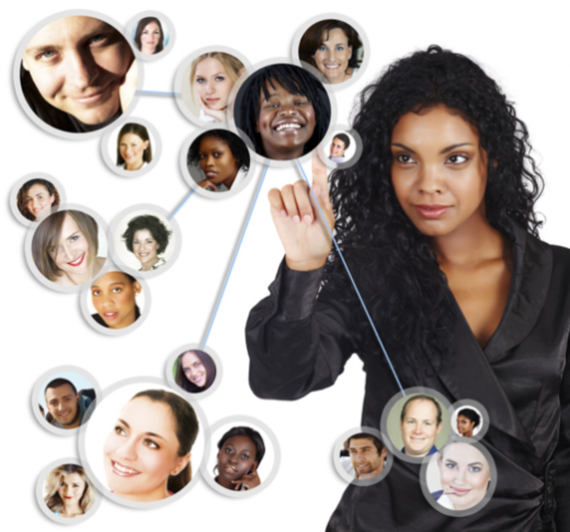 By Susan Dench, Founder and President of The Connectworks Academy
It pays to have friends in more than just high places.
A recent study by Lynn Wu, an assistant professor the University of Pennsylvania's Wharton School, suggests that employees who engage in chit-chat with their colleagues are significantly more likely to hold onto their jobs during a layoff. They may not be the celebrated rainmakers bringing additional revenue in to the firm, but there seems to be an intangible value assigned to them by their bosses.
What's going on here?
We've always known that the workplace isn't a meritocracy. Now Dr. Wu has demonstrated that small talk really can turn into big business.
More and more managers are recognizing that, especially in a world of hyper-connection and social media, workers who have connections across the workplace can really benefit the company. They may know the right person to contact to solve a particular problem, help collect and spread information, come up with new products or even get their co-workers on board with organizational changes.
No wonder leaders want to capitalize on the connectworking (kicking networking up into high gear to make personal connections) ability of their employees.
Yet according to a Harvard Business Review research report, an astounding 77 percent of the women surveyed believe that hard work and long hours, not connections (which they view with disdain as too sales-y), self-promotion or politicking will secure their advancement.
Everyone in every company is -- or should be -- in the business of selling: not just products and services but their organization's brand and culture and themselves and their abilities as well.
"Networking" might be considered a dirty word around the office -- a little too aggressive, making people uncomfortable. But whether it's labeled teamwork, relationship building, or collaboration, it's still connectworking. And to that end, many organizations offer mentoring programs, women's (or other special interest) connectworking groups and other opportunities for people to work together out of their usual work group.
Assess what skills you have that can be used in other areas of the organization and how you can showcase them to make others aware of your abilities. Demonstrate that you are able to astutely identify problems and can solve them.
Think about how well you are connected inside your organization. Consider how many people you know at different levels of the company, how many of them know your name, and how plugged in you are to the company grapevine.Also think about your reputation. Do people like you? Are you able to motivate and inspire diverse teams?
Do you have (or make) any opportunities to participate in cross-functional or interdepartmental projects? Are you known as a problem solver? If you see issues or evolving priorities do you suggest solutions to influential people and/or take responsibility for implementing those suggestions? Do you make time to see people just to say hello and find out what they're working on?
Your skills and experience are important in progressing at work, but landing a big promotion is really more about how you are moving the company forward. Consider how what you are doing is helping meet organizational goals, rather than individual objectives.
Look for and ask for additional opportunities and responsibilities. You want to make yourself indispensable, the go-to person (Trusted Advisor) for your area of expertise.
Some companies are much better at internal connectworking than others. Ask if your company offers workshops on connectworking, if employees are encouraged to belong to and participate in leadership roles in professional and community organizations and conferences and if you can, or are expected to, collaborate with people across department lines.
Are connectworking activities part of your annual performance plan? Are your connectworking efforts recognized and rewarded? If not, they should be.
While you're building your internal connectwork, it's critical not to overlook developing a connectwork outside the company. The higher you progress in a company, the greater the stresses and the fewer places to release pressure. Many top executives feel that they must always look strong and confident for the people both below and above them. It can, indeed, be lonely at the top.
Having an external connectwork of peers gives each of them someone with whom to commiserate and use as a sounding board because they have a unique and shared understanding of the issues. But you have to have that connectwork built out before you need it.
Womenhave natural skills as communicators, collaborators and connectors. We should be using those abilities to meet whatever goals we set for ourselves.
Susan Dench is the founder and president of The Connectworks Academy, a training, development and advisory firm which uses her trademarked system to help organizations who want to accelerate the advancement of a diversified workforce engage employees through communication and personal connections. She is also the author of "Connectworking: The Savvy Woman's Guide To Turning Small Talk Into Big Business." She can be reached at sdench@theconnectworks.com or @SusanDench.