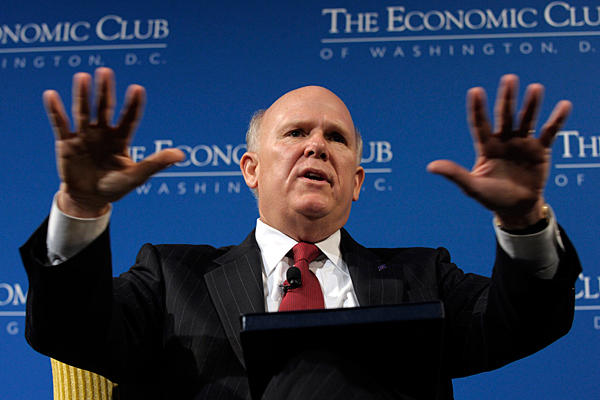 General Motors CEO Daniel Akerson recently ended his company's longtime financial support for the Heartland Institute, a leading climate change denier organization. Then why is GM still a member of the American Legislative Exchange Council? (Susan Walsh/AP)
The relatively unknown American Legislative Exchange Council (ALEC) got a black eye recently when news stories revealed it was a prime mover behind "Stand Your Ground" laws in Florida and 24 other states that temporarily shielded the man who shot 17-year-old Trayvon Martin.
But the secretive group's influence in statehouses goes a lot further than deadly force, self-defense laws. Since its founding in 1973, ALEC has ghostwritten state legislation across the country on a wide range of issues, from voter ID laws to prison policy to worker protections, as a number of press accounts have pointed out.
What has gone unmentioned, however, is ALEC's longtime stealth campaign to scuttle state--and federal--climate change initiatives, despite the fact that a number of its corporate members publicly acknowledge that global warming is a serious problem. They include General Motors; oil giants BP America, Chevron, ExxonMobil and Shell Oil; and electric utilities Duke Energy, Entergy and Progress Energy.
By ALEC's own count, it has nearly 2,000 state legislator members who pay a token fee of $100 for two years. Most of its money comes from corporate and foundation grants, and the approximately 110 corporations, 40 trade associations, 67 nonprofits and 23 corporate law firms that pay annual membership dues of $7,000, $12,000 or $25,000. That fee not only gives corporations direct access to ALEC legislators, it gives them the opportunity to craft model bills that serve as templates for state legislatures without any public awareness of their role.
"ALEC provides the private sector with an unparalleled opportunity to have its voice heard, and its perspective appreciated, by the legislative members," an ALEC brochure explains. ALEC legislators then do the rest. According to ALEC, they have on average introduced more than a thousand bills based on the group's corporate-approved model legislation every legislative cycle, and the organization claims that about 17 percent of those bills have been enacted.
Until last year, not much was known about ALEC. But thanks to a whistleblower who provided internal ALEC documents to the Center for Media and Democracy, a nonprofit public interest group, we now have a list of former and current ALEC members and copies of more than 800 model bills that have been introduced in statehouses across the country. The center, which publishes the PRWatch and SourceWatch websites, posted the documents on a website it named ALEC Exposed.
ALEC Exposed lists nearly 100 model energy and environmental bills that ALEC legislators have introduced over the last decade or so. They include legislation undermining regional initiatives to combat climate change, opposing a national standard requiring utilities to increase their use of renewable energy, and blocking federal standards for vehicle carbon pollution.
After a cap-and-trade bill to reduce carbon emissions failed in the U.S. Senate in 2010, for example, ALEC, industry groups and their allies trained their sights on comparable state efforts, specifically the regional market-based, cap-and-trade systems in the Northeast, Midwest and West that collectively included 32 states. In a March 2011 story in Grist, Dave Anderson--who now works at the Union of Concerned Scientists--reported that ALEC legislators in at least seven states--Michigan, Montana, New Hampshire, New Jersey, New Mexico, Oregon and Washington--introduced an ALEC resolution urging their governors to pull out of their regional compact.
That model resolution has been quite successful. Last year, Arizona, Montana, New Mexico, Oregon, Utah and Washington quit the Western Climate Initiative, leaving only California and four Canadian provinces. Gov. Chris Christie announced New Jersey was dropping out of the 10-member Northeast Regional Greenhouse Gas Initiative (RGGI), although he has yet to issue a rulemaking to make it official. And the New Hampshire Senate fell one vote short of overriding Gov. John Lynch's veto of a bill that would have ended the Granite State's involvement in RGGI. Meanwhile, the Midwestern Greenhouse Gas Reduction Accord--a collaboration of six states and one Canadian province--fell apart on its own when the governors who signed it left office.
In February, press reports revealed that one of ALEC's nonprofit group members, the Heartland Institute, was developing a K-12 curriculum guide that falsely characterized climate science as controversial and uncertain. It turns out ALEC beat Heartland to the punch a long time ago. In 2000, ALEC issued a model state bill with the Orwellian title "The Environmental Literacy Improvement Act," which would enable public primary and secondary schools to teach climate change denial, or "skepticism," as a valid scientific position.
Steve Horn, who writes for DeSmogBlog, a Canadian nonprofit that monitors climate disinformation campaigns, has been tracking the "environmental literacy" bill. In January, he reported that since 2008, ALEC-affiliated legislators have introduced it in Kentucky, Louisiana, New Mexico, Oklahoma, South Dakota, Tennessee and Texas. It passed in four of those states--Louisiana and Texas in 2009, South Dakota in 2010, and Tennessee just last month.
In Tennessee, Horn reported last month, the bill was opposed by a wide range of national and state science and education organizations, including the American Association for the Advancement of Science, American Institute for Biological Sciences, National Association of Geoscience Teachers, Tennessee Science Teachers Association, and the eight Tennessee members of the National Academy of Sciences. Even two major state newspapers--the Knoxville News Sentinel and the Nashville Tennessean--condemned the law. No matter, there was little opposition in the statehouse.
ALEC's recent bad press sent 10 high-profile ALEC members, mostly in the food business, scurrying for cover. American Traffic Solutions, Arizona Public Service, Coca-Cola, Kraft Foods, Intuit, Mars, McDonald's, PepsiCo, Reed Elsevier and Wendy's all have severed their ties to the group. But so far, energy and auto industry members are sticking to their guns, even though many of them disagree--at least publicly--with ALEC's climate agenda.
ExxonMobil is a prime example. In January 2007, after the Union of Concerned Scientists, among others, revealed that between 1998 and 2005 the company funneled millions of dollars to more than 40 climate denier policy groups, the company announced that it had stopped funding them. More recently, I found the following unambiguous statement on the company website: "Rising greenhouse gas emissions pose significant risks to society and ecosystems."
Regardless, an ExxonMobil representative sits on ALEC's corporate board, the company cosponsored ALEC's 2010 annual conference, and between 1998 and 2010, it contributed nearly $1.5 million to ALEC. And when a Bloomberg reporter contacted the company earlier this week, spokesman Alan Jeffers said ExxonMobil would remain a member because "we just value the ability to work on issues related to energy and business competitiveness."
Another example is General Motors. Ford and Chrysler used to be ALEC members; GM is still on board. But there may be cracks in the company's resolve. Last month, succumbing to pressure from Forecast the Facts, a meteorology advocacy group, GM announced it would stop funding the Heartland Institute because it "downplays the risks of climate disruption." "GM's operating its business as if climate change is real," GM spokesman Greg Martin told the Los Angeles Times.
Heartland, as I mentioned above, was outed in February for, among other things, planning to disseminate educational materials questioning the reality of climate change. Will GM cut its support for ALEC for the same reason? Perhaps if the automaker gets some unwanted publicity, but that hasn't happened--yet.
Elliott Negin is the director of news & commentary at the Union of Concerned Scientists.
_______________________________________________________________________
WHY ARE THESE ENERGY COMPANIES ALEC MEMBERS?
Below is just a sampling of what some of ALEC's corporate members in the energy sector are saying about climate change:
BP America: We support policies that we believe can address climate change while also making it possible for society to meet growing demand for secure and affordable energy. We believe the use of a price on carbon--one that applies economy-wide and treats all carbon equally, whether it comes out of an industrial smokestack or a car tailpipe--will make energy efficiency and conservation more attractive to businesses and individuals, and help lower-carbon energy sources become more cost competitive within the energy mix.
Chevron: At Chevron, we recognize and share the concerns of governments and the public about climate change. The use of fossil fuels to meet the world's energy needs is a contributor to an increase in greenhouse gases--mainly carbon dioxide and methane--in the Earth's atmosphere. There is a widespread view that this increase is leading to climate change, with adverse effects on the environment.
Duke Energy: Most scientists believe that greenhouse gas emissions from human activities are influencing the earth's climate. Although there's much to learn about the cause and effect of climate change, consensus is building that steps should be taken now to reduce these emissions. Duke Energy shares that view.
Entergy: Entergy believes meaningful action is needed now to address climate change and supports reductions of 70 to 80 percent by 2050. The longer we wait, the more difficult the challenge becomes.
Progress Energy: Progress Energy is actively working to reduce greenhouse gas emissions and help shape effective climate change policies for our company, our customers and the environment we share.
Shell Oil: Population growth and economic development are driving energy demand. All energy sources will be needed, with fossil fuels meeting the bulk of demand. At the same time CO2 emissions must be reduced to avoid serious climate change. To manage CO2, governments and industry must work together. Government action is needed and we support an international framework that puts a price on CO2, encouraging the use of all CO2-reducing technologies.
Xcel Energy: At Xcel Energy, the fossil fuels we use to make electricity emit greenhouse gases, which are linked to climate change - an area of public concern and a major political issue. -- E.N.