Early in June, I flew to China to deliver a presentation at a UNESCO forum near Shilin, Yunnan Province. The conference focused on how to manage and protect important natural and historic features while at the same time enhancing opportunities for community economic support and development.
My presentation highlighted the U.S. national park system, how it operated as a federal system, and of course, how national parks stimulated economic value on local, regional and national levels. Themes we're familiar with in the U.S.
But China's parks are not a national system. Each province manages its own programs. From local to regional to national levels, there is a confusing array of agencies and offices with a hand in managing China's heritage landscapes. For the past 15 years or so, China has been looking at converting their system into a much more national system. U.S. national parks are seen as a model with attractive features. I suspect the Chinese look somewhat enviously at the elegance of our national park system and hope that eventually they can unify their parks and protected areas into a more national system.
I mention all of this because sometimes it does almost feel like China here in the U.S. when it comes to federal agencies trying to work together in balancing important resources, economic priorities and social values. It's not always so easy for China to make a decision either, especially when you consider the multi-thousand year history China has with bureaucracy and political infighting.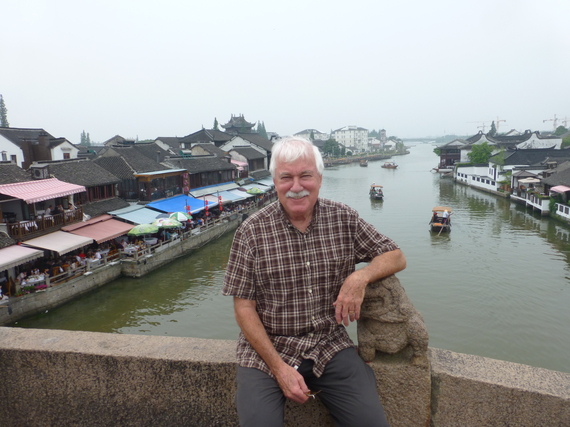 Ellis Richard during his trip to China.
Thankfully, things are different in the U.S. and, arguably, cooperation among Interior Department agencies is getting better. It was a refreshing change to sense that from the Bureau of Land Management (BLM) as it moves toward a more inclusive model of communication, planning, and consultation. The agency has been seeking to fulfill its multiple-use mission for managing public lands in our new age of growing population, shrinking open space, increasing competition of uses, and accelerating oil and gas production.
We're seeing real progress in achieving this goal. For example, Utah BLM has moved forward a master leasing plan effort for BLM lands around Canyonlands and Arches National Parks near Moab. In New Mexico, the state BLM office took an important step back to decide whether, where, and how oil and gas leasing could occur on public lands near Chaco Culture National Historical Park.
And a little like the first released Star Wars movie, there's a new hope in Colorado. Ruth Welch was recently appointed the BLM Colorado State Director. Welch replaces Helen Hankins who retired earlier in the year amidst a huge amount of controversy in how she dismissed concerns to neighboring national parks, sportsmen, and citizen groups. Hankins often appeared unwilling to do the extra planning needed to ensure that new oil and gas development would not degrade the values of the national parks adjacent to BLM lands. She refused to consider a master leasing plan around Mesa Verde National Park, and had issued a draft plan that failed to protect the night skies, clean air, rivers, and scenic landscape at Dinosaur National Monument.
As the new State Director, Welch can turn over a new leaf and lead the BLM in working with sister agencies, especially the National Park Service (NPS). There is a window of opportunity for implementing master leasing plans, or their equivalent, in sensitive landscapes around Mesa Verde National Park and Dinosaur National Monument.
The BLM can create a win-win approach by doing the hard work up front of identifying conflicts and creating a landscape-level plan that both protects park values and develops important energy resources for the nation. I hope Welch is interested and committed to a process that will protect important values in our national parks while developing the oil and gas on federal land as her agency is mandated to.
But the burden isn't all on one agency. The NPS needs to step up and work positively with the BLM too. Throughout my career as a park ranger, I often heard from colleagues how much they hated the politics involved in managing national parks. As I progressed through my career I came to feel that the problem was not the politics, but our lack of skill in doing politics well. During my first year as a park ranger, President Nixon fired NPS Director George Hartzog. That was 1972. He was, in my view, the last director who understood and succeeded in that "art of the possible" known as politics. If Ruth Welch has an opportunity, so do the current director and intermountain region director of the National Park Service.
There is an open window for smart planning that can go a long way in protecting the values of national parks from damage caused by unplanned or badly planned oil and gas development on neighboring BLM lands. But this window won't remain open long. We need the BLM and NPS to lean in and work together for both their missions' success.