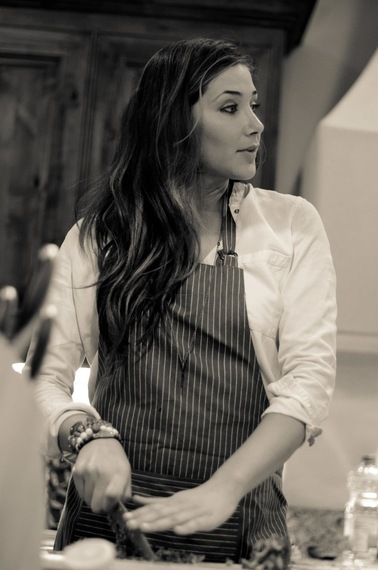 Alex Thomopoulos, who was diagnosed with celiac disease in 2010, has to be smart about how she eats. Having a diet with "restrictions" does not phase her. She believes the best attitude to take with any dietary concern is to consider what you can have, and to not what you cannot eat. This same positive attitude should extend beyond the grocery store and into the kitchen. "Stay positive especially in the kitchen, if things go awry don't panic, take a deep breath and try and fix it. It may not be what you set out to make but more times than not you end up with a really surprisingly delicious dish," she says.
Another "smart" approach to meal preparation is sourcing ingredients that are in season. "I love winter. I think winter is not the time to shut down culinarily because produce isn't as abundant. There are plenty of amazing winter vegetables that you can use to shape your meal time. It doesn't always have to be heavy either, making light meals like quinoa, butternut squash and arugula salad always hits the spot for me," she says. "I go to the market with a rough idea of what I want to cook but I let the ingredients available inspire the finished product."
Alex is in high demand, known for her expertise and fun loving attitude. She once was a comedian so you might expect a few good laughs. She has a cooking show, is co-host on the Hallmark Channel's Home and Family Show and contributes to a multitude of websites. On Jan. 31, Alex was at Mosi Center, a non-profit educational center located in Tampa, Florida. She was there as part of the Einstein on Food and Wine celebration. Check out the event at http://www.mosi.org/einstein.aspx.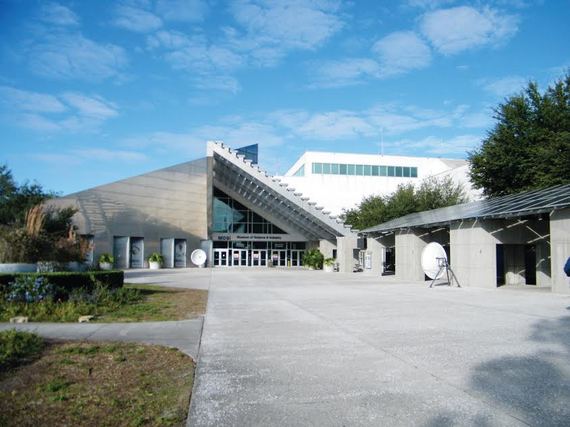 Alex shares some great recipes below, featuring some of her favorite seasonal ingredients. For a nice start to your meal try the soup featuring butternut squash, a vegetable she truly loves using in the winter. Her recipe for red snapper also reflects an ingredient that is in season during the winter. According to the Florida Department of Agriculture, "Red snapper is in peak supply from December to June." As for her dessert recipe, a salted caramel sundae, there is no time of year not to love ice cream.
Try her recipes and you too will find that she is truly a genius in the kitchen.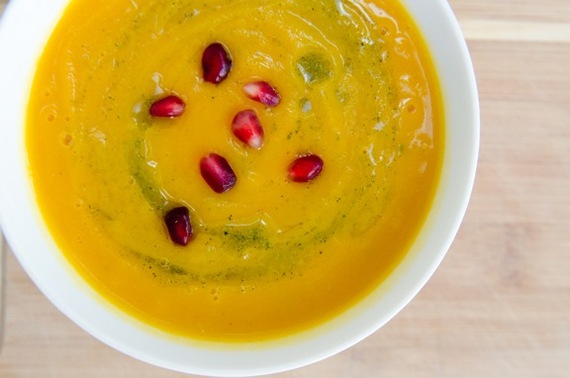 Roasted Butternut Squash Soup with Sage Oil
3 tablespoons Olive Oil
2 yellow onions, sliced
½ teaspoon fresh thyme leaves
3 fresh sage leaves
1 teaspoon salt
2 large butternut squash (1 ½ -2 pounds each), peeled and chopped
6 cups water or chicken stock
¼ teaspoon cinnamon
1/8 teaspoon cayenne
Fresh ground pepper
1/3 cup roasted hazelnuts, chopped fine
Sage Oil:
1 cup Olive Oil
One bunch sage (25-30 leaves)
Preheat oven to 400F.
Place butternut squash on to two baking sheets, drizzle enough olive oil over to coat and sprinkle generously with salt and pepper. Place in oven and roast until they are golden brown and soft. About and hour.
In a medium to large saucepan heat 3 tablespoons of oil over medium high heat. Add onions, salt, pepper and cook for 10-15 minutes or until onions are soft and are slightly golden brown. Add Roasted squash, cinnamon, and cayenne in and cover with water or stock. Simmer for a few minutes to combine flavors.
Working in batches, puree the soup in a blender. Return to a clean saucepan, taste and adjust seasonings.
Garnish with toasted hazelnuts and sage oil.
For sage oil: Put olive oil and sage into a small saucepan and place over medium heat. Allow the sage to bubble for about 5-10 minutes. Turn heat off and place oil in a blender. Blend on low until smooth.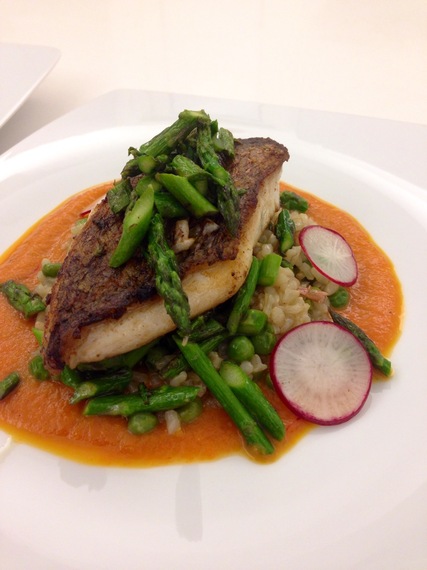 Crispy Skinned Snapper with Baby Tomato and Saffron Sauce w Charred Asparagus
Serves 4
3 tablespoons Grapeseed Oil
4 Red Snapper filets (6-7 ounces) skin on, scaled
Sauce:
2 tablespoons Olive Oil
2 cloves garlic, peeled and smashed
2 pints baby tomatoes
1 pinch saffron
1-2 tsp honey
2 bunches asparagus (trimmed, lightly oiled and grilled on high for two minutes)
Brown Rice Risotto:
2 tablespoons Olive Oil
2 cloves garlic, minced
4 green onions, thinly sliced
1 ½ cups short grain brown rice
6 cups vegetable/chicken stock
1 cup frozen peas
For the Sauce:
In a small saucepan heat olive oil and garlic over medium heat. Cook gently until garlic starts to lightly brown. Add tomatoes and saffron. Sauté for 5 minutes. Reduce heat to medium low and cover saucepan. Cook tomatoes for 25 minutes, stirring occasionally. Add honey, 1/2 teaspoon salt and place all contents into a blender. Blend until smooth. Strain sauce through a food mill or medium meshed strainer. Set aside and keep warm.
For Brown Rice Risotto:
Heat 2 tablespoons of olive oil in a large saucepan over medium heat. Add the garlic and green onions, cook for one minute. Stir in rice and cook for 3 minutes until aromatic and lightly toasted. Stirring frequently. Add 1 cup of broth and cook, stirring, until the liquid is absorbed. Add a 1/2 teaspoon salt. Add 1/2 cup of broth and cook, stirring constantly, until the broth is absorbed. Continue to add the broth in 1/2 cup portions, until all 6 cups are absorbed. Fold in peas and cook for a few minutes more. Taste for doneness and seasoning. Adjust accordingly.
In a saucepan heat 2 tablespoons oil over high heat. When oil starts to "ripple" season both sides of fish with salt and pepper. Place snapper skin side down, gently pressing on the fish so it doesn't curl up. Cook for 4 minutes on the skin side and turn the fish over cooking for a 1-2 minutes.
To serve, ladle tomato sauce on bottom of plate. Top with risotto, take grilled asparagus and slice them on a bias place them on top of risotto. Top that with fish. Enjoy.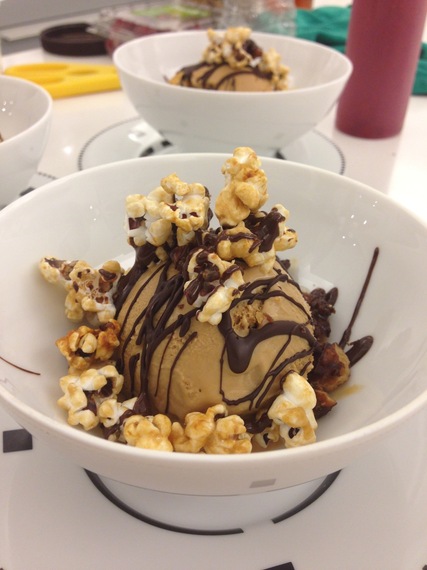 Salted Caramel Sundae with Caramel Corn
This recipe is super easy, but impressive.
1 scoop salted caramel ice cream
¼ cup caramel corn (store bought or homemade)
Melted 60 percent dark chocolate.
Top caramel ice cream with caramel corn and drizzle dark chocolate on top.
Follow Alex on Twitter
MOSI is a non-profit, community-based institution and a leader in STEAM (Science, Technology, Engineering, Arts and Math) education dedicated to making a difference in people's lives by making science real.