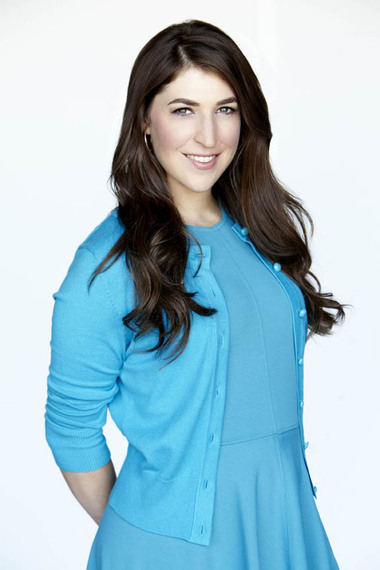 It's not always easy trying to please your kids at the dinner table. They have one idea of how and what they should be eating, and you another. With pizza, fish sticks, french fries and a variety of other "not so healthy," foods alluring their tummies, selling vegetable-based diets to kids isn't easy. A greater challenge? Raising your family vegan.
Emmy-nominated Mayim Bialik, star of the hit series The Big Bang Theory, is much more clever than the scientist she plays on screen. It takes a lot of ingenuity and creativity to juggle a busy work schedule and raise two young boys, all while maintaining a vegan lifestyle. Having a inherited knack for cooking, Mayim has concocted plant-based recipes that satisfy all the members of her family. She shares these recipes from her table to yours in her new book "Mayim's Vegan Table."
Mayim, a real-life scientist, changed her lifestyle largely due to environmental and ethical concerns. "I became vegetarian when I was nineteen largely because I love animals," she said. Later, while in college, Mayim eliminated dairy from her diet. In doing so she noticed improvements in her health, particularly with some sinus issues. The more plant-based her diet became, the healthier she felt. It was from there on that she decided to eat this way and thus how she has chosen to raise her family.
Collaborating with Dr. Jay Gordon, her sons' pediatrician, she presents meals crafted with nutrition in mind. The two had been talking about the lack of accurate information for families when it comes to vegan and vegetarian diets. Together they have melded science and art and present for you the information you need to provide your family with tantalizing plant-based recipes that are sure to please everyone at the table.
Sneak peak of the great recipes you will find in Mayim's Vegan Table.
Vegan Reuben Sandwiches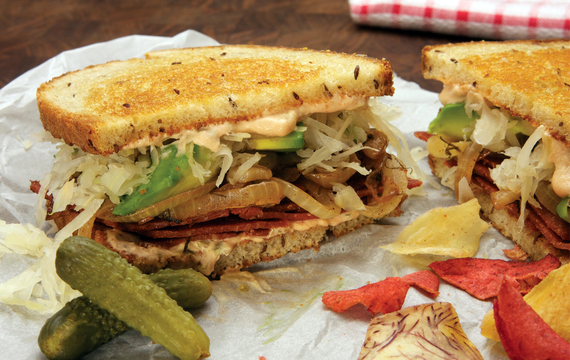 Makes 4 sandwiches
From Mayim's Vegan Table: "It's hard to give up your favorite sandwich when you make the decision to eat plant-based foods, but this Reuben recipe will make you forget you ever doubted your decision. We've re-created the flavor of a classic deli Reuben with ingredients and spices that mimic the original to a T. Grilling the rye bread makes all the difference, so don't skip that step!"
Thousand Island Dressing:
1/3 cup vegan mayonnaise
2 tablespoons ketchup
3 tablespoons dill pickles, diced
Sautéed Onions:
3 tablespoons vegetable oil
1 large yellow onion, thinly sliced
1 teaspoon garlic, minced
2 bay leaves
1 1/2 teaspoons paprika
3/4 teaspoon caraway seeds
3/4 teaspoon dried dill
1 teaspoon salt
2 tablespoons cider vinegar
1 tablespoon tamari
1/4 teaspoon freshly ground black pepper
8 slices vegan rye bread
8 slices vegan bacon
2 tablespoons vegan margarine
1 cup sauerkraut, drained
To make the dressing, combine all the ingredients in a small bowl.
To make the onions, heat the vegetable oil in a large skillet over medium heat. Add the onion and cook for 5 minutes, stirring occasionally. Stir in the garlic, bay leaves, paprika, caraway seeds, dill, salt, vinegar, tamari, and pepper. Add the water and simmer uncovered for 10 minutes, or until the liquid has evaporated. Remove the bay leaves.
Heat a large skillet over medium-high heat. Spread two slices of the bread with margarine. Grill in a small skillet, margarine side down, for 3 minutes on one side only. Repeat with the remaining slices of bread.
To assemble each sandwich, spread the dressing on the ungrilled sides of two slices of toast.
Add the sauerkraut, two pieces of vegan bacon, and the sautéed onions.
Tomato Soup with Israeli Couscous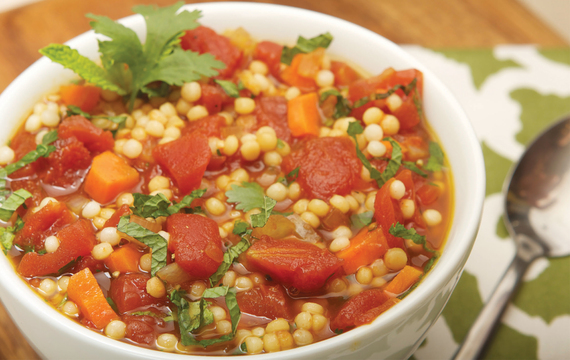 Serves 4-6
From Mayim's Vegan Table: "Soup is sometimes where great meal planning starts, especially with delicious and sophisticated flavors like those you'll find in this Middle Eastern-inspired soup. The garlic and deceptively simple spices create a complex base. With the addition of couscous, this soup is a meal in itself."
Ingredients
2 tablespoons olive oil
1 onion, chopped
1 to 2 carrots, diced
1 (14-ounce) can chopped tomatoes
6 garlic cloves, roughly chopped
6 1/4 cups vegan vegetable stock
1 to 1 1/2 cups uncooked Israeli couscous
2 to 3 mint sprigs, chopped, or several pinches of dried mint
1/4 teaspoon ground cumin
1/4 bunch fresh cilantro or about 5 sprigs, chopped
Salt and freshly ground pepper
Heat the olive oil in a large pan, add the onion and carrots, and cook over medium-low for about 10 minutes until softened. Add the tomatoes, half of the garlic, vegetable stock, couscous, mint, cumin, and cilantro.
Bring the soup to boil, add the remaining chopped garlic, then lower the heat slightly and simmer gently for 7 to 10 minutes, stirring occasionally, or until the couscous is just tender. Season to taste with salt and pepper.
From Mayim's Vegan Table: More Than 100 Great-Tasting and Healthy Recipes from My Family to Yours by Mayim Bialik with Dr. Jay Gordon. Reprinted courtesy of Da Capo Lifelong Books.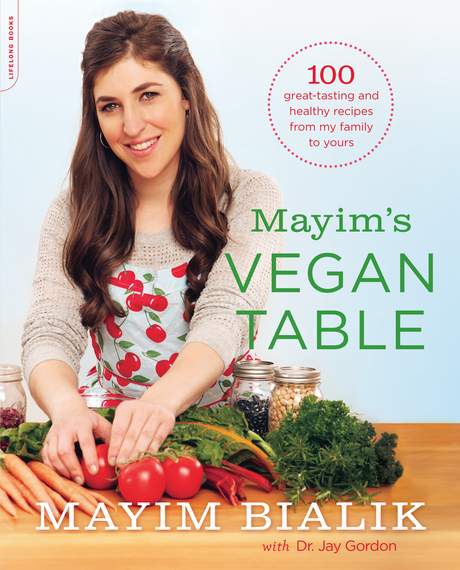 Mayim's Favorites:
Favorite Restaurant?
Pure Food and Wine, NYC
Favorite way to exercise?
Running and lifting weights.
Beauty Products?
I like Votre Vu. It's plant-based. If I had to name one set of products I like, it's their stuff. It's natural and not tested on animals.
Travel Destination?
One favorite is Israel, I go there a lot. I'd also like to go to the Galapagos Islands.
Bucket List: I'd like to run a marathon one day. I just started running a year ago and it's a goal I hope to meet.
Image Rights Mayim Bialik, Assoc. producer Leigh Kosloski