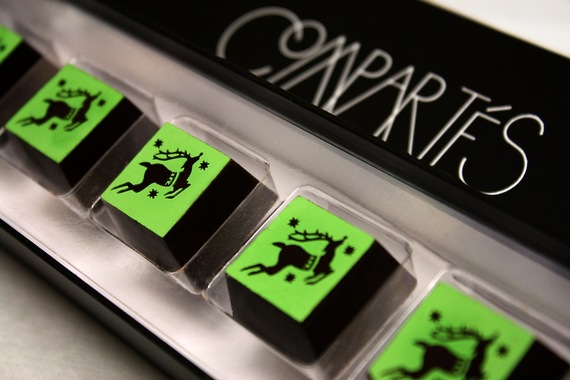 Jonathan Grahm will have you remarking, "what a sweet guy," and that's not only because he is at the helms of the historic Compartes Chocolatier, a Los Angeles institution since 1950. His passion, attention to detail and vibrant personality shine through all of his sweet creations. Today, the chocolatier still raises the bar in the chocolate world, using the very best organic ingredients and employing hands-on techniques, making fresh chocolates on location each day.
Jonathan wasn't around when the likes of Marilyn Monroe, Winston Churchill, the Kennedys, Frank Sinatra and Elvis Presley popped Compartes chocolates into their mouths. At 29, he has years of experience crafting chocolates, having been first interested in chocolates at age 19. His first concoction that heavily relied on chocolate were what he calls "Love Nuts." These hand roasted nuts caramelized with vanilla beans are sprinkled with sea salt and 14 layers of chocolate and cocoa powder. The Love Nuts were an immediate success, featured as one of "America's Top Food Buys" by Food and Wine magazine. Today he continues to bring in notoriety, this year his products being named as one of "Oprah's Favorite Things." This has achieved with only few retail outlets and advertising that is basically generated by outside sources and word-of-mouth.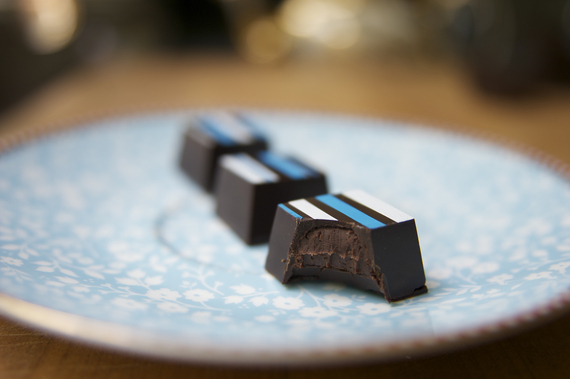 What he is most known for now are his signature chocolate bars and truffles that are both delectable and visual works of art. He says that he fuses all his favorite aspects of life (food, art, design, style, culture and fashion to name a few) all into his chocolates. Sometimes he has the design in mind and comes up with the flavor to accompany it. Other times it's the other way around. "I have a new bar that I've been wanting to do for a long time. It's called 'I Gotchya Matcha' and it's Royal Japanese Matcha Green Tea that I have sent in from Japan and infused into the best white chocolate I've ever made, with a 36 percent cocoa butter content. I knew forever I wanted to make this flavor, but it took me almost two years to finally come up with a design that did it justice," he says. "Compartes does something that no one else does. We really fuse all of these different art forms together in our own unique and seamless way. You won't find chocolates with patterns and prints like chevron, argyle, palms, plaids, houndstooth, anchors and art deco designs all under one roof anywhere in the country." The company also creates custom printed chocolates, which make for great corporate gifts during the holidays.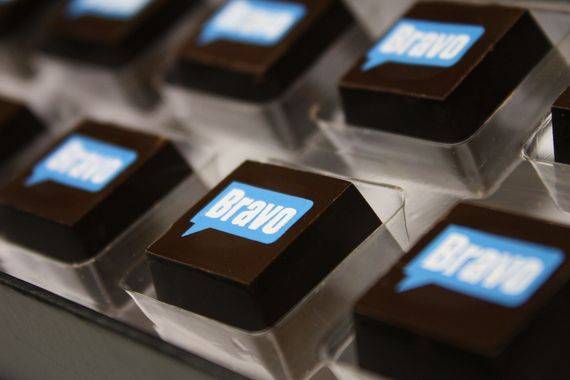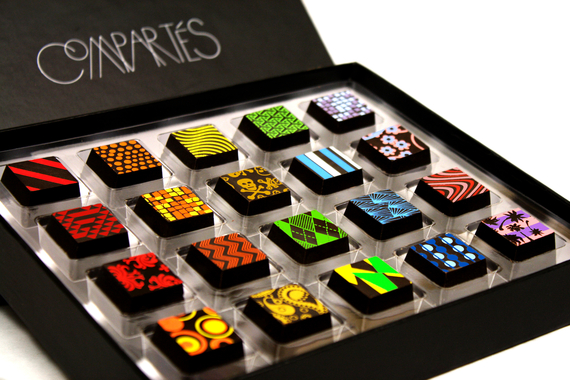 The ingredients of the chocolates are no less important than their presentation. It is very important that he tries to source the chocolate from a singular provider. This means not creating chocolates from a mix of cocoa beans. "When you have chocolate from one single provider in a single region, you can appreciate the qualities, natural flavor profile and subtle nuances of the chocolate. This is because you are eating the purest form of the chocolate available," he says. "When you have chocolate mixed from different regions it's a blend, so you can't taste the individual characteristics that are part of the chocolate from distinct regions. Chocolate comes from the cocoa fruit and just like the strawberries you find at the farmer's market, every (cocoa) fruit purveyor or provider has a different flavor profile. This depends on when they are harvested, where they are grown, how they are fertilized and cultivated."
Compartes sources chocolate from Venezuela, Peru, Bolivia, and Ecuador. He stays away from African chocolates because he does not wish to infuse his creations with anything that might be cultivated using the slave labor that is a reality along the Ivory Coast. "I want what you are eating at Compartes to be good for you, good for the farmers who made it, good for the environment and good for the world in general. Therefore, I am willing to pay more for the best chocolate and it is also chocolate that people are getting paid the right wages for and being treated properly when they are processing it," he says. Other ingredients, such as those that comprise the truffle fillings, are often sourced at California farmers' markets. Thus, you will see more fruit flavors in the summer and more nut based concoctions in the winter. He also sources spices from Los Angeles ethnic markets to create some really unique and exotic flavor combinations like "mango saffron." Other bars heavily rely on spices to accomplish the desired flavor. For example, the "Mole Bar" contains 25 spices in total.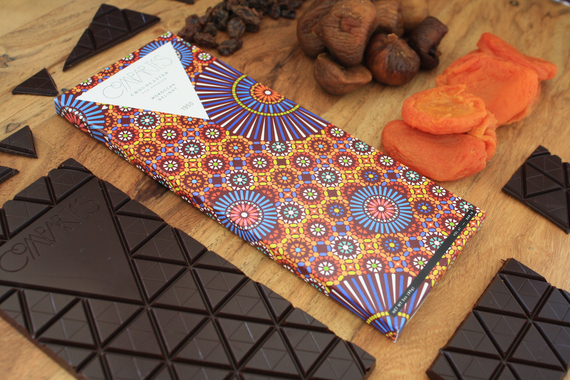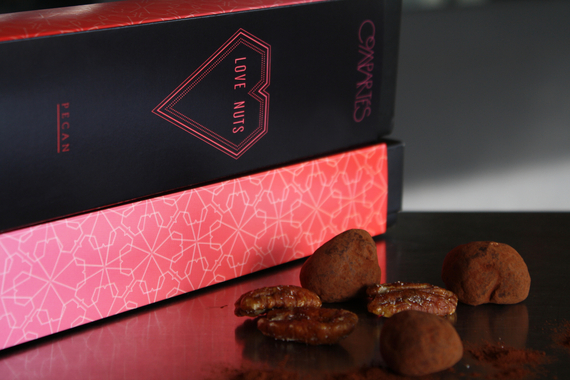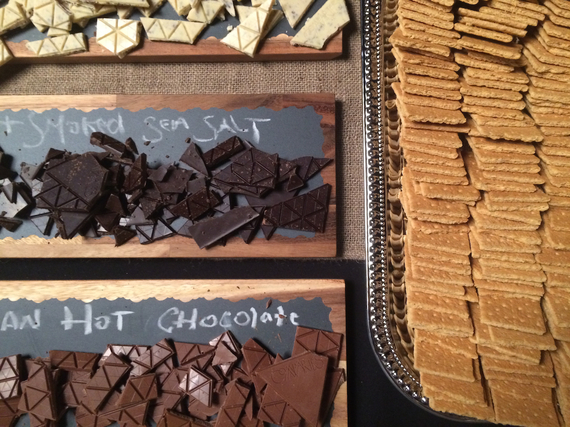 The chocolatier is also very mindful and hands-on with the packaging design. The wrappers of the chocolate bars are individual works of art, featuring unique designs; and sometimes his own photography and poems. His "World Series," bars reflect his travels and are individually numbered as individual works of art. This project took about two years to bring into fruition, reflecting tons of research about the countries sourced for ingredients, their indigenous art and flavors.
Does he ever grow tired of chocolate? "I grew up in the food business actually and chocolate really is always one of my favorite flavors and ingredients; especially a good brownie or chocolate chip cookie. I can eat those for breakfast, lunch and dinner with no problem," he says. "I feel like I am so passionate and obsessed with chocolate and all it's forms that I just stick to it. My advice, pick something you are great at and in love with and do it really well, that's what I have done with chocolate."
This and That: Jonathan Grahm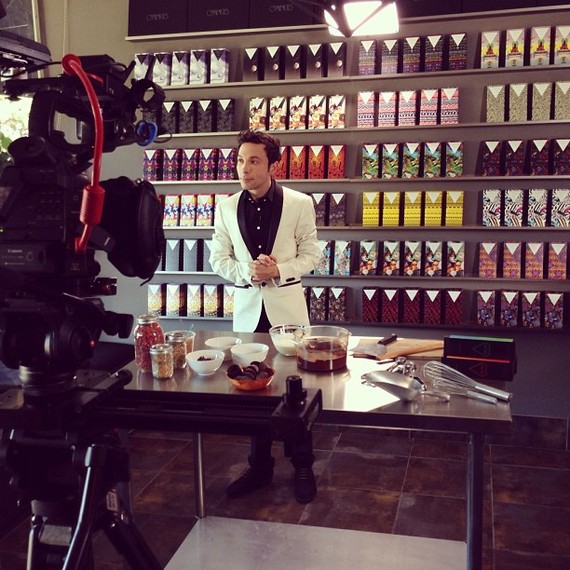 Favorite Travel Destination:
"It's Kauai. It's so beautiful, lush green and spectacular. Despite being more and more popular, there are still places and beaches you can find that feel untouched."
Favorite Music Artist:
"I have to say Lana Del Rey. The imagery she evokes in her songs and lyrics, the haunting melodies and timelessness of her songs is very alluring. Of course I've got to mention my very good friend, Grammy award winner Faith Evans. Faith and I have been friends for many years now, but every time I hear her sing, even when it's just in the car and we're driving around, I get goosebumps."
Favorite Truffle:
"This one I can't really answer. It's generally my newest creations. I really love our holiday flavors like s'mores, cinnamon latte and apple pie, which has real apple pie straight from the pan in it."
Favorite Restaurant:
"I Love Roxana at Cooks County. I can eat her whole dessert menu as my dinner and be really happy about it."
Your Style in One Sentence:
"My style is a mix of preppy, classic, sophisticated and laid-back; the modern Angeleno."
At the bar you order... "Macallan 18. I love it. I have a great stash of Macallans at home."
If you weren't in the chocolate business, what would you do?
"I've been told I have a great sense and eye for design and style. It would definitely be art related. Perhaps I will go into fashion, housewares, and some other products that go along with my approach of Compartes being a fusion of chocolate, art, design, style and fashion. I am really excited about making some new moves next year and really being able to challenge myself creatively and mentally as to what Compartes does next. I am really excited about what the future holds."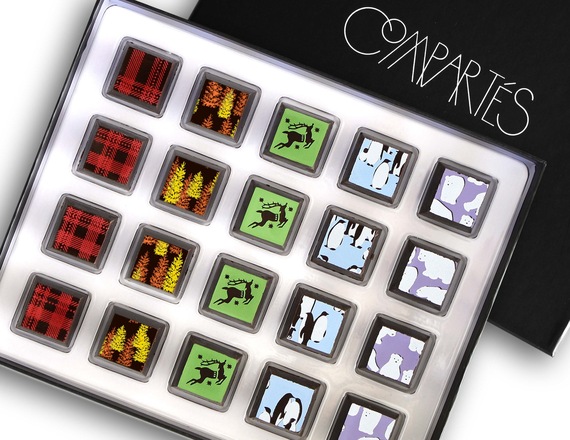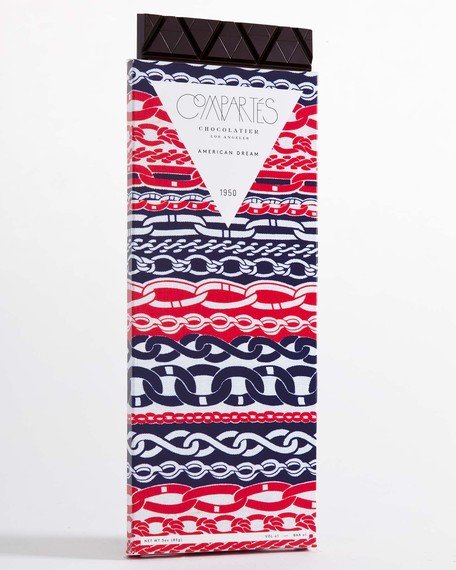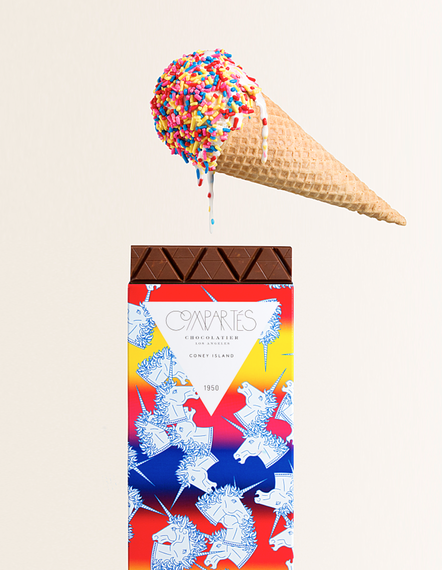 Follow Compartes Chocolatier on Twitter