WHAAM! Splat! Bang! Its a big summer for Chicago as the groundbreaking retrospective of the iconic Pop artist, Roy Lichtenstein, opens at The Art Institute of Chicago this week through September 3. Spearheaded by James Rondeau, the Frances and Thomas Dittmer Chair and Curator, Department of Contemporary Art at the Art Institute of Chicago, who is said to have spent days foraging through the artist's house in Long Island with the permission of Dorothy Lichtenstein searching for just the right pieces, as well as seeking out pieces from other museum collections around the world including his own, the exhibition is truly the first of its kind or scale to highlight the artist. After September the exhibition will travel to the National Gallery in Washington, DC., the Tate Modern in London and the Centre Pompidou in Paris.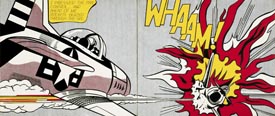 Roy Lichtenstein, American (1923-1997). Whaam!, 1963. Magna and oil on canvas. 172.7 x 406.4 cm (68 x 160 in). © Estate of Roy Lichtenstein. Tate: Purchased 1966. Photo ©Tate, 2011.
Mr. Rondeau notes that,
Lichtenstein was among the first artists to collide popular culture and fine art. It's difficult to overstate the lasting legacy of his innovation. Contemporary art as we know it would not exist without Pop, and Roy was among its first, and most consistent, leaders. But while his art is rooted in mass media sources, these subjects were, in many respects, just vehicles to explore enduring issues in the history of art. Fundamentally, Lichtenstein was an artist who was deeply concerned with questions of style and composition -- the clarity that can be found in the intelligent, visual organization of formal elements. His work has such lasting value because he was engaged in a centuries-long art historical conversation, going back to classical ideas about painting and compositional unity. In the end, I hope people who see the show are moved by smart, radical, beautiful objects, and will recognize in them a vision of the world that has profoundly changed the way we see the world of images around us.
Indeed, Lichtenstein blurred the lines between low art and high art and paved the way for current day street artists and graphic novelists to further explore their craft in the world of fine art.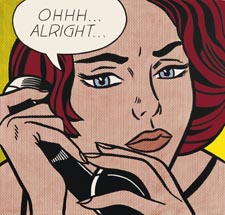 Roy Lichtenstein, American (1923-1997). Ohhh...Alright..., 1964. Oil and Magna on canvas. 91.4 x 96.5 cm (36 x 38 in). © Estate of Roy Lichtenstein. Private Collection.
In addition to the excitement around having this important show curated by James Rondeau and begin in our city, this is a particularly great time for a Pop art exhibition by one of the movement's most important leaders. With less and less art in the schools, and thus fewer and fewer entry points for those that don't grow up with art education, this Lichtenstein exhibit is a welcome bridge, walking the viewer, connoisseur and comic book lover alike, easily through Lichtenstein's development from Cubist and Abstract Expression to his classic Look Mickey painting to his hand-painted Ben-Day dots trademark that he carried with him through his career even to his Oriental Landscapes. Lichtenstein in many ways widened the doorway to the fine art world that continues to expand today through works such as graphic novels by Chris Ware and etchings and collages by Tony Fitzpatrick, who is said to have been originally inspired by Mad Magazine. For this reason, the Lichtenstein exhibit might be inspirational to more than a few budding alternative artists, as well as a wider general public, no matter what their previous art experience.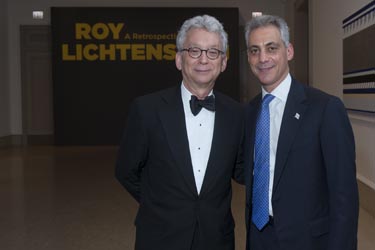 The Art Institute's President and Eloise W. Martin Director, Douglas Druick, and Chicago's Mayor Emanuel. Photo Credit: Bob Carl
Sarah Garvey is incoming President of The Woman's Board of The Art Institute of Chicago, which orchestrated the
For Art's Sake... A POPular Evening
benefit gala on May 11th. According to Mrs. Garvey, supporting education and outreach for the museum has always been the focus of the sixty year old Woman's Board.
The Roy Lichtenstein exhibition gives us a rare opportunity for outreach and education, not just for children, but also for their families, allowing them to share and experience the art together. Even the advertising for the exhibition is reaching new heights for appeal to a wide audience.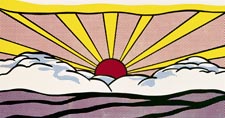 Roy Lichtenstein, American (1923-1997). Sunrise, 1965. Oil and Magna on canvas. 91.4 x 172.7 cm (36 x 68 in). © Estate of Roy Lichtenstein. Private Collection.
Tony Karman, President of the new International Exposition of Contemporary/Modern Art and Design,
Expo Chicago
, taking place at Navy Pier September 20 to 23 and featuring such important international galleries as The Pace Gallery, Matthew Marks Gallery, David Zwirner and Luring Augustine, was also at the gala. He commented on the power of the Art Institute's newest blockbuster exhibition.
Lichtenstein is a landmark exhibition presented by one of the worlds leading art museums and curators. The exhibit thoughtfully explores the extraordinary impact of the artist and his sizable influence in shaping our popular visual culture.
Don't miss this chance to see this exhibition at the Art Institute in Chicago, or in Washington, D.C., London or Paris to understand a major turning point in the world of fine art. And be sure to bring along a young comic book- or cartoon-lover to fully enjoy the ride!