As host and Executive Producer of The Dinner Party, I live at the intersection of food and art. So, it is no surprise that I am intrigued immediately by others who do the same. When I attended a preview of distinguished Chicago artist Jesus Salgueiro, I was thrilled to learn the story behind his art. Salgueiro unveiled his latest works of art in a surprisingly short exhibit: "Going Gaga for Love Mandalas." His two-part exhibit focused on his affinity for love, featuring 12 iconic renditions of pop super star Lady Gaga -- including one piece that even made her cry upon seeing it -- as well as 42 "love" mandalas, a spiritual and ritual symbol in Hindu and Buddhist cultures. Salgueiro's mandalas are large, inviting, imposing and tranquil all in one. They reveal incredible depth and texture, born of intricately layered color painted over Salgueiro's hand-made stencil patterns. Jesus created the stencils from antique fabrics he gathered from around the world and each mandala is clearly a complex labor of love.
Mandalas represent the universe, the circle of life and radial balance. Most often created in sand and swept away shortly after completion, Salgueiro's mandalas are unique as they are done on canvas with nylon, creating a lasting image of this spiritual symbol. The basic form of most mandalas is a square with four gates, in the general shape of a T, containing a circle with a center point. With magical color combinations and mesmerizing design, Salgueiro's paintings hypnotize and it is clear why mandalas are traditionally used as meditative instruments.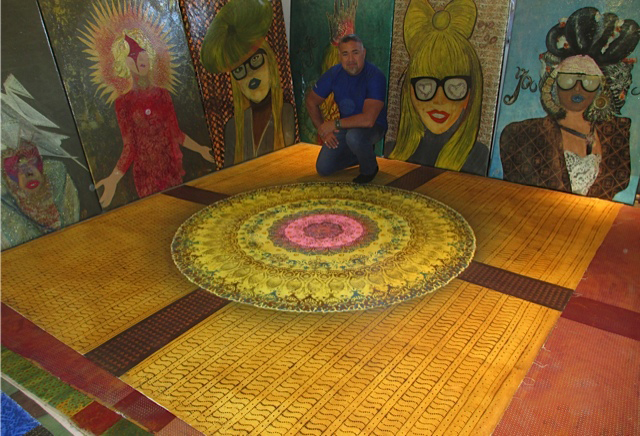 Photo: Courtesy of the artist
On the day of the exhibit, I met Jesus' other half, partner of 15 years and husband, famed chef and restauranteur Art Smith. Immediately, the circle of harmony became clear. "Jesus brought color into my life, " Art told me. When I asked Chef Smith how living with art around him had influenced his cooking, an art form in its own right as I often note on my show, he replied "All of our restaurants have art work and the art has to be as original as the food." Chef Smith was Oprah's personal chef for 10 years before going on to open many famous restaurants such Table Fifty Two in Chicago. He has also cooked for many celebrities including Lady Gaga -- a friend, lover of Chef Smith's Chicken and Waffles and an inspiration for Jesus, Trisha Yearwood and his Holiness The Dalai Lama.
With an interest in and knowledge of Buddhist culture, Chef Smith explained how the Jesus' mandala paintings are as intricate as Jesus himself. "Just like the mandalas that have so many layers and take a month to create, Jesus is a multi-layered person. He is the onion that you have to peel back." This was plain to me as well, as I experienced the artist as warm and sweet and present, and also fixated on and dedicated to his work. Jesus seemed to be an interesting mix of laid-back and visionary in his own right. During his five day exhibition, Salgueiro sold several paintings ranging from $7k - $10k, with a portion of the proceeds going to Common Threads, a wonderful charity dedicated to teaching children living in underserved communities how to cook wholesome, healthy meals.
I can only imagine what it must be like to live in a house built on art and food: Jesus working in his 3,000 foot Chicago studio in their house and Art -- when not traveling -- cooking for him, each art form informing the other at the hands of masters in a house of love. It is no wonder I want to have both of these men on as guests on The Dinner Party. After all, we all seek lives of love and harmony, where our work is not only appreciated, but encouraged, challenged and nurtured to be its best. A lot can be learned from this couple at the intersection of art and food. Even Lady Gaga seemingly agrees with that!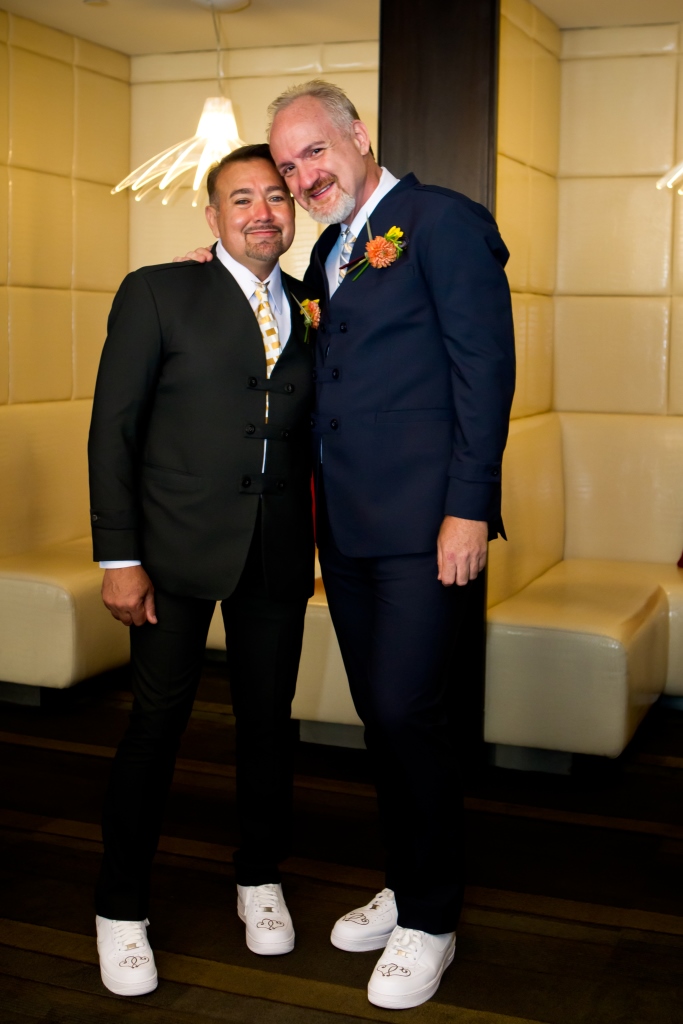 Photo: Courtesy of the artist