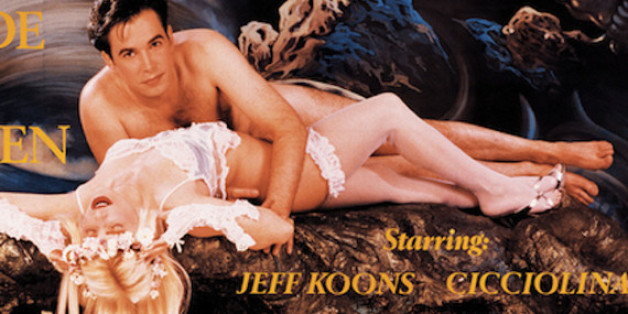 My family had an opportunity to visit New York City for a full week recently. It was the longest my husband and I (the Lo half of Em & Lo) had been there since having kids. Before breeding, we'd lived there for years, gorging on the countless cultural opportunities at our disposal. Post-spawn, we moved to the Hudson Valley and have only managed the occasional day-trip back. But thanks to friends whose summer plans left their kid-friendly Brooklyn apartment empty, we got to live the life of city parents, complete with a borrowed Maclaren (natch).
I was determined to pack it in:
MoMA - check!
Off-Broadway show with discount tickets from TKTS - check!
Row boat ride on The Lake in Central Park - check!
Outdoor family movie at South Street Seaport - check!
Visiting all nine playgrounds of Brooklyn Bridge Park... in one day - check!
The only thing left was a visit to the Whitney to catch the popular Jeff Koons retrospective. With its bright bubblegum colors, its larger-than-life scales and its cartoonish sensibilities, it would be perfect for kids, right?
My husband had to work that day, so I hauled my daughter, 6, my son, 3, the snack bag and the stroller from Carroll Gardens all the way uptown on the F, and then the 6, in the sweltering August heat. By the time we got to the Whitney, the kids were done. Not one to let something like my kids' exhaustion get in the way of their cultural education or my own artistic enjoyment, I was determined to visit all six -- count 'em, six -- floors of the show (it's the first time a single artist has taken up so much real estate at the Whitney).
I felt a cool breeze coming off the ticket salesperson. Was it the poor fit of my mom jeans or my sensible shoes? Could he tell I was dragging these poor kids along against their will? Or did the fact that I failed to donate money to the museum beyond the cost of my ticket irk him? (Hey, kids tix are officially free. Plus, this new economy can be brutal on bloggers.) When I asked which floors were must-see for kids, I got no friendly warnings.
We started with what would be the surest kid-pleaser: the 4th floor, with its ginormous, metallic, balloon-animal dog; the rainbow-colored mountain of Play-Doh poop; and the oversized kitten hanging in a clotheslined sock. As we rode up the crowded elevator, I imagined my children's eyes widening with wonder and their jaws dropping open with awe at these sights.
The elevator doors opened, we took a look around, and within 30 seconds they both told me they were ready to leave. This was going to be a challenge.
I kicked it into high gear, breezing through each gallery, swerving around patrons' toes, wrangling the kids and reminding them about 20 billion times not to touch anything -- all so we could get in and out without any meltdowns from my kids (or me). In my haste, I must have missed the small plaque that apparently gives a warning to parents and those with delicate sensibilities about the graphic content of the works around one corner.
So there we were, suddenly face to face with Elvis, a painting depicting a plastic blow-up toy in the shape of a lobster flanked by two images of topless (and, for all intents and purposes, bottomless) Playboy Playmates, with their silicone breasts and impossibly smooth skin. Kind of funny, if I'd had a second to think about it, but my visceral reaction was, I don't want my daughter to think that this is what women are supposed to look like. I must have made some involuntary groan. It was the first time during our visit that my daughter really looked at the art. (Fortunately, my son was more interested in the intricacies of his belly button than the pictures on the walls.)
Pressing on -- quickly, quickly -- we turned another corner and found one of the mural-sized works from his 25-year-old "Made in Heaven" series, featuring a naked Jeff Koons and his Italian porn-star soon-to-be-wife (now ex). His penis and testicles and her pube-free vulva were at kid eye level. A woman behind me told her friend rather sternly -- and loudly -- "This is not appropriate for children."
I panicked, mumbling something to my kids like, "Nothing to see here!", and bee-lined it to the next, less scandalous room.
We made it out alive. The kids hopefully made it out unscarred. But I sure didn't help matters. One might think a person who writes about sex for a living, endorses comprehensive sex education, uses accurate anatomical terms with her kids (e.g. wash your vulva; boys have penises, girls have clitorises), answers questions about where babies come from honestly and without shame, and tries to exude a positive body image in all states of dress (even if she has to fake it) would be able to handle her kids seeing nude artwork with aplomb and grace. But my fear of being perceived by strangers as a bad parent, along with my own deep-seated embarrassment, won out.
I realize now that my frazzled reaction made this nudity a bigger deal than it was, made it instantly taboo, and therefore gave it more power, mystery and allure than it would have had otherwise. After all, we all have bodies -- and genitals -- that come in different shapes and sizes; just as everybody poops, everybody is naked under their clothes. The most offensive thing about the painting of the couple was actually the incredibly tacky '80s accessories the woman was wearing. (I mean, white lace thigh-highs and a floral headband? Come on!) Even Elvis's fake boobs -- which I am generally not a fan of, for both philosophical and aesthetic reasons -- weren't as offensive as some of the violence portrayed (and thus condoned) in contemporary kids' cartoons and movies. But I've certainly let my kids watch those without as much guilt. (I mean, machine guns in Disney's Cars 2? Come on!)
What I should have done was acted normal and unfazed, gotten through the museum in a calm and orderly fashion, then asked my daughter what she thought of the show and if she had any questions about what she had seen. Probably not a teachable moment on the ills of the cosmetic surgery industry or the benefits of pubic hair, but maybe something a little less Nudity = Shame.
Actually, what I really should have done was bitten off only what I and my kids could realistically chew, been content with seeing just the 4th floor, and then taken them to get ice cream, stat. But that's another parenting article altogether.
MORE LIKE THIS ON EMandLO.com
- Top 10 Things We Will Tell Our Daughters About Sex
- Top 10 Love Lessons of Sixteen Candles
- Do Spoiled Children Grow Up to Be Bad Sex Partners?
- Top 25 Questions People Ask EMandLO.com