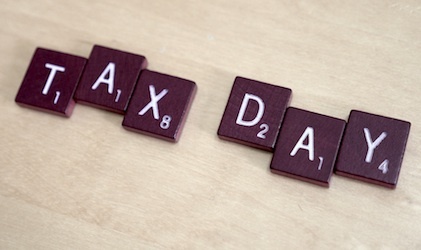 We've taken this year's
Top 10 Tax Time Tips from the IRS
and tweaked them for your dating life. Because sex is valuable, and money is pretty sexy.  Plus, the IRS likes to refer to itself in the third person, just like Em & Lo!
Gather your records.  Collect all the evidence from your previous relationships. This includes photos, love letters, and sex toys. Store them in a safe place, one that any new partners will never, ever find.
Report your health status.  You will need to report your sexual health status from all of your previous relationships when you start a new relationship. This includes the results from the last time you got checked for STIs, if ever. Remember, April isn't only tax time, it's National STI Awareness Month.
Get answers.  Use your best communication tools to get answers from a new partner about income, future goals, sexual health, bathroom habits, and family baggage.
Weigh your dating options.  You have several options for dating. You can venture out on your own or get professional help from an online dating site or a matchmaker. You may be eligible for free, face-to-face help from friends you respect who have a good dating record and won't blow smoke up your ass. Weigh your options and choose the ones that work best for you.
Consider online dating (seriously).  Electronic dating is one of the best ways to meet someone new. It's quick, easy and relatively safe (if you're smart about the way you use the system). Last year, more than 5 million people used online personals. If you own a computer, you have the option of avoiding the dating scene in depressing, overcrowded sports bars.
Don't wait until the last minute. There's no such thing as the perfect time to find love. Don't wait for the stars to align, your career to take off, your cashflow to increase, your heart to heal from your last breakup, etc. Otherwise you may lose out on refunds of love.
Be direct.  Combining honesty with straightforwardness is the fastest and safest way to get a new compatible partner.
Visit EMandLO.com 24/7.  Our site is a great place to get everything you need for a satisfying love and sex life. Visit "Advice" for how to's, tips on technique, answers to frequently asked sex questions, and contact forms to submit your own questions. Get them all anytime, day or night.
Check out SEX.  Our second to last book, SEX: How to Do Everything, is a complete sex resource. It contains helpful information such as whether you need find the G-spot and how to choose your favorite positions.
Review your own merits as a partner.  Mistakes made by you slow down the receipt of true love. Be sure to check all your own shortcomings and psychological issues, as it takes two to tango. If you run into a problem, remember Em & Lo are here to help. Start with EMandLO.com.
Good luck with your taxes
and
your love life!