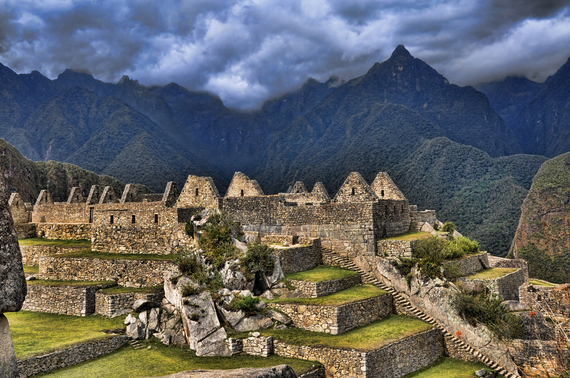 Hiking to Machu Picchu on the Inca Trail -- to celebrate my 60th birthday -- was one of those "bucket list" adventures that could well have stayed in the bucket.
My college pals were celebrating their Big 6-Ohs being pampered at spas or enjoying tropical sunsets on crewed charters in the British Virgin Islands. Taking my son, Ted and his girlfriend, Hannah, on this adventure meant that I couldn't afford the luxuries in which some of my friends had indulged. Some who'd ventured to hike to Machu Picchu had slept in king-sized beds in heated huts with regular toilets and hot showers. Other friends hiked the Inca Trail with private guides and porters, which meant they could walk more slowly and carry a lighter backpack. I'd be going over the hills the hard (Inca) way. But that was the point.
Ted, Hannah and I would be part of a group of 16, bedding down in a sleeping bag in a tent at high altitude in July, during the Peruvian winter. No showers, and only "toilet blocks" -- a euphemism for squatting (could I even get down that low?) over a smelly hole in the ground. Another fillip of fear came from my knowledge that I suffer from osteoporosis and Reynaud's disease -- which means I am very susceptible to bone fractures and frostbite. I have been athletic my whole life; indeed, I've competed in nine sports. I am fit and eat right (most of the time). But was I too old for this?
My high-altitude hiking experience consisted of four days in Breckenridge, Colorado, the previous month, where my friends' guest bed was at 10,012 feet. Since I have a busy full-time job, I had gone hiking only a few times before leaving for Peru--and my longest hike had been five miles. On the trail, which had been built by the Incas in the 1400s, we would be covering 23 very difficult miles -- eight to 11 miles on each of the first three days.
Porters would be carrying the tents, food, and cooking equipment. I hired an extra "one third of a porter" to carry Ted's and my sleeping bags. We would still have to carry all our clothes (many layers for the cold nights), toiletries, water (hydration is key, and a few liters of water are heavy), and cameras.
We arrived in 11,000-foot-high Cusco two days early to acclimate to the altitude. Two days later, at 5:20 a.m., a bus pulled up to our hotel in the darkness. Out popped Percy and Ernesto, our two guides, who grabbed our packs as we settled into the unheated van. For the next hour we shuttled through the cobblestone streets of Cusco, picking up the other 13 members of our group.
As dawn was breaking, we passed the picturesque village of Chinchero and then descended into the Sacred Valley, where crenellated brown mountains rose up from the valley floor.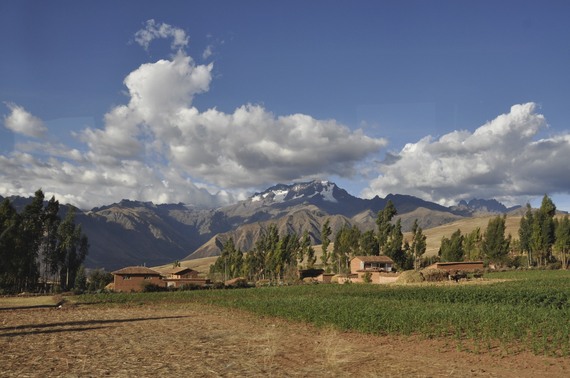 At "Kilometer 82" we left the van behind and stood in a long line of porters and hikers to get our licenses. Two hundred hikers and 300 porters, guides and cooks are allowed on the trail at the same time. This is no longer a solitary hike, like that of the Yale geologist Hiram Bingham, who unearthed Machu Picchu (with the help of two local farmers) in 1911. Still, it would have its challenges!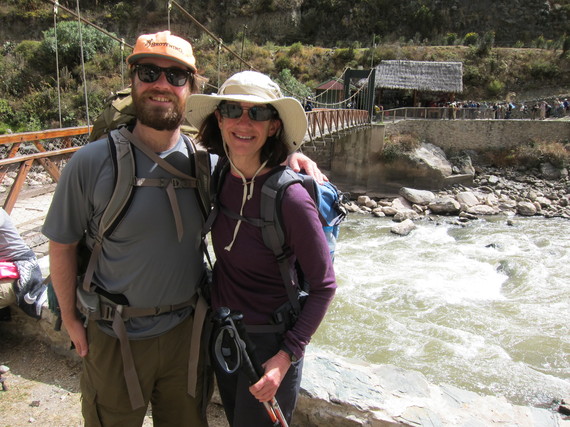 Emily and Ted about to start the Inca Trail.
We crossed the Vilcanota River and started up our first hill. Before long, we stopped in a meadow where Percy gathered us in a circle for introductions -- name, country and age. I quickly realized that I was twice as old as most of these twenty and thirty-somethings. When it was my turn, I said, "Hi, I'm Emily. I'm here with Ted and Hannah to celebrate my 60th birthday."
Even though I worried about slowing everyone down, a group of six pharmacists -- who had all gone to pharmacy school together in San Francisco -- soon adopted me as a mascot of sorts. They stayed with me at the back of the pack when I needed to rest, and dispensed ibuprophen when my legs turned to Jell-O while descending the Inca steps on the third day. "You're an incredible inspiration," they said, as my eyes puddled up with emotion. "We hope we're doing this when we're 60."
The first day, billed as an "easy training hike," turned out to be a tough eight-mile trek up and down some difficult terrain, amidst scrubby plants and cactus. Whenever I didn't have to have my eyes glued to the trail, they floated up to glorious views of the Urubamba mountain range and snow-capped Mount Veronica, with the clouds feathering the mountaintops.
We passed several Inca ruins. Even at a distance, we marveled at the incredible Incan architecture and undulating agricultural terraces of Pikillacta (or Llallapacta), depending on whether you are speaking Quechuan (the language spoken by the descendants of the Incas) or Spanish (the language of the conquistadors who wiped out the last Inca king in 1532).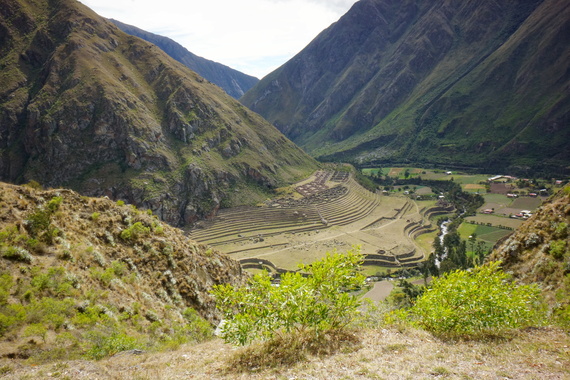 By a riverside, we stopped for our first, and memorable, lunch. Justin, the cook, presented a four-course meal of guacamole and chips, quinoa soup, freshly grilled trout and vegetables, and then tea -- always coca or chamomile, anis or black tea to finish every meal.
After lunch, the trail became steeper and rockier, and I was straining to take the next step. I joined up with a pretty young Scottish woman who was also feeling winded. "Did they say that this was the easy day?" she gasped in my direction.
By the time we got to the campsite at Wayllabamba, a small, remote village high in the hills, dusk was falling. I wolfed down dinner, and then snuggled up in my sleeping bag. Even though this was my first time in a tent in 30 years, I was too tired to even miss my bed.
Day 2, the day we'd have to hike over 13,000-foot-high Dead Woman's Pass, began with "room service" at 5:30 -- that is, coffee and tea delivered right to our tent.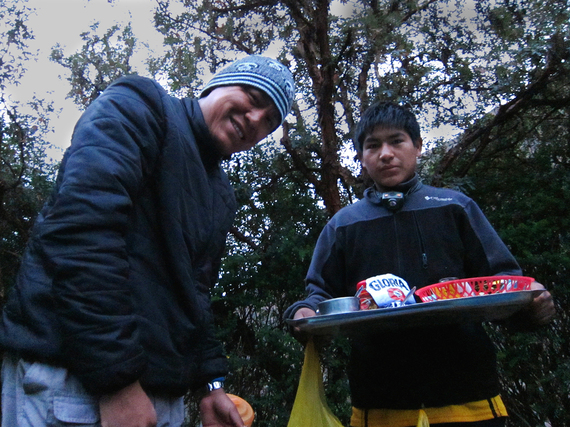 Before breaking camp, our guide, Percy, showed us how to place seven or eight coca leaves on top of each other, roll them up, put them in our cheeks and then slowly chew them -- 10 chews per minute. We would swallow coca-infused saliva to help ward off altitude sickness as we climbed up to Dead Woman's Pass.
In the morning, we walked through a thick forest of red-bark Polylepis trees, which grow only in the high elevations of the Andes. I felt as if I had stumbled into an enchanted forest. The feeling ebbed as the trail turned steep and scrabbly, and I slip-slided over the loose gravel and scrambled between large boulders.
I was passed by porters, some wearing only sandals, who were small men hunched over by the weight of their impossibly heavy loads. While each porter had to weigh his load at the start of the trail, several "optional porters" from Wayllabamba had been hired by individual trekkers for Day 2, and the ascent up Dead Woman's Pass.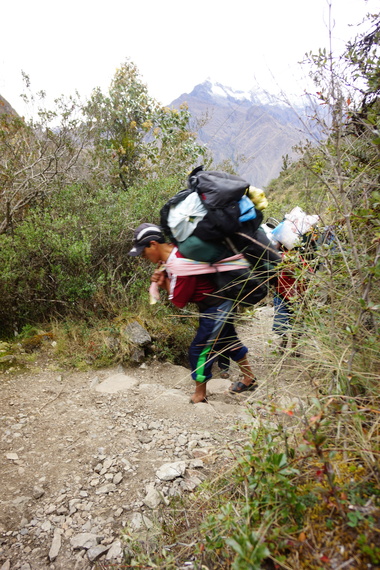 These guys have what must be one of the toughest jobs in the world. I was in awe of them.
After lunch, the really tough part began. As the trail went higher and higher, Ted, Hannah, and I huffed and puffed, stopped often to rest, and chomped on coca leaves. We were exposed to the Andean elements -- first, scorching sun, and then, closer to the top of the pass, freezing winds.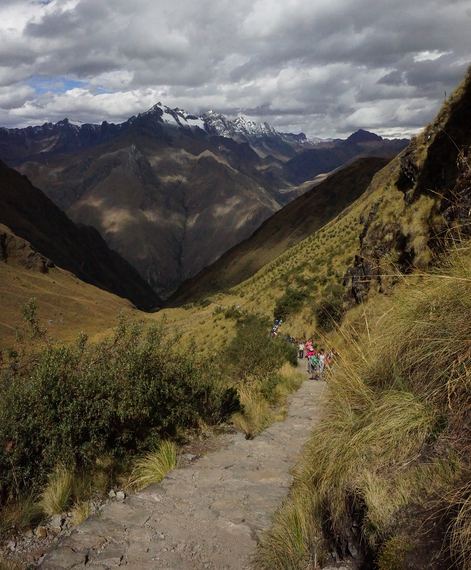 The three of us were among the first of our group to reach the summit at almost 14,000 feet. No one got altitude sickness, and we had all made it! I literally jumped for joy, while Ted and others danced on the mountaintop.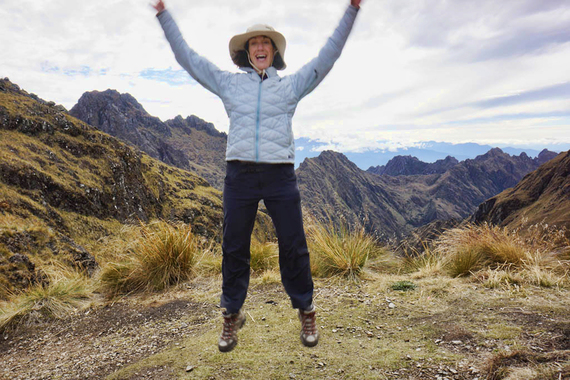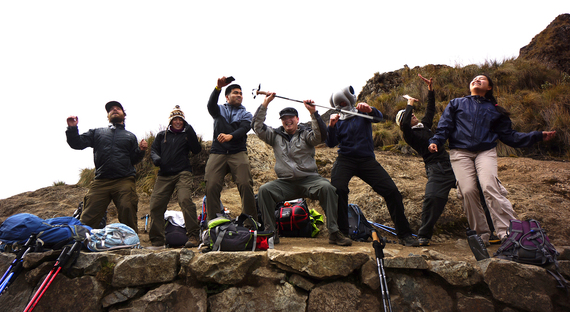 Then we had a long, steep walk down the other side to a campground by the Pacamayo River. The toilet facilities here were particularly primitive, and the night was very, very cold. The sleeping bags we had rented from Peru Treks were supposedly rated to minus 15 degrees, but it must have been Celsius rather than Fahrenheit. Despite the freezing temperature, and the fact that we were camped on uneven ground and my sleeping bag kept sliding to the front of the tent, I did catch a few hours of good sleep. I was getting used to my new little home.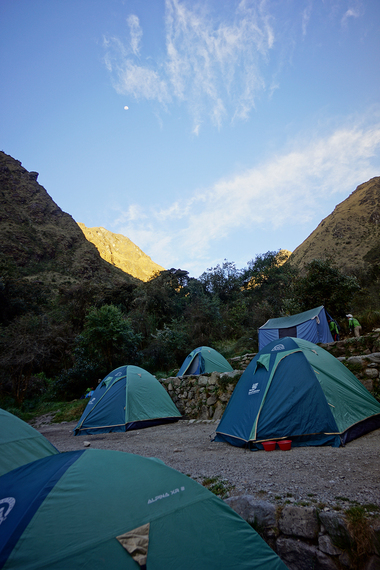 On Day 3, the wakeup was even earlier because we had to traverse 11 difficult miles. I would be walking all day (and, as it turned out, into the night), ascending two more 13,000-foot mountain passes, and descending into the verdant cloud forest behind Machu Picchu.
We immediately started climbing uphill, and visited a circular tambo, called Runca Ruccay, which during the Inca Empire had seven permanent residents and was the resting place for messengers, each of whom had a 24-hour journey to convey a message to the messenger waiting at the next tambo. In this way, messages could be relayed 2,400 miles over the high mountain passes of the Andes -- from Ecuador to Chile.
We then climbed up to the Second Pass (13,000-plus feet), where Percy had us join him atop a high crag. "The Incas held three animals as sacred," he explained. "The snake, which slithers on the ground; the puma, which roams the earth as we humans do; and the condor, which flies overhead and transports human souls to the afterlife." He kissed three coca leaves and then blew them into the wind. We all went to lay down our stones (collected in the Pacamayo River the night before), putting them down "intentionally" -- that is, with love and forgiveness in our hearts.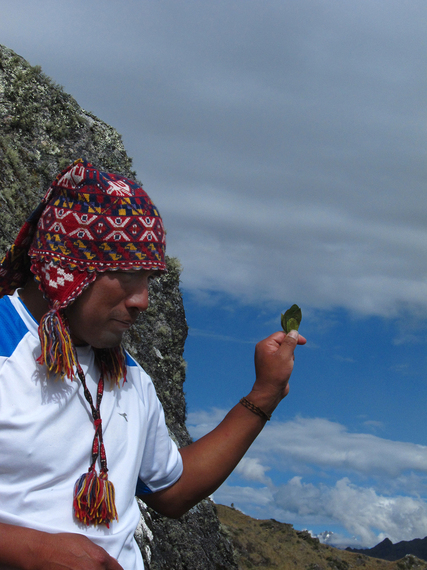 The expansive views of snow-capped Mt. Pumasillo (19,915 feet) and the Vilcabamba range were spell-binding. The plaintive sounds of Percy's flute as I arranged my stones and coca leaves deepened the meditation. It's no wonder that Percy and other Quechans still worship Pachamama -- Mother Earth -- as their Incan ancestors had done. While up on this peak, I contemplated the Inca Empire, which spanned only 100 years, and yet in that short time the Incas secured a domain of 300,000 square miles, as vast as the Roman Empire. In every plaza of every town, there seemed to be a statue of Pachacutec, the great Inca king, who, along with his son, expanded the empire up and over these mountains.
Emily at the Inca Tunnel

This long, long day we passed through the Inca Tunnel and visited two other Inca ruins at Sayac Marca ("Inaccessible Town") and Phuyupatamarca ("Town in the Clouds"). After Phuyupatamarca and Pass No. 3, the Inca steps -- which our guide Ernesto called the "gringo killers" -- began. Made of uneven stones pieced together to form a four- to five-foot path, they extended over a mile down a mountainside. Some were so narrow and steep that our feet wouldn't fit on the treads, and we had to side-step. If only these steps had come at the beginning of the long day, rather than at the end when I was already exhausted! If only I had trained on a StairMaster!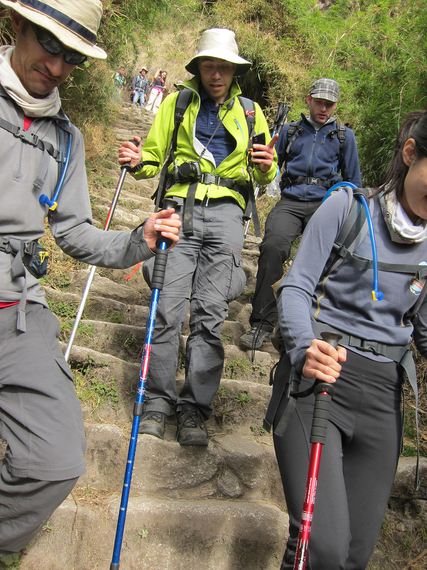 My eyes homed into the step below as I figured out where to plant, first the trekking poles, then my feet. One misstep and there would be no way to stop the fall. Broken bones for sure, although death was not out of the question. While some in the group scampered down, seemingly oblivious to the risks, I stayed with the pharmacists, who were taking it slow and steady. My legs suddenly stiffened and began shaking. No commands from my head could get them to stop, though the Ibuprophen certainly helped. As a full moon was rising above the back side of Machu Picchu, a llama grazing on one of the agricultural terraces turned and looked at us as we pulled out our headlamps and descended the stairs between the terraces, safely making our way to the campsite.
After dinner, Percy gave us our marching orders for the morning. We would be getting up at 3:30 a.m. and getting in line, the fifth of 21 groups, at the Wiñay Wayna gate, which opened at 5:30. Two hours later, we navigated the final 14 crazily steep "Monkey Steps" -- I had to get down on all fours to climb up them -- and arrived at the Sun Gate. The breathtaking city of Machu Picchu and the surrounding mountains spread out below, ethereal in the soft morning light.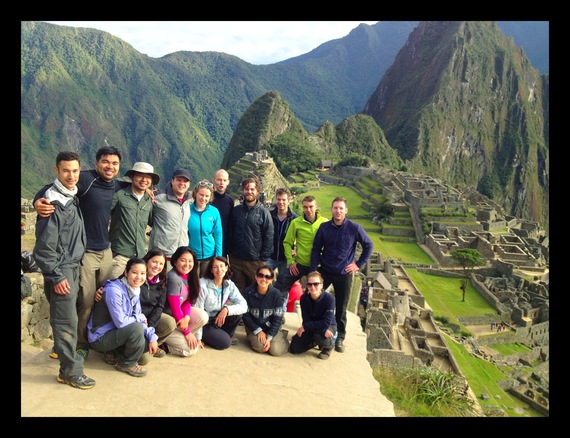 Four days of walking the same way the Incas had come, passing small villages, sleeping in tents as the Incas had rested at the tambos, participating in a religious rite at a high mountain pass -- it all added up to an almost overwhelming feeling of respect for the Incas and their love of Pachamama/Mother Earth. They built the trail and these vast cities (at one point, 1,000 people lived at Machu Picchu) in improbably lofty places, using only llama fat and clay for mortar in their buildings. (The joints in the walls of the sacred temples and royal residences are so tight that a razor blade can't fit through them, which is why they have withstood all the earthquakes throughout the centuries.)
Every place on earth has a spirit, and this one, amidst such grand scenery, is truly wondrous. On the Inca Trail, I was drunk -- not with the complimentary Pisco Sour that I would enjoy that night at the El MaPi Hotel in Aguas Calientes -- but with the magic of this place, where the sun and stars seemed within arm's reach.
"Machu Picchu will always be with you," Percy told us, pointing to his heart. I believe it will.