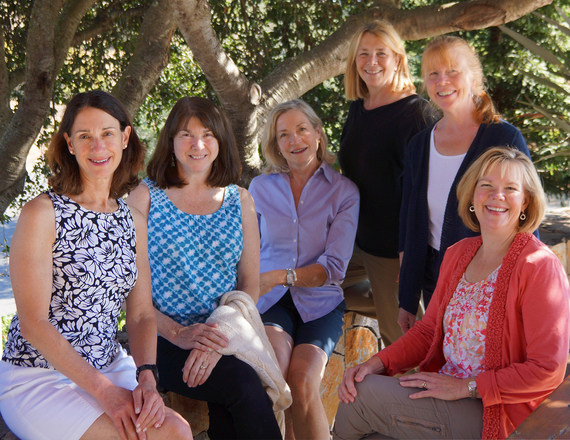 l to r: the author, Susan, Nancy, Bette, Kendra, Teri
I didn't want to go to Vassar. My mother, her two sisters and three of her cousins all graduated in the 1940s and '50s, when this Seven Sisters college (founded by a beer brewer, Matthew Vassar) was known for delivering a top-rate education for women. Vassar traditions (which I had heard about since I was in diapers) included demi-tasse -- drinking miniature cups of coffee (pinkies raised, if you please) served after dinner in the living room of each dorm -- and The Daisy Chain, six sophomores, in identical white dresses, carrying a 150-foot long chain of daisies on their shoulders to Commencement.
I was a "Flower Child" of the '60's, a Joan Baez and Joni Mitchell-worshipping 18-year-old in 1971. Peace signs I could make; raise a pinky I wouldn't. Vassar was the last place I wanted to apply. But since I was the oldest of three girls, my mother wouldn't let me consider any other options.
When I was 10, attending my mother's 25th Vassar reunion, she asked me what dorm I would like to live in. I chose Noyes -- which was designed by the famous architect Eero Saarinen. Unlike the majority of the traditional red-bricked campus, Noyes House was the height of modernity -- tulip chairs, palm trees and a sunken banquette in the living room, upholstered in neon colors of tangerine, lime green and magenta.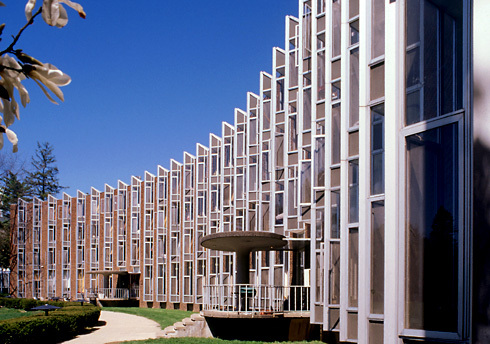 The first day of freshman year, I sat on my bed in Noyes with my roommate Bette -- a sweet, freckle-faced, green-eyed girl from Boston who wore her blonde hair in two long braids. We got to know each other by reading the "Birth Control" booklet that was part of the orientation packet in our mailbox.
Down the hall, we met Teri from a suburb of Minneapolis, Kendra from rural Maine and Susan and Nancy, who also lived near Boston. We spent many hours sitting on Nancy's stylish red and white Marimekko comforter, enjoying late-night snacks, dishing the dirt on our professors, waiting for the phone to ring, weighing the merits of hometown honeys vs. Yale men vs. Vassar men.
Vassar was in its second year of coeducation, and in 1971, it certainly wasn't my mother's Vassar, or that portrayed in Mary McCarthy's bestseller, The Group, written in the 1930s. (Though it may not have been that far removed from the Vassar of the 1960s, where Jane Fonda was supposedly expelled for riding a motorcycle naked through the main building.)
We may have sung Gaudeamus Igitur (which my mother used to sing around the house) on the way to Convocation in the chapel, but I better remember handfuls of condoms being hurled out like candy to the crowd in the annual Sex Lecture. While many homosexuals were still in the closet across the country, at Vassar they were OUT. The flamboyant Jackie St. James (né Sheldon Weiss) of the Class of '74, led a parade to welcome us freshman, singing his own ditty, "One More Monday in Poughkeepsie." Acrid marijuana smoke and the sounds of Jimi Hendrix and Janis Joplin, Rod Stewart and Bob Dylan poured out the windows. The Vietnam War was raging. In our junior year, Watergate led to President Nixon's being impeached.
In our senior year, Susan, Teri, Nancy and I shared an on-campus "Terrace Apartment" while Bette and Kendra lived two houses away. In TA 5, we tried to master the art of cooking, although sometimes we didn't follow the recipes in The Joy of Cooking too carefully. One day, when Susan was making sweet and sour pork, she put baking powder in the pan instead of cornstarch. BOOM! The next thing we knew, there was a dark brown splotch on the cathedral ceiling (which was too high for us to reach, so there it stayed for the rest of the semester.) I rolled on the floor, laughing, while Susan tried to figure out what had gone wrong.
While not cooking, we dieted. I tried to cure myself of my love of ice cream by going on an ice cream diet, when all I ate was ice cream three times a day. At the end of two weeks, I couldn't look at one more scoop of Rum Raisin or Rocky Road. This lasted about a week -- and then I was back at Friendly's.
Between cooking, dieting and watching the soap opera "All My Children," some managed to write senior theses, apply to graduate schools or "real world" jobs. It was hard to contemplate life after Vassar, but soon, the daffodils covered the hillside above Sunset Lake, the Shakespeare garden was in bloom and we were trying on our graduation gowns.
The night before graduation our families met for dinner at a lovely country inn. As we crossed a grassy field to the entrance, Kendra, her parents and her three siblings were walking arm in arm in front my family. Their red hair haloed by the late afternoon light, they looked like a pack of gorgeous Irish setters bounding off into the sunset.
The next day, I laughed so hard during the humorist Art Buchwald's Commencement speech that I completely lost track of the significance of the day; the VW Camper was jam-packed with all my belongings and soon my friends and I would head our separate ways.
My mother earned a PhD in Art History at age 51, and was crossing Central Park every day from her Westside apartment to the Metropolitan Museum, when she died in 2007 at age 78. There had never been any doubt in her mind that I would have both a career and (in her Vassar '49 lingo) an MRS degree. Along with Nancy, Teri, Kendra, Bette and Susan, I juggled marriage, motherhood and careers. As a group we drifted apart. Until four years ago.
I was traveling to Portland, Oregon, for a garden writers' conference and called Kendra and Bette, who live two doors away from each other there. They invited Nancy and Susan and Teri, and voilà -- the first Best Weekend Ever.
Even though it had been over 30 years, we picked right up where we left off. We sang our theme song from freshman year -- "Maggie May" by Rod Stewart -- at the top of our lungs and pretended it was the fall of 1971 and we were back on the fourth floor of Noyes.
Susan still twirls her hair when thinking, and ponders deep psychological questions. Bette is as sweet as ever, and is a culinary wiz too. How I had missed the staccato of Nancy's laughter! I would discover that her California home has the same fresh, modern style that was evident while sitting on her Marimekko sheets freshman year. Teri is, hands-down, the sunniest among us. And as her father once did, she now shows us how to strike a pose. Kendra always knows exactly the right words to say in every situation, and she has been the glue that has held us all together.
In the past 38 years, these women have taken on serious jobs in management consulting, medicine, public health, family and marriage counseling and college admission counseling. They have used their intelligence, experience and compassion to help others -- whether it be a CEO, a family with a sick child or an angst-ridden teenager in the throes of college applications. They asked me not to use their specific titles. All I can say is that all of them are impressively accomplished. They are about to celebrate their 30th wedding anniversaries and have been devoted mothers. They have juggled and multi-tasked, kept their sense of humor and dropped nary a ball. (Whereas I have dropped the marriage ball twice.)
In Portland, we toured the Pearl district, art galleries and the famous Powell's bookstore. But the real magic came from just being together and sharing the highs and lows of our lives -- the career zigzags and successes; the joys -- and challenges -- of marriage and parenting; our children's graduations, wedding engagements and career aspirations; the deaths of parents, siblings and friends.
Kendra's husband dubbed us the VC6 -- as if we were members of a gang. And I guess we are, in the best sense. We have had three more annual reunions -- two in the Napa Valley at Nancy's house, and one at my house in Connecticut. During these long weekends, we gab and giggle to the wee hours of the morning, take long walks, make delicious, healthy dinners (a far cry from the days of sweet and sour pork and diet chocolate pudding) and drink very good wine. This past summer we went to New York City for dinner and the musical Motown, and grooved all the way home.
The Internet has helped us stay in touch. On the first of each month, Kendra sends off a Rabbit, Rabbit email (everyone still follows my old family tradition of saying "Rabbit, Rabbit" on the first morning of every month for good luck). The emails fly between us every week, as we all chime in with what is happening in our lives, attaching photos of our families, friends and travels.
Kendra, Susan and I are hooked on playing the word game Lexulous online. We play five or six games at a time, and since Susan and Kendra live on the West Coast, I start my day with a cup of coffee, several Lexulous moves, and often start or continue the conversation in the "chat" box. There is no better way to start the morning.
Between the six of us, we have 13 children. None have gone to Vassar. But Nancy and I have daughters who have graduated from other Seven Sisters schools, where, like us, they forged close female friendships, friends we hope they will have for life.
In my adult life, I have made many new friends and I cherish these friendships. Yet there can be no new old friends. Even though I went to Vassar under protest, every day I thank my lucky stars for my alma mater, and especially the VC6.
This article first appeared in Women's Voices for Change