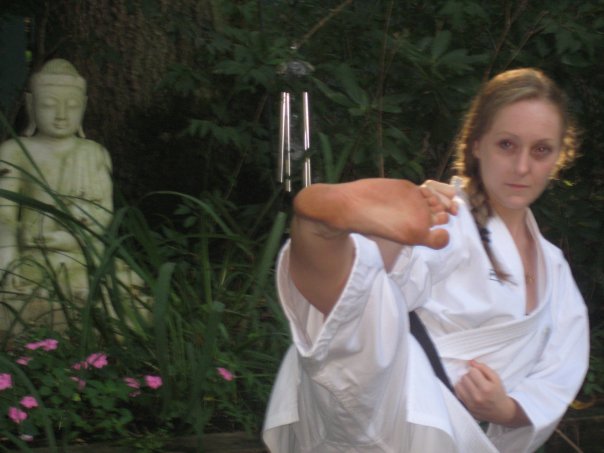 At 5-foot-1, and only 19-years-old, Claire Bouchard is the youngest member of the United States National Karate team, and with the help of her famous reverse-round-kick, she's on her way to the Eurocup to shatter gender stereotypes and break records.
In September Bouchard, a sophomore at Barnard College in New York City, will be in Berlin, Germany at the Eurocup, karate's version of the Olympics, to compete for gold in the all-around Shotokan competition.
Growing up in the town of Oyster Bay, New York, Bouchard has had a long road to get to Germany, and it began at her first karate competition where she took home a bronze and a silver medal at just eight years of age.
"My silver and bronze are a more memorable experience to me than my first gold because they were my first taste of competition, when I started to fall in love with the adrenaline rush and take center stage," Bouchard said.
But Bouchard's competitive appetite grew more from defeat than from victory.
At age 12 when Bouchard traveled to Japan for her first competition abroad, she was hit in the head and knocked down in the first five minutes.
"It really got me to refocus my direction with competition in general," Bouchard said. "Karate is a sport when you learn so much more from a loss than a win."
Shotokan, Bouchard's style of karate, involves kumite (sparring) and kata (form), and teaches the philosophy of "one hit, one kill" as Bouchard put it. "The goal is to hit efficiently, very well, and get out of there," she added.
With flexibility, agility, and above all, strategic thinking, Bouchard has medaled in competitions in El Salvador, Brazil, France, Italy, England, and Japan, but has yet to win an international gold.
Sensei Avi Azoulay, Bouchard's coach since she was six who Bouchard considers her "second father," said that her mental toughness is what has gotten to be second best in the world in her age group and category.
"Regardless of the fact that she's small in stature, she never let it stop her. She is mentally tough and determined therefore she is able to overcome being smaller than others," Azoulay said.
Besides overcoming differences in height, Bouchard said that karate, a predominantly male sport, has given her a sense of empowerment as a woman.
"If I stand in front of a tall 6-foot tall man, most people would look at me and say you're done, Bouchard said. "We do not have to be bigger, we just have to be smarter. And that translates into ever aspect of being a woman."
Education is a top priority for Bouchard, who squeezes in weekly gym time between a full load of classes, on top of her responsibilities as a speaking fellow and a resident adviser.

"When you're passionate about something you make time for it. It becomes a break time from work, which I now can't see myself going through college without doing," Bouchard said.
Azoulay said that he's always admired Bouchard's intense focus and dedication.
"She's always managed to schedule her training regardless of her busy day, now and even in high school," he said.
Bouchard's years of devotion to karate have led her to be a serious contender to take gold in the all-around competition in Berlin, and if she does, she will be the youngest person in her team's history to win a Eurocup.
Regardless of the outcome in Germany, Claire is the type of person who will give it everything she has with no regrets," Azoulay said. "She's not going to say that she didn't train enough. She's going to do whatever she can to prepare for what's ahead of her. I think she's going to do good in Germany, there's no question about that."