Full of Canadian confidence, Sean "breaks the rules" and flies with his remaining six ladies to St. Croix in the U.S. Virgin Islands instead of traveling separately. Obviously the tropical destination is "beautiful" and "amazing," and after a quick plug for the hotel they're staying at, AshLee gets the first one-on-one date! Tierra thinks she "deserves" every date with Sean, so she lashes out and calls 32-year-old AshLee a cougar. (Reminder: Sean is 28 and Tierra is the worst.)
Dropping The M-Bomb
Sean and Ash head out to the beach, strip down to their swimsuits (all hail the return of #ShirtlessSean!) and swim out to an amazing boat. "Ever since AshLee allowed me to lead her blindfolded in Canada, I feel like I've seen another side of her," says Sean, uttering a sentence that could only be possible on "The Bachelor." Meanwhile, back at the hotel, the women are complaining about Tierra, who has insisted on sleeping on a cot in the hallway rather than share a room. "I want to roll away her roll-away bed into the ocean," mutters Lesley. (Understandable.) They hope that AshLee will have a serious talk with Sean about Ms. Arched Eyebrows.
As Ash and Sean lay in the sand and give each other bedroom eyes, Sean asks about the "drama" in the house, and Ash gives him a big dose of truth about Tierra's epic rudeness to the other women while saying "y'all" at least three times. Sean is grateful for AshLee's honesty, which leads to an epic making-out-on-the-beach montage. "Our eyes connect," says AshLee. And by eyes, she means bodies. After the kissing, the couple changes into nighttime attire and sips red wine. Sean asks Ash if there's anything they haven't covered yet, and AshLee gears up for a "major" reveal, dragging it out for an eternity before confessing that she was married for a year at age 17. She doesn't want Sean to see her as a "broken girl." (Do we seriously still live in an age where we refer to women as "broken" or "fallen" because they're divorced?!) Sean doesn't give a damn whether his date was married 15 years before and he assures Ash that she's "perfect" the way she is. They yell "St. Croix" on the beach and then AshLee one-ups him by yelling "I Love Sean!" I assume Sean wants to prevent her from screaming more, so they kiss instead.
A Tierra-rist Explores St. Croix
Tierra gets the second one-on-one, but when she gets the date card and it talks about exploring St. Croix she is NOT happy. She hates bugs and heat and her makeup running and really thinks Sean should have taken her boating instead. Lesley hilariously mumbles some insults under her breath, and Tierra is off to meet Sean who has lots of questions per his conversation with AshLee. The pair go shopping for tourist jewelry on the street, and Tierra takes the stuff he (i.e. ABC) buys her to mean that Sean knows her really well. Then a parade comes because, CULTURE! Sean and Tierra dance and laugh and eat snow cones, but he's still filled with questions.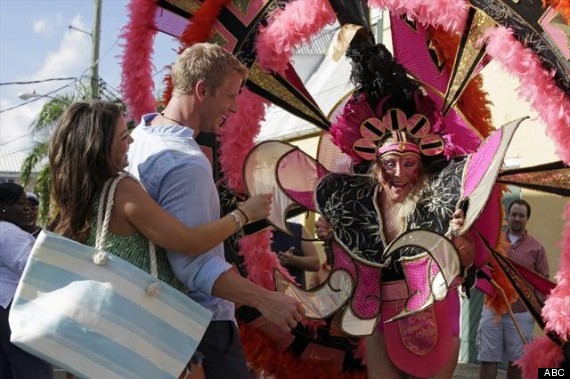 Tierra knows the best defense is a good offense, so she responds to Sean's trepidation by telling him that the girls just won't accept her, but it doesn't matter because: "These girls aren't gonna be around much longer, ya know?" By the end of the date, Sean has decided that Tierra probably isn't all that nice to the other women, but she's there for him, so he doesn't really care. (What. A. Guy.) Tierra says that she hopes their "journey" continues and awkwardly whispers "I love you" into Sean's ear.
This Date Was Made For Instagram
Catherine, Lindsay and Desiree -- three girls who are definitely frontrunners -- get this week's group date. Sean is totally sweet and he knows that the girls don't like to be on-camera without makeup on so he sneaks a camera crew into their room at 4:30am and takes photos of them. Awwww. After the women get up and get dressed, they all drive in a Jeep to see the sunrise on the east side of the island. "I'd be Instagramming the sh*t out of that," says my friend Vicki as we watch. Turns out, the women and Sean are embarking on ROAD TRIP 2013 ST. CROIX across the island to watch the sunset on the west side. Their road trip activities include a visit to the Sugar Mill where Sean reveals that he loves history, petting donkeys, drinking girly cocktails and going to a treehouse where Des dominates Sean's attention.
They end up on a beach (cue #ShirtlessSean!) and Sean has some one-on-one time with the ladies. We learn that:
--Lindsay and Sean are both as shocked as we are that she's made it this far, considering she showed up drunk in a wedding dress. They have "depth."
--Catherine's dad has struggled with depression and tried to commit suicide when she was a teenager. He now lives in China. Sean thinks Catherine's "strong."
--Des just really wants her parents' marriage. She starts crying about how much she loves her fam.
Sean makes a "hard decision" and gives the rose to Lindsay. "The crazy girl who walked in in the wedding dress now has a hometown rose. No one saw that coming," says Lindz. Agreed.
Political Consultants Love Picking Fruit
Lesley gets the last one-on-one date. Sean hopes that their relationship advances because it's not really on par with his "connection" with some of the other ladies. And what could be better for building connections than a "chill day" of picking fruit? Lesley admits that she's totally one of those girls on "The Bachelor" who she used to think were crazy for talking about love. She wants Sean to meet her family at their lake house in Arkansas because she thinks they have "crazy, raw, mad passion." "I like how you smile with your eyes at me," says Lesley to Sean. (Is this "ANTM"? Because Tyra would be SO proud.) Lesley and Sean make out. It's a good kiss, but sadly, I don't see Lesley sticking around much longer.
Sister Knows Best
Sean is alone on a dock "thinking" about how confused he is. So his older sister Shay comes to save the day! (We assume Shay's daughter is the one who has a fully-stocked playhouse in Texas which we saw during "The Bachelorette.") Shay gives Sean some tough love and solid advice saying that she just hopes he doesn't end up with "that girl," a.k.a. the one that everyone watching the show knows is awful a.k.a. Tierra. Sean says that Tierra apparently hasn't been hanging out with the other girls, and Shay gives him a knowing look. I like her already.
The Ultimate Eyebrow Showdown
While Sean deliberates with his big sis, Tierra and AshLee reach a breaking point and throw down. It's a pretty epic fight that can't be properly described in a recap, but here are a few of highlight-worthy lines (all said by Tierra):
--"Men love me!"
--"Sabotage!"
--"[My parents] said, 'Tierra you have a sparkle. Do not let those girls take your sparkle.'"
--"I can't control my eyebrow!" <--BEST. THING. EVER.
Sean heads back to the house because he wants Shay to meet Tierra, but when he walks in, Tierra is faux-crying on her cot while the other women sit awkwardly in the living room. "I'm so sensitive, and I have such a big heart, but I'm just so scared in this process," whines Tierra to Sean. (This woman really uses the same lines every week.) Tierra confesses that she confronted AshLee, but that she really hates confrontation and being emotional. Right... Sean goes outside and leans on a palm tree, which means that he's totally confused.
Eventually Sean goes back into the hotel room and makes the most shocking -- and sane -- decision of all: He sends Tierra home. He does the "nice guy" dump and tells her that he thinks this process is just too hard for her. "I hope the girls got what they wanted," cries Tierra as she gets taken to the airport in a minivan. Trust us, Tierra, they did. And so did we. (Although she was seriously entertaining.)
Zero Cocktails, 4 Roses
The girls have no idea what's going on with Tierra and are understandably happy/shocked when Sean walks in and informs them that Tierra is gone. He says he's just not looking for drama from a partner, and AshLee, the "spunky girl" with a "hard childhood," gets worried. There's not gonna be a cocktail party because Sean already knows who he has to send home. Chris Harrison comes in for a "Father Knows Best" pep talk and tells the girls he knows this is tough. AshLee begins crying and Sean begins calling names.
SAFE: (Lindsay already has a rose) Desiree, Catherine and... AshLee! Ash is super relieved and has "overwhelming love" for Seany-boy.
ELIMINATED: Lesley. Sad to see a fellow DC-area girl go home, but she's a Democrat who works in politics so let's be real, it would never work out anyway.
"Rejection doesn't feel good," says Lesley, speaking the truth as she heads to the airport. But it's Catherine who takes her departure hardest. "If he doesn't want Lesley, they I don't know why I'm here," she cries. Pretty sure she's just really heartbroken about being separated from her her "Bachelor" bestie. Nice to see at least one lasting relationship formed on this show.
Next Week, In The Hometowns...
Family is big for Sean! Fields! AshLee says "yay"! Seattle! Sean loves Seattle! Sean is nervous about dads! Lindsay's two-star general dad! Sean talks to Lindsay's Dad! Her dad doesn't have an answer! Catherine's sisters! Sisters grill Catherine! Sisters talk to Sean! Des' bro thinks Sean is a playboy! Des' bro is skeptical! Tough guy!
Sean Shirtless Count: 2 extended sequences
LOOK: The Best Tweets About This Week's "Bachelor"
PHOTO GALLERY
Best Tweets About 'The Bachelor' Season 17, Episode 7