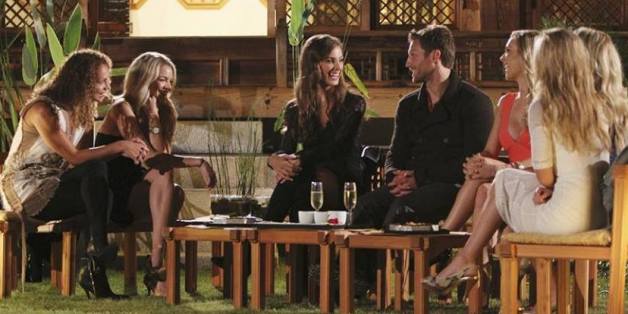 Welcome back to the wonderful world of white wine tears, roses, grammatical incorrectness and two-month journeys toward engagement. That's right, "The Bachelor," has returned -- this time with the ever-adorable former pro soccer player and single dad Juan Pablo at its helm. This season, we'll be recapping the highlights of each episode in haiku.
11 Haikus About Juan Pablo's K-Pop-Filled Journey To South Korea
They're off to Seoul, so
Culturally sensitive.
"Where's my kimono?"
"Dear Chris, please ban all
'Gagnam Style' references.
Thanks!" --South Korea
It's first group date time,
With K-pop group 2NE1.
Nikki's "worst nightmare."
Nikki wants the rose.
"I deserve it 'cause I'm me."
We've found our villain.
Sharleen's smart, driven,
Indifferent to JP.
How did she get cast?
"You're not bland, JP."
Sharleen is a great liar.
Clearly, they're soulmates.
Krazy! Korea!
Karaoke! Clare, eat
The damn octopus.
"I know you've swallowed,
Bigger things than that" --Kelly,
Resident comic.
After six kisses,
JP bans himself -- to be
A "good role model."
JP's no-smooch rule
Ends with Clare's gross sexy time.
"I threw up. Let's kiss."
Nikki quotes "science."
Ok, ABC. Time for
This party to end.
And The Final Rose Goes To...
SAFE: Andi, Nikki and Sharleen already have roses. Renee, Chelsie, Kelly, Danielle, Cassandra, Alli, Clare ... :: pause for Chris Harrison's moment in the spotlight :: ... and Kat.
ELIMINATED: Lauren, Elise
Next Week, In Vietnam...
Boats! Walks! Clare loves Vietnam! It's like heaven! It's romantic! Making out! Dancing! More making out! It's gut-wrenching! Clare won't change who she is! Horrible night! Clare cries! Clare is blindsided!
The Best Tweets About This Week's "Bachelor":
PHOTO GALLERY
Tweets About 'The Bachelor' Season 18, Episode 4