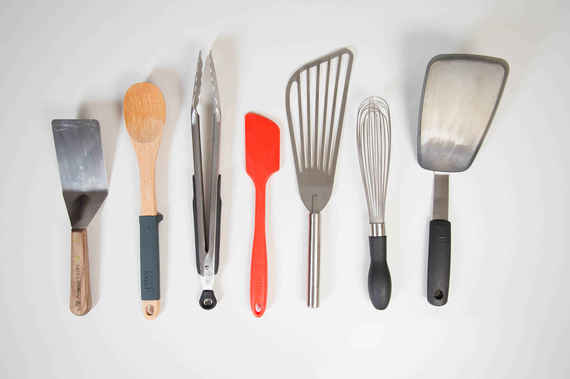 Credit: Laura Murray/Thrillist
I started out cooking with no more than a wok and metal spatula, but, today, I'm spoiled with a fully stocked kitchen and all the gadgets and toys I need. I realize some are frivolous (watermelon tap) and some are specialized (pancake griddle), but there are a handful that I could no longer live without. If you're just starting out cooking, these are the essentials you need to succeed -- and you can get them all for $50 or less. Yes, even a chef's knife that won't maim your fingers.
More: How to Make Homemade Mac 'n' Cheese in a Mug, in 6 Minutes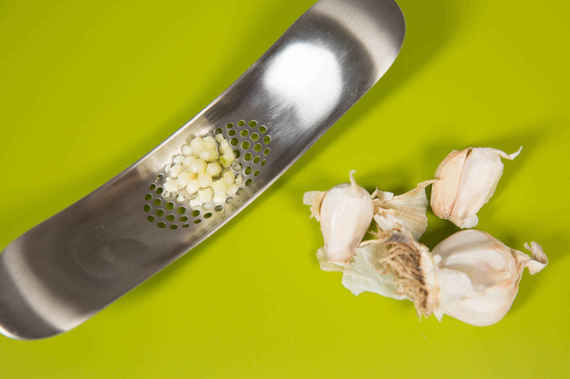 Credit: Laura Murray/Thrillist
Joseph Joseph chrome garlic crusher: $10
Unlike the traditional garlic press, this one doesn't smash garlic cloves to smithereens. The rocking motion actually minces them. Bonus: cleanup is a dream.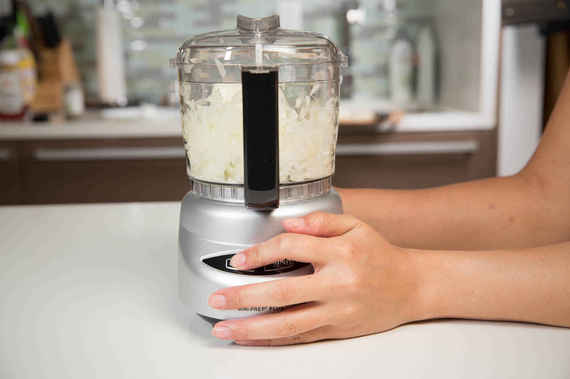 Credit: Laura Murray/Thrillist
Cuisinart Mini-Prep Plus Processor: $40
Hate chopping onions? Me too. This guy was the best 40 bucks I've ever spent. It saves me sweat and tears -- those onions! -- and does all the heavy lifting for me, from grinding Parmesan cheese to making breadcrumbs.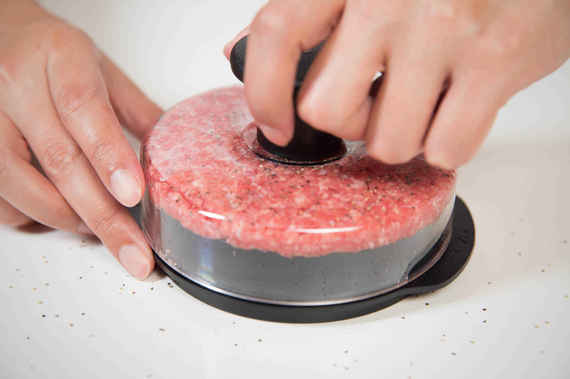 Credit: Laura Murray/Thrillist
Weber Original hamburger press: $11
Whether you're making thin diner burgers or meatier steakhouse burgers, this burger press has your back. Patty size is adjustable and it even creates dimples, which aside from being adorable, prevent the centers from puffing up during cooking so your burger stays nice and juicy.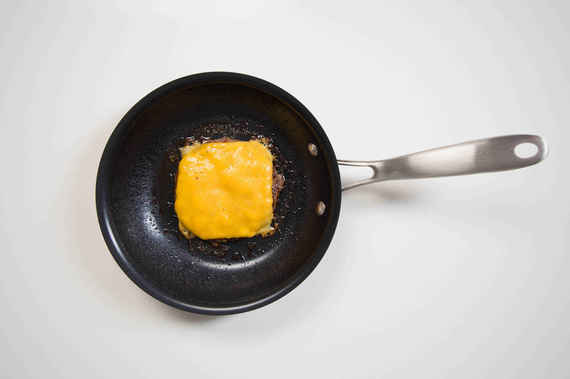 Credit: Laura Murray/Thrillist
Calphalon nonstick fry pan: $40
Cheeseburger for one, omelet, grilled cheese... this nonstick pan is the go-to for quick meals that require even heating and an ultra-slick surface.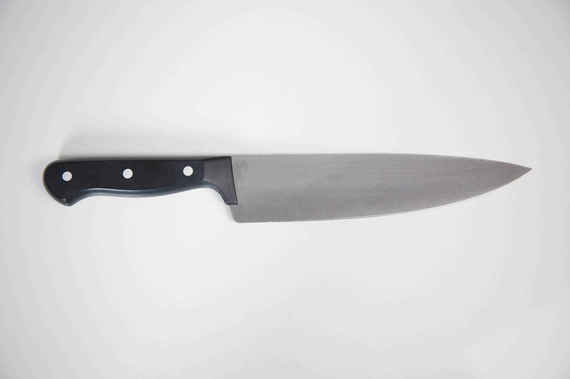 Credit: Laura Murray/Thrillist
Zwilling J.A. Henckels chef's knife: $50
If you own only one knife, make sure it's this one. The chef's knife is the workhorse of any kitchen for all-purpose chopping, slicing, and ninja practice. It's typically hard to find a good one for under $100, but this high-carbon stainless-steel blade manages to offer good value and a sharp edge.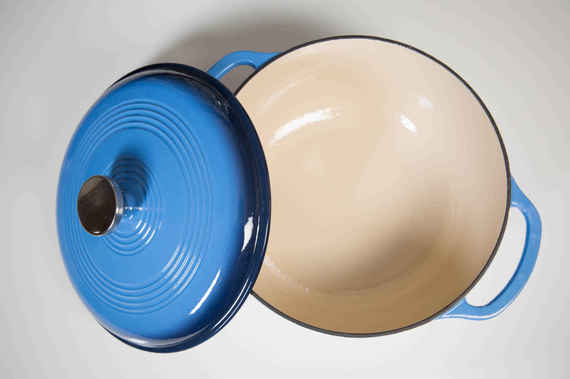 Credit: Laura Murray/Thrillist
Lodge enamel Dutch oven: $50
It fries, it braises, it bakes, it can even serve as a punch bowl in a pinch. This heavy cast-iron pot is one of the most essential pieces of cookware you can own. While people usually shell out hundreds of dollars, you can buy this pot on Amazon for a fraction of a Le Creuset.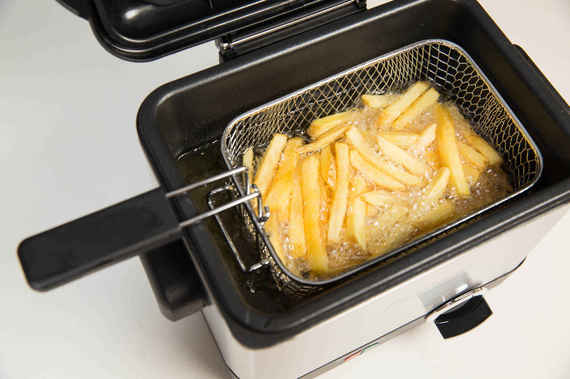 Credit: Laura Murray/Thrillist
Cuisinart Compact Deep Fryer: $50
I'm not embarrassed to say I have three deep fryers in my kitchen, but this one's my favorite. For one, its size means that it needs only one liter of oil to fry up anything my heart desires (it desires fries, for the record). Plus, it heats up quickly and has a thermostat -- a feature most compact fryers don't have. If it weren't a fire hazard, I'd keep it on my nightstand for late-night garlic fries, but it feels right at home on my countertop, too.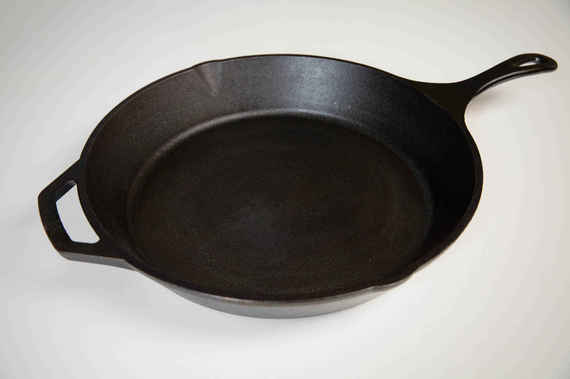 Credit: Laura Murray/Thrillist
​Lodge 12in cast-iron skillet: $37
I don't even bother storing my cast-iron skillet because I use it every day. Anything from steak to a whole chicken to fruit cobbler can be cooked in this heavy-duty vessel. It seamlessly goes from stovetop to oven and just gets better with time.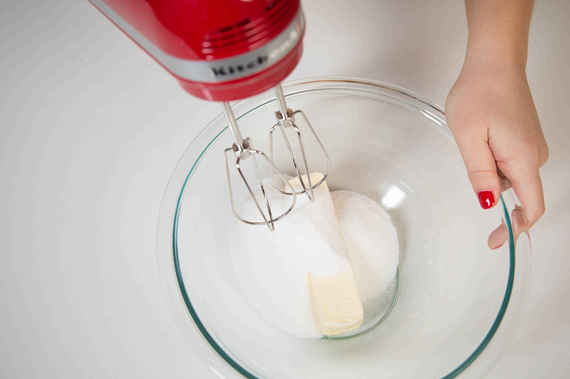 Credit: Laura Murray/Thrillist
KitchenAid electric hand mixer: $40
Much less expensive than a stand mixer, a handheld mixer works for quick tasks, like whipping cream or mashed potatoes, as well as mixing cookie dough.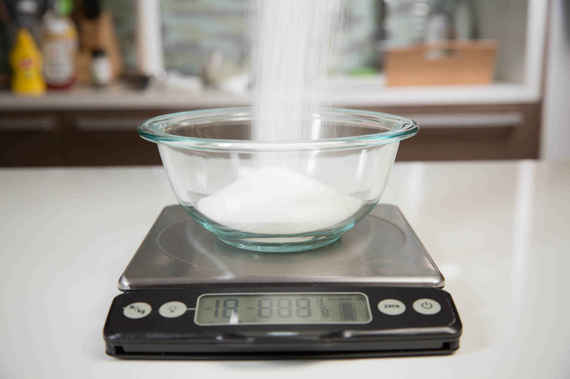 Credit: Laura Murray/Thrillist
OXO food scale: $50
Measuring flour is a waste of time, especially if all you need to do is weigh it out directly into the mixing bowl, and, more importantly, the weighing method is more accurate. This stainless-steel scale displays large numbers and easily switches between ounces and grams.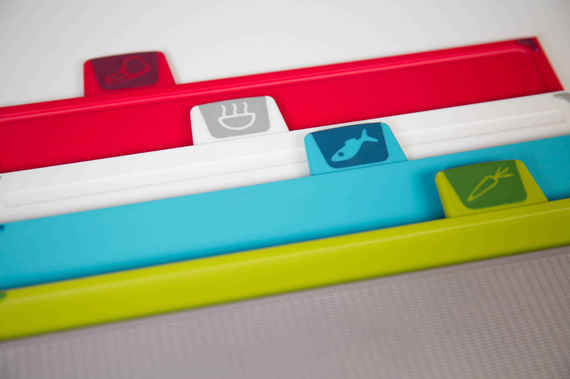 Credit: Laura Murray/Thrillist
Joseph Joseph Index Chopping Board Set: $50
To help minimize cross-contamination, it's a good idea to have separate cutting boards for fresh foods and raw meats. Having a set of color-coded cutting boards makes it easy to remember which board to use for which foods.

Credit: Laura Murray/Thrillist
Wüsthof honing steel: $25
Just as teeth need to be brushed, knives need to be honed. A steel rod keeps your knife's edge straight and performing its best. Hone your knives as often as you clean your pearly whites.
For 12 more cooking tools that are $50 or less, head over to Thrillist.com!
More from Thrillist:
6 Food Staples That You Can Make Yourself (Instead of Buying)
11 Dishes You Should Be Able to Make By the Time You Hit 30
Like Thrillist on Facebook: www.facebook.com/Thrillist
Also on HuffPost:
PHOTO GALLERY
Futuristic Kitchen Gadgets