This past spring, we presented a list of some of our favorite burger places from coast-to-coast. Since then, many more delightfully saucy patties cropped up on the scene and we can't try them fast enough.
Burgers -- from classic varieties to unique stunners -- continue to be one of the trendiest (and most delicious!) foods of the year. Here are 13 more delectable burgers you need to check out:
1. DOUBLE CHEESE BURGER - THE ROOKERY (Chicago)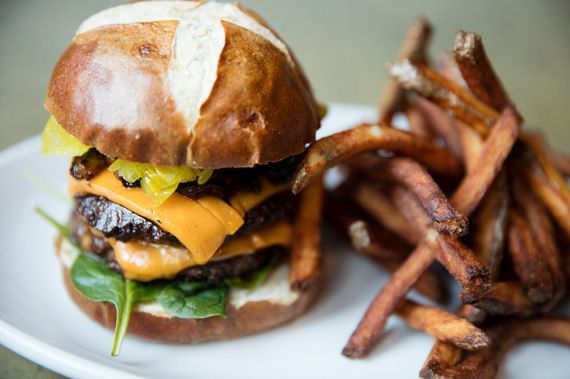 Photo provided by The Rookery.
What's better than one burger? Two. The double cheese burger at The Rookery melts in your mouth with aged cheddar, onion marmalade, bacon, pickles and a side of fries.
2. THE TMG BURGER - TWENTY MANNING GRILL (Philadelphia)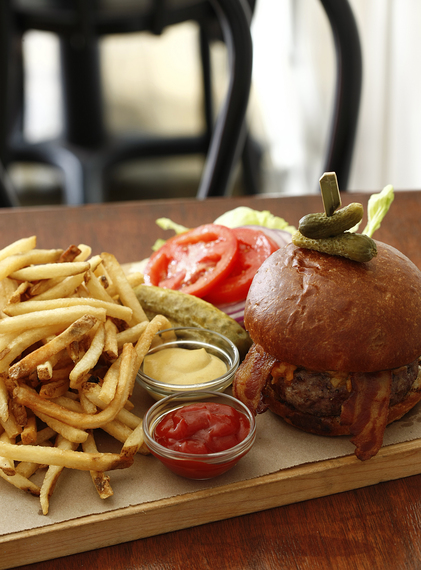 Photo provided by Twenty Manning Grill.
Proving that dreams can come true, Twenty Manning Grill delivers an eight-ounce, grass-fed Blue Star Farms bison burger with a choice of Vermont cheddar or gorgonzola, a side of the restaurant's special sauce and two slides of Kentucky bacon. If you don't eat red meat, the tuna burger with avocado-wasabi mayo or veggie burger with roasted portobello mushrooms and melted mozzarella are tasty options.
3. FRENCH ONION BURGER - FAST FOOD FRANCAIS (Sausalito)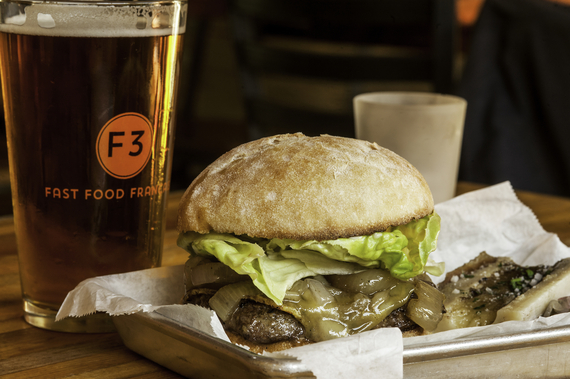 Photo provided by Fast Food Francais.
As if French onion soup isn't already a delicacy on its own, Fast Food Francais in Sausalito, just north of San Francisco, uses it to top off its patties, offering a French onion burger with onion soup, Emmental (a yellow, medium-hard Swiss cheese), cheddar fondue, onion rings and lettuce.
4. THE VIG BURGER - THE VIG (Chicago)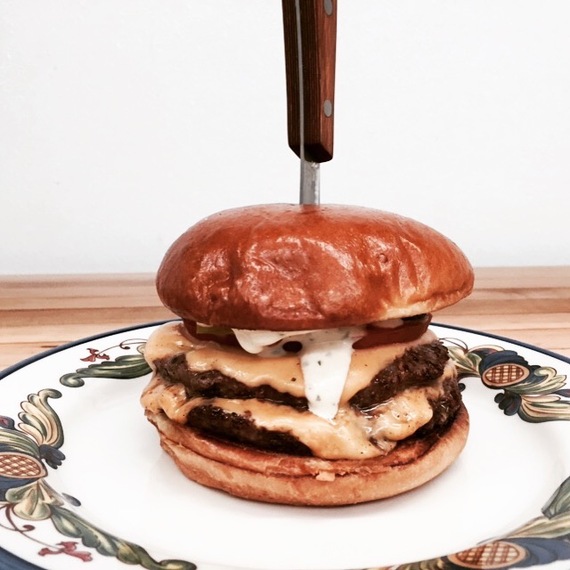 Photo provided by The Vig.
The house burger at The Vig is made with American cheese, tomato, pickle and horseradish dijonaise (a custom horseradish, Dijon mustard and mayonnaise blend) -- a spicier take on an otherwise tasty classic that also comes with an option of thick cut bacon and an egg.
5. THE BURGER - THE LARCHMONT (Los Angeles)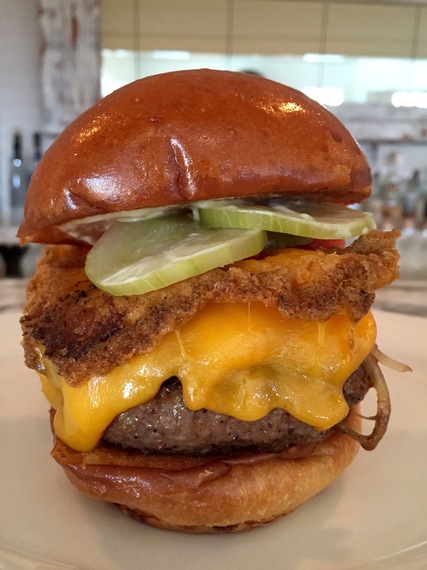 Photo provided by The Larchmont.
It doesn't get more gourmet (or more delicious!) than the burger at The Larchmont, a Niman Ranch patty blend of short ribs, flank steak and dry-aged strip loin on a brioche bun with aioli, 12-hour roasted tomato, champagne buttered sauteed onion, cheddar and Gruyere cheese. Guests looking to reach for the stars can add pork belly pastrami on top as well.
6. STEAK BURGER - THE TIP TAP ROOM (Boston)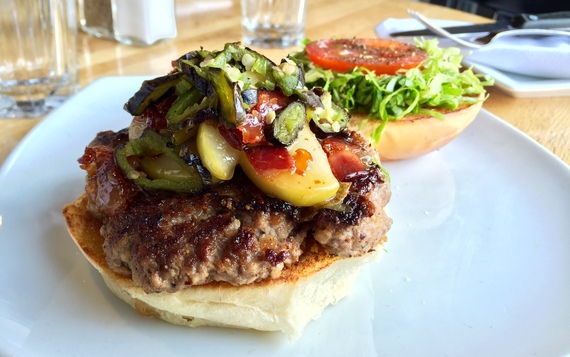 Photo provided by The Tip Tap Room.
Though The Tip Tap Room offers four delectable burger pairings -- steak burger with veal demi (or demi-glace, a rich brown sauce in French cuisine), lamb burger with tzatziki, turkey burger with cranberry or an Italian sausage burger with pretzel-dijon mustard -- it also offers additional toppings like sauteed vegetables and a variety of cheeses so you can make one your own way.
7. GRASSFED BURGER - PREUX & PROPER (Los Angeles)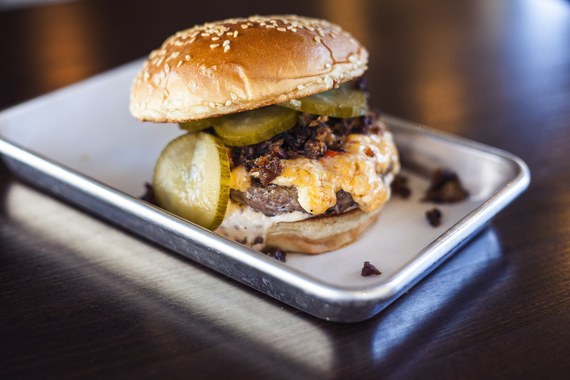 Photo provided by Preux & Proper.
Preux & Proper dishes out a juicy, crunchy delight with its Cajun-inspired burger with pimento cheese, house pickles, bacon ends and Creole mayo.
8. B&B MINI BURGERS - BIRD & THE BOTTLE (San Francisco)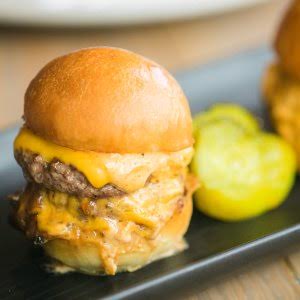 Photo provided by Bird & The Bottle.
Bringing intriguing interpretations of global street food to life, Bird & The Bottle offers mini burgers with American cheese, grilled onions and housemade secret sauce from a wood-fired grill.
9. SLAGEL FARM BEEF BURGER - OWEN & ENGINE (Chicago)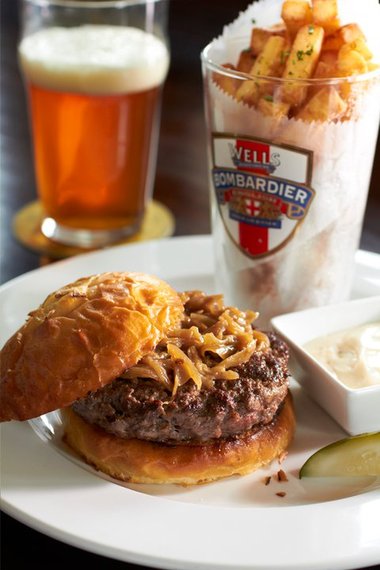 Photo provided by Owen and Engine.
A delicious meal to cozy up to with a couple of brews, the beef burger patty at Owen and Engine is mixture of ground chuck, short rib and brisket and is served with caramelized onion, a house potato bap (bun) and a side of chips (British term for fries).
10. CHEESEBURGER - STATUS KUO (Los Angeles)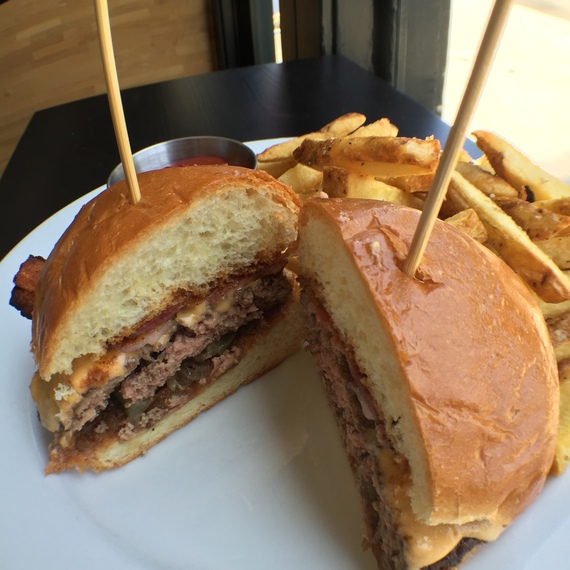 Photo provided by Status Kuo.
An Asian twist on a classic pub grub dish, the cheeseburger at Status Kuo is prepared with a fried onion, bacon and guava bbq sauce, a popular condiment for Asian-style grilled meats.
11. SHORT RIB BURGER - RIVERSBEND (Boston)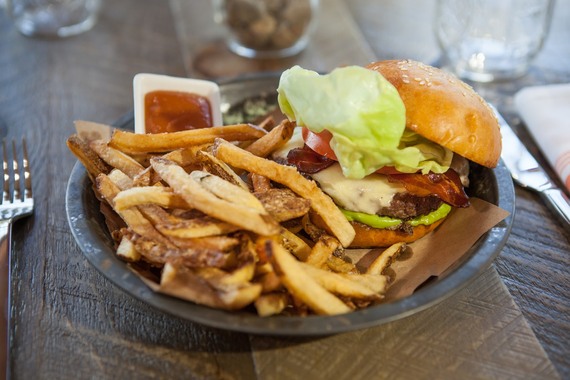 Photo provided by Riversbend.
Acclaimed chef Frank McClelland (L'Espalier) continues to do what he does best, wowing guests with yet another one of his dishes, the juicy short rib burger with a side of fries.
12. 40 DAY DRY-AGED PRIME STEAK BURKER - DAVID BURKE'S PRIMEHOUSE (Chicago)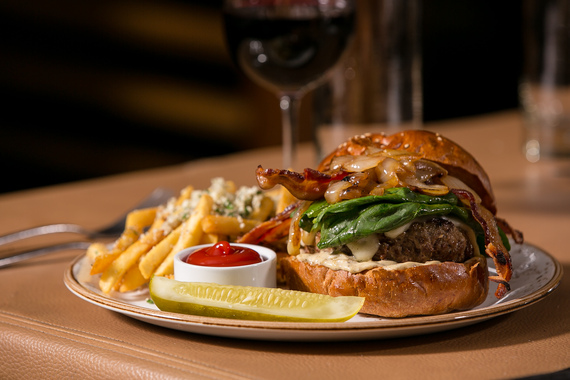 Photo provided by David Burke's Primehouse.
A play on the restaurant and acclaimed chef's namesake, the 40 day dry-aged prime steak "burker" is prepared with a healthy dose of toppings -- caramelized onion, spinach, bacon, black pepper aioli and a choice of cheese -- making for a deliciously filling brunch dish.
13. BREAKFAST BURGER - OSTRICH FARM (Los Angeles)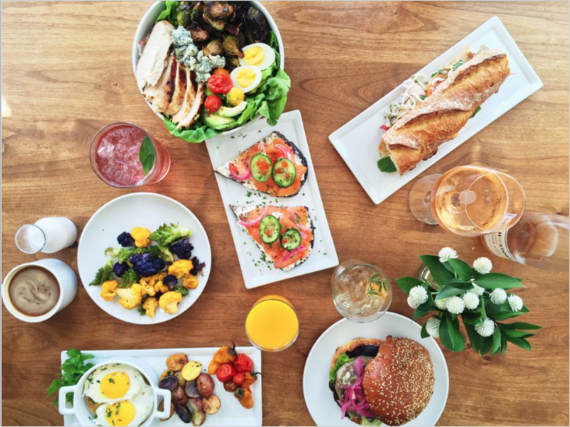 Photo provided by Ostrich Farm.
Wake up to Ostrich Farm's breakfast burger, a juicy patty topped with fried egg, Gruyere, tomato and caramelized onion.
14. DRY AGED CHEESEBURGER - LIGHTHOUSE (New York)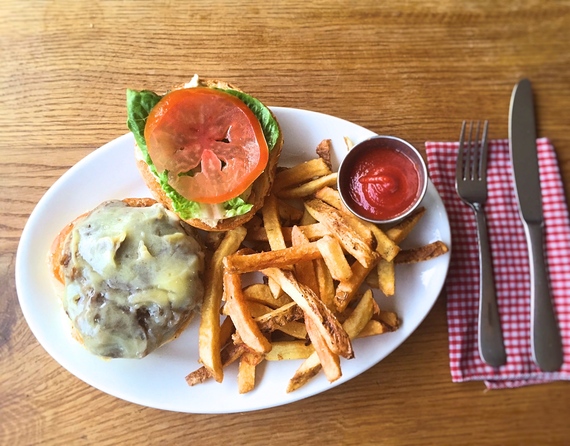 Photo provided by Lighthouse.
Using grass-fed, free-range meat and local produce, Lighthouse, located in Brooklyn, delivers a dry aged cheeseburger with Manchego, onion jam, pickles and jalapeño mayonnaise.
You might also like:
23 Dishes That Are So Hot Right Now
Go Greek in Honor of the 2016 Olympic Games: 8 Greek Foods to Know
The Backstory and Basics of the Bloody Mary
For all the latest on food, drinks and restaurants, visit the Reserve blog and follow us on Twitter, Facebook and Instagram.