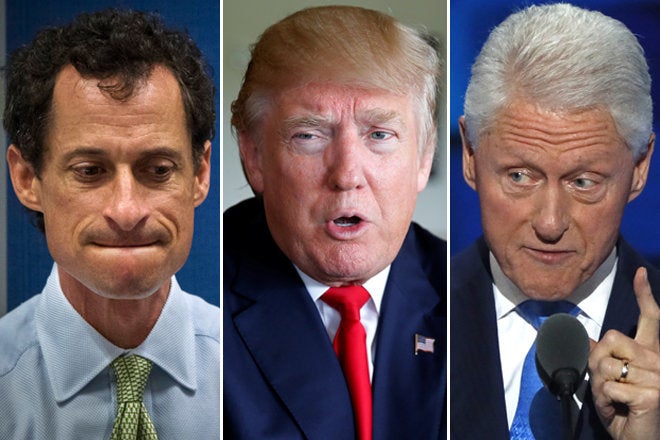 WASHINGTON ― The first U.S. presidential election to feature a woman nominee from a major party is being dominated by news of men behaving badly.
On Friday, the FBI made a bombshell announcement: it had uncovered new emails relating to its earlier investigation of Democratic nominee Hillary Clinton's use of a private email server while she was secretary of state. Unconfirmed reports soon said the emails had been recovered from a device that belonged to former Rep. Anthony Weiner (D-N.Y.), the estranged spouse of Clinton aide Huma Abedin.
It's only the most recent news this month related to the sexual impropriety of a high-profile man. The first big October surprise was a 2005 hot mic recording of Donald Trump bragging about grabbing women "by the pussy," aggressively kissing them and getting away with it because he's a star.
"This was locker-room banter, a private conversation that took place many years ago," Trump said. "Bill Clinton has said far worse to me on the golf course — not even close."
Trump had already dredged up allegations of sexual assault and harassment against Clinton's husband, former President Bill Clinton, but his damage control strategy after the tape came out was to dig even deeper. He invited Clinton's accusers to the second presidential debate, including Juanita Broaddrick, who said Clinton raped her 1978.
After Trump denied that he himself had committed sexual assault, more than a dozen women came forward to say he had, in fact, sexually assaulted them. Another accuser emerged this week, but the campaign has continued to deflect. Trump surrogate Newt Gingrich displayed the strategy in a Tuesday interview with Fox News' Megyn Kelly, who had asked Gingrich about the assault accusations against Trump.
Gingrich pivoted the conversation to Bill Clinton.
"Do you want to comment on whether the Clinton ticket has a relationship to a sexual predator?" Gingrich said, refusing to be drawn on Trump.
Hillary Clinton has not been accused of sexually assaulting or harassing anyone. Other than Trump's offhand remark that he doesn't "think she's loyal to Bill," she hasn't been accused of sexual impropriety, either.
Trump and his supporters say Bill Clinton's bad behavior is fair game because she enabled his abuse. Trump also claimed that Hillary Clinton "viciously attacked" her husband's accusers, but there's no evidence that she did on any large scale.
Most women voters are siding with Hillary Clinton. The gap between men and women in this year's election could be the biggest it's been in more than 60 years, thanks to a larger-than-normal split between men and women in favor of Democrats, according to FiveThirtyEight.
As for Weiner, Abedin had stuck with him through several prior scandals, but the couple separated after the most recent sextings came to light in August.
A year ago, Trump made what now seems like a prescient observation when he tweeted that Weiner was a "perv sleazebag" who could be a security risk. It seems like the FBI may agree.
Either way, 2016 is definitely the "perv sleazebag" election.
BEFORE YOU GO