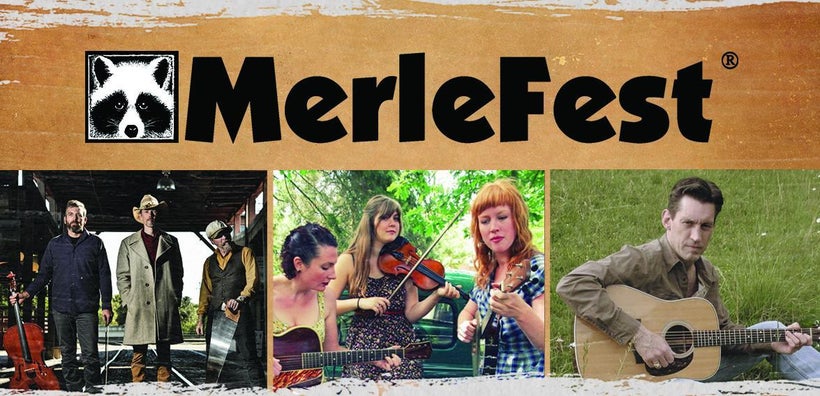 MerleFest, one of the top Americana roots festivals, is known for its unique mix of traditional, roots-oriented music from the Appalachian region, including bluegrass and old-time music and four days of making memories, Americana, blues, country, Celtic, Cajun, cowboy, zydeco, rock and many other styles known as "traditional plus." The festival, presented by Window World, is celebrating its 30th anniversary April 27-30, 2017, at in Wilkesboro, North Carolina. Founded in 1988 by the late, great Doc Watson in memory of his son Eddy Merle Watson as a fundraiser for Wilkes Community College. Tickets are available here.
The Avett Brothers will play a special set on the Hillside Stage that will feature songs that the band learned from Doc Watson.
The Transatlantic Sessions Tour American debut, is a series of musical productions that brings together innovative Irish and Scottish artists with the best American roots artists, under the musical direction of American Dobro virtuoso Jerry Douglas and Scotland's supreme traditional-style fiddler Aly Bain.  This lineup -- featuring guests folk-rock legend James Taylor, Sarah Jarosz, Maura O'Connell, Declan O'Rourke, Karen Matheson and Joe Newberry -- will not perform anywhere else.
Steep Canyon Rangers and Leftover Salmon headlining Watson Stage late night Friday.
Chris Austin Songwriting Contest finalists will perform and the winners will be announced by contest chairman Jim Lauderdale on Saturday.
Crossing Borders: American and Canadian Artists in the Round with Ken Tizzard, Joe Smothers, Sarah Burton, Chris Jones, Megan Nash and Jim Avett on Saturday afternoon on the Austin Stage.
MerleFest Band Competition hosted by Mark Bumgarner with judges from The Local Boys and Si Kahn from 9:45 a.m. to 5 p.m. on Plaza Stage on Saturday.
The Kruger Brothers and Kontras Quartet on Sunday on the Watson Stage.
The Avett Brothers Gospel Album release with Jim Avett on Sunday at the Creekside Gospel Hour with Jim Avett.
Food vendors representing local schools, churches and groups serve up a wide variety of delish dishes ranging from Thai to pinto beans to European-inspired pastries from Wilkes Community College's baking and pastry arts students.
Hear Chapel Hill-based Mipso supporting its new album, "Coming Down the Mountain."
Catch Mandolin Orange make its Watson Stage debut with the full band.
Front Country's Saturday Night Throw Down.
Sunday Blues with Roy Book Binder, Jorma Kaukonen, Charles Welch and Todd Albright.
Zac Brown Band Acoustic Set on Watson Stage on Sunday.
Mando Mania with Sam Bush, Sierra Hull. Tony Williamson, Darin Aldridge, Casey Campbell and Tommy Norris on Saturday on the Creekside Stage.
MerleFest in Schools program.
The Hillside Album Hour will see its 10th incarnation on Saturday. It's a brainchild of The Waybacks, a supremely talented band of musicians with roots in the San Francisco Bay area.
The Steel Wheels is releasing its new album, "Wild As We Came Here."
The Dance Tent.
Saturday Night Jam led by Donna the Buffalo with special guests.
Pete Wernick's Flexigrass Jam with Del McCoury, David Holt, Nicky Sanders, Joan Wernick, Charlie Muench, Darin and Brooke Aldridge and Mike Ashworth
Impromptu musical reunions and spontaneous jams.
Backstage tours will be offered for the first time. Advance ticket purchase required.
The Kruger Brothers will release a remarkable new project The Roan Mountain Suite and those unable to attend the iconic music festival may hear portions of through a live stream on Facebook.
Chatham County Line Electric Holiday on Friday in the Dance Tent.
The Avett Brothers workshops.
Debut of MerleFest Museum, which will be free to all attendees.
The Reunion Jam at the Watson Stage on Saturday will feature three-fourths of the legendary progressive bluegrass band Newgrass Revival, which includes 30-year MerleFest veteran Sam Bush, Jerry Douglas, Béla Fleck, Mark Schatz and Bryan Sutton. This story was originally posted on MusicReporterBlog.
This post was published on the now-closed HuffPost Contributor platform. Contributors control their own work and posted freely to our site. If you need to flag this entry as abusive,
send us an email
.