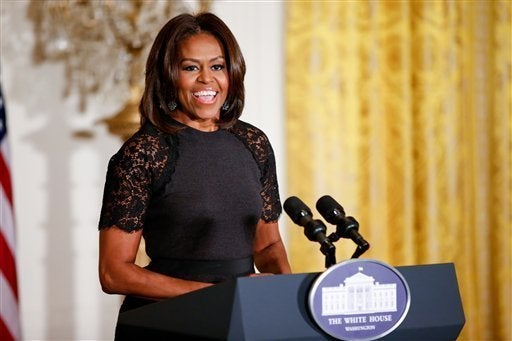 For the longest time, I only had Oprah. I only had Oprah to look up to as an example of what a Black woman looked like in a position of power. For awhile she was the only mainstream model of someone who used her voice to change the narrative of what Black woman can do and be. Now I have Michelle LaVaughn Robinson Obama to add to my imagery of what's possible. Her existence in my life came at the most vital season of growth. I was in the beginning stages of transitioning from teen to woman, from high school to college. I was collecting the seeds that I would later need in my life to sow, grow and make my mark in this world, but in order to take the right path, I would need role models, mentors and friends, to get me there. Here are the ways Michelle Obama's existence touched my life and my perspective:
She Was Inclusive Which Helped Change the Narrative
During my college years, the White House was in my backyard and Michelle's existence was more than an image on the television screen, she was now reachable. A Black First Lady lived just a few minutes away from my dorm room and the thought of it helped me realized that the unthinkable can be fulfilled. She and President Obama made the White House inclusive, and they opened the doors and opened their lives up to us. "You made the White House a place that belongs to everybody. And a new generation sets its sights higher because it has you as a role model," President Obama said to his wife during his final speech. I watched her move around D.C. showing little girls what it's like to be "somebody educated, strong [and] outspoken ... on a regular basis." That meant something to me because she knew how much this world needed to see her, to touch her and to hear her. Her mere existence was a representation that we often didn't see of Black women. She helped change the way people looked at us.
She Knew Her Gift & Presence Was Not Always Accepted
A Southside girl who went to ivy league schools and made a name for herself, tackled many obstacles while climbing her way up the Corporate America ladder. She shared with Oprah that she's been around long enough to know that her presence wasn't always welcomed. Like many of us, she too had her haters and naysayers. She made people feel uncomfortable, but she packed on the tough skin and brushed it off. "I didn't just wake up First Lady. I went to law school, I practiced law, I worked for the city, I ran a non-profit, I was an executive at a hospital. I've been in the world. I worked in every sector. You don't do that without coming up against some stuff, having your feelings hurt. Over the course of living you learn how to protect yourself in it," she revealed to Oprah.
Just because she held the title as First Lady doesn't mean she did not live a life that was truly reflective of who she is. "I thought, 'OK, well, let me live my life out loud so that people can then see and then judge for themselves,'" Obama said in the interview with Oprah. "And that's what I want young people to do: Just live your life. Live it out loud." She lived out loud by being intentional in her programs by doing the work herself. She championed the things that matter to her and she was never afraid to stay authentic while doing the work that truly matters. We saw her dance, we saw her complete exercise routines, and we saw her sitting in the dirt planting fruits and vegetables. She made sure we understood being a college grad was not only a cool thing to do but an important thing to do. We even got to see her perform karaoke in a car with Missy Elliott.
She is Relatable Which Made Her Magic Real
I think every Black woman has their own formula of #BlackGirlMagic, but Mrs. Obama's magic seemed like a collective of power that was reminiscent of a piece of magic we all have inside of us. Some women glisten in this magic that seems unreal, but Michelle's magic was familiar. She felt like an Aunty that moved on up to the eastside but still could get down at the family reunion. She is an everyday woman - an every woman. She was relatable, gracious and vivacious.
We didn't see many Black love stories in the media, until the Obamas. Before the world was smitten by their love, the stories of the unwedded Black woman was the narrative we consumed. We aren't all beaten and abused. We aren't all single mothers. She also showed us that we can have many degrees, make more money and be career driven, but we can still be loved. There are good Black men out there. She changed the image of what it looks like to be loved by a Black man. The Obamas became everyone's #relationshipgoals and a positive image of what a Black family can look like.
The most powerful statement that Michelle Obama made was during the 2016 Democratic National Convention when she looked out to the crowd of delegates and said, "The story of generations of people who felt the lash of bondage, the shame of servitude, the sting of segregation, but who kept on striving and hoping and doing what needed to be done so that today, I wake up every morning in a house that was built by slaves." For eight years I got to see something that my ancestors may not have ever dreamed would be possible. That full circle moment is the reason why I will continue to have hope, because I know what's possible and I've seen what's possible.
This post was published on the now-closed HuffPost Contributor platform. Contributors control their own work and posted freely to our site. If you need to flag this entry as abusive,
send us an email
.