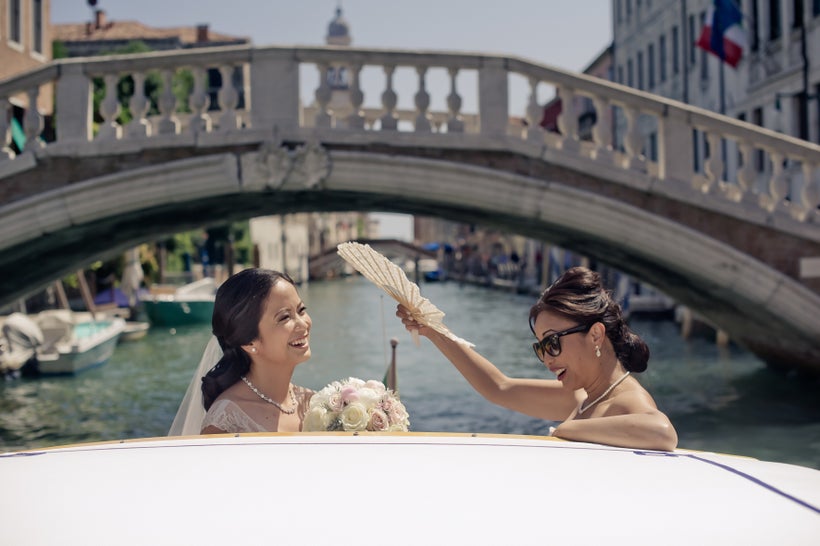 Let's work our way backwards to how Venice won me over.
The definitive moment is four days in, set against the expanse of the Grand Canal, inside a water taxi of gleaming wood. We are cruising through a scene of pulsating colours - turquoise waters, blue skies and the worn-in white of centuries-old marble. I'm standing in the back of this boat, agape at being suspended in this moving painting. Beside me, a well-composed and beautiful bride. That bride is my sister.
It's the perfect day to make a case for a city buried in clichés, blessed and cursed by the 20 million tourists who visit it every year. I will admit I'm on a filter, lo-fi in the lingo of Instagram, adding that dreamy, warm glow to everything I'm seeing. In addition to the bride, everyone I love is on this boat -- my parents, my brother and his family, my husband and son. Like all families, we have had our share of ever changing tides. But here and now, we are whole and happy. Venice is the witness. For this reason alone, I know I'll always love this city. The deal has been sealed on this fifteen minute ride from our apartment in Castello to a dock at the foot of Piazza San Marco, my skepticism and snobbery sinking in the Adriatic Sea.
Travel connoisseurs avoid Venice for a reason. It's a disneyfied destination, devoid of mystery and full of tacky tourist traps. Think a thousand iterations of handblown glass and droves of giant cruise ships descending on its docks. Piazza San Marco, the main square, is a factory of manufactured moments -- pigeons eating from the palm of your hands while a four piece band plays saccharine show tunes. So caricatured is this city, it's hard to tell the real thing from the one you may have visited in Vegas or Macau.
Then, one day, my sister tells me, she wants to get married there.
There are two camps that are squarely divided when it comes to this so called City of Love -- those who hate it and those who love it. My sister firmly resides in the latter and she was betting that she could win 53 wedding guests over to her side.
My induction into this camp was a slow yet steady and swift ordeal.
The key is where this boat picked us up -- a quiet, residential street in Castello, a short 15 minute walk to Piazza San Marco. Our third floor apartment overlooks Canal Dei Greci on a street of other apartments and a handful of restaurants. It is here that you are reminded of Venice as it must have been, before it showed up on the brochures of every travel agency. Once upon a time, this city on stilts was called La Serenissima, meaning the most serene.
I can understand why, looking out from our balcony, where the foot traffic by the hour can be counted by my two hands.
"You don't see cars or billboards," says our momentary dining companions, an Australian CEO and his American partner. They visit Venice regularly, sometimes up to three times a year. They have long ago ditched the warnings of a place too touristy for its own good.
The surprise of Venice, if like me you arrive skeptical, is that it's a lovely place to hide. Sure, there are hot spots where crowds concentrate and often kill the vibe. But, all it takes is a few turns into one of the many alleyways, a handful of hops over the many bridges and you are sure to find an empty plaza all your own.
The surprises and secrets are easy to come by if you're open to being converted or even easier, if you have a great guide.
Enter, the lovely Amber Mollison, my sister's wedding planner. The Canadian/American expat runs her own agency, Angel Lion Wedding and Events. She came to Venice for a year to finish a master's degree in Graphic Design but fell in love instead. She now raises her two boys, 3 and 4, in the neighbourhood of San Giacomo Dell O'rro, while planning 30 weddings a year.
Mollison says a wedding in Venice remains popular not just for the incredible backdrop but because guests can feel free to explore without needing a car. Our tiny traveling companions, three kids under the age of 7, thrive on this, wandering the area as though it is their private, tiny village.
It's the reason Mollison chose to stay and raise her kids here in the first place.
"You can see and hear kids playing in the campo (Venetian speak for piazza)," she says. "It's great not needing to drive for a play date, my kids have friends just outside my door."
Rewind another two days from my seal-the-deal moment on the boat. We are at a pre-wedding cocktail reception at Al Pesador Osteria, a seafood tapas restaurant that sits on a wide piazza by the Grand Canal. To get here, we had to cross a dense river of tourists, through the area of Rialto, home to the oldest bridge in Venice. Cue, tourist trap. Still a little thick with skepticism, I was expecting an afternoon of cliches -- English menus, next to American tourists. Instead, we arrive to a near empty plaza with a fantastic canal-side view. The food is fresh caught fish, from the same waters beneath our feet. I'm learning, in this one-a-kind city of canals, you just have to trust in left turns. Make enough of them and it leads you to a place like Al Pesador.
My cynicism is clearly on shaky ground when, fuelled by one too many proseccos, I take my first gondola ride.
About the gondola rides. Yes, it is touristy. Yes, it feels a little like a Disney ride. But, a little cliché never hurt anyone and so we chose a short ride, no singer included. At six to a boat, it was a small fee to tick off that travel checklist we all keep in our heads.
Still, I discover there is one other way to see The Gondola Ride.
Lose yourself in one of the many, empty, tucked-in corners of Venice, far away from Piazza San Marco. And just wait there, on a bridge, just before the sun is about to set. Eventually, a gondola will glide through the canals, tinged with pink from the skies. Maybe it's with a lone gondolier, retiring for the day. Maybe it's with a couple rekindling a romance, a hired singer belting some old Italian love song onboard. This scene, a time machine to the past, stopped me in my tracks every time.
So, we are at the end that is the beginning. We arrive at Venezia Santa Lucia train station, four days before the wedding. We are a traveling troupe of a dozen people, age ranging from 2 to 65. The heat is intense and the narrow streets are saturated with other tourists as heavy loaded as we are. The riverbank is flanked by one stall after another of tourist plastic.
There's something about an island that makes you feel very vulnerable. There is nowhere to go. Any other bustling urban centre, you can at least rely on gestures as universal as flagging a cab. Islands, even man made ones like Venice, swallow you whole. And in this Manhattan of the Renaissance world, it will spit you out into one of those two aforementioned camps -- Love or Hate.
This arrival had me thinking it was going to be the latter. But day by day, one by one, my sister and her husband, made their case. It was a winner. She was well-composed on that boat for a reason.
Fully won over by the time we are at the wedding reception on the San Giorgio terrace of the Baglioni Hotel Luna, I am donning the most Venetian of clichés -- a carnival mask of feathers and pointed noses.
It is just the right kind of costume to sear a most important lesson -- it's never too late to make a first impression.
Amber Mollison, weddingplannervenice.com
Alfonso Lorenzetto, http://www.alfonsolorenzetto.com
This post was published on the now-closed HuffPost Contributor platform. Contributors control their own work and posted freely to our site. If you need to flag this entry as abusive,
send us an email
.