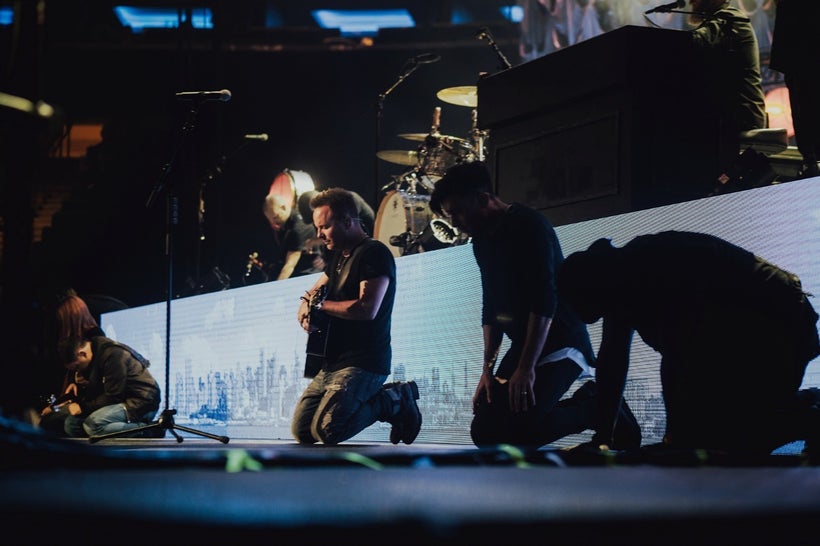 When and where was the last time you prayed? Chances are it wasn't at your local movie theater. But if Chris Tomlin's prayers are answered, on October 25th theaters across the nation will be packed with people praying for unity.
Earlier this summer, Chris Tomlin kicked off his pursuit of unity with live events intended to bring people to their knees in prayer for our nation and for Christians.
Tomlin has observed that in today's culture, "Even in the church, we often feel divided and uncertain." Tomlin's Worship Night in America events that packed houses like Madison Square Garden in New York, and The Forum in LA culminated a "heartfelt desire to host a night that had nothing to do with politics, but rather enlisted the humble spirit of prayer and worship to bring people together."
Reflecting on the diversity of the modern church, Chris notes that while we may think and teach about God in various ways, we often sing the same songs.
Chris's humility is inspiring. He sees himself having only played a small role. He's Grammy-winning Chris Tomlin, and he doesn't even know it, and that is also refreshing.
Having curated the songs with the help of others, Chris began brainstorming what it might be like to fill up arenas with what he refers to as "all the different streams of the church" singing the same songs, leading worship with the help of those same friends and fellow artists who had written and carried those songs around the world.
"I thought, what if we were leading these songs all together, at the same time, as if we were one artist and one band. I had never been a part of anything like that before, and I just kept thinking, 'What if?"
And so a powerful idea became even more powerful when prayer was added to the mix. "I thought---during these moments of musical worship, what if we stopped and prayed for our nation?" He concedes that at this moment, many in our country feel confused about where we're headed. At the same time, he believes that prayer is the antidote.
After all, he says "worship and prayer go hand-in-hand" and he reminds me of the words of Saint Augustine, "He who sings, prays twice." It's evident the power of worship is not lost on Chris, the power of prayer is not lost on Chris, and neither is the power contained within our diversity. "Singing and praying really are synonymous with each other. When we sing and pray together, even with all of our differences, the spirit of unity that fills our individual hearts connects us to each other in one corporate heart, and that experience is powerful."
Still like the rest of us, Tomlin is not oblivious to the divisiveness in our country, and suggests that these worship and prayer events were inspired for such a time as this.
"If ever there was a time for this event to come to light, this is the moment. People are uncertain of where we are headed as a nation. We feel polarized. So having the opportunity to share the unity expressed through Worship Night in America one week before the election is important." He strongly contends that this event has nothing to do with politics. "It's not about voting for any particular party or President. Prayer is greater than politics. Prayer reminds us that our hope is not in government, but in God. As a Christian I think, 'What is my role in this moment and time? This event is an opportunity to stand and say, 'Lord, our eyes are not on Washington DC, our eyes are on You."
Tomlin agrees that unity is definitely about bringing diverse groups of people together, but suggests that it's bigger than that, asserting that it's also about bringing the church together, and moreover about Jesus' prayer for Oneness.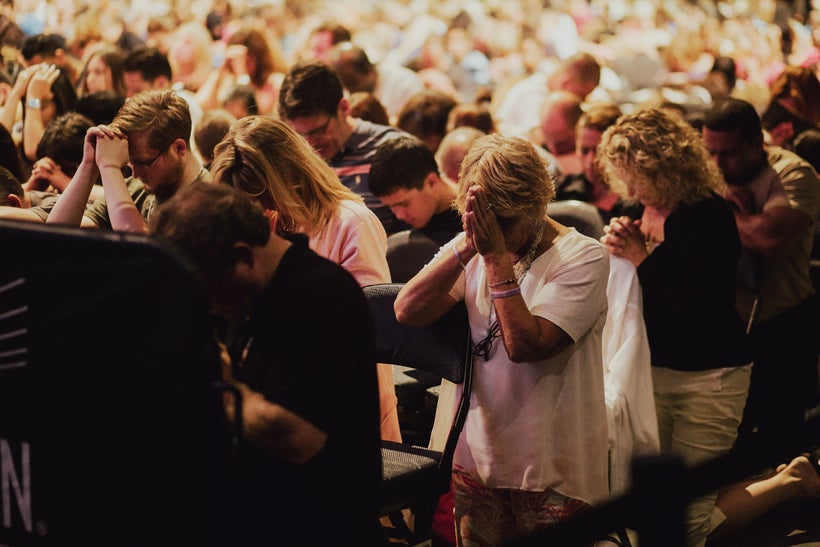 "I think it's interesting His last prayer on earth was, 'Father that my people would be one as we are one.' (John 17:21). Jesus' own prayer was that we would reflect the unity—the oneness—he experiences with God."
Chris believes unity is about laying aside agendas. At Worship Night for America, "No one is vying for attention on stage. No one is saying, 'This is my moment.' When we cheer each other on, whether it's artists on stage, in our communities, in our churches at home, it creates a beautiful picture of unity, and I know this is the heart of God---to be unified."
Chris's sincerity is palpable. I reflect on his passion and his careful but deliberate choice of words and I find his outlook and his style to be genuine, down-to-earth, human and different. And it makes me want to see the desire of Chris's heart come to fruition, and for Jesus' prayer for Oneness to be realized.
Most believe that achieving the type of unity Chris Tomlin hopes for will take a miracle. Is it really possible to achieve unity in spite of everything we're up against in the world today? Chris Tomlin seems to think so. No, he doesn't think so. He believes so. He sums up his faith in the notion of unity like this: "I don't think Jesus would have prayed for unity if it were not possible."
I'm expecting to see a few good movies this year but considering much of what Hollywood is producing these days, I'll take one ticket for unity please. And I'm expecting Chris Tomlin's Worship Night in America on October 25th to be one heck of a blockbuster event.
Unity. That's the ticket. Can I get an Amen?
If you'd like to request the WNIA event for your local theater, you can do that too. Just click here.
Worship Night in America is a special one night only event on October 25.
Follow Chester Goad on Twitter: @cgoad09
This post was published on the now-closed HuffPost Contributor platform. Contributors control their own work and posted freely to our site. If you need to flag this entry as abusive,
send us an email
.