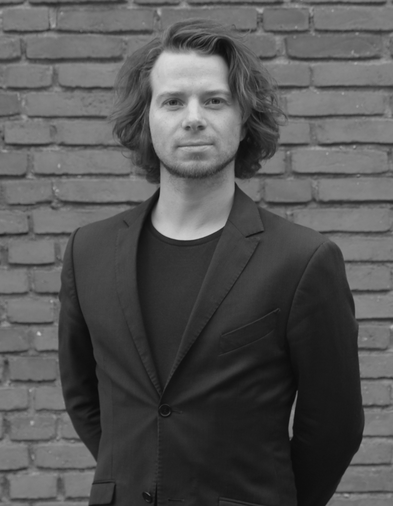 His resume reads like a medical doctor/business tycoon who has been systematically working to change the world for a century, yet he's only in his thirties. He earned both a medical degree and a Master's of Science in Biomedical Engineering simultaneously, completing them both in 2011 and 2012. In 2013 he earned a coveted spot to Singularity University in the FutureMed/Exponential Medicine program, and since then has been ingraining himself in medicine, technology, and business. As a doctor, he practiced in neurology, learning about memory and neurodegenerative diseases, as well as cardiology, and in his spare time he delved into the world of start-up pitches and hackathons in an effort to learn everything there was to know about the future of technology in medicine. In fact, it was while at a hackathon in 2014 where he met a founder of a little start-up medical device company known as Cortrium (the name originated from the combination of the words cor, Latin for heart, and atrium, the chambers of the heart from which blood is passed to the ventricles). This Danish start-up company was developing and testing their device, a tiny stick-on, non-evasive heart sensor for assessing body surface temperature, heart rate, and heart performance. The goal, at that time, was to create a device that could be used by Premier League Soccer teams to enhance player performance by closely monitoring important athletic vital signs. The founder of Cortrium recruited this entrepreneur to the team to help with monitoring their literature and to oversee performance research they were conducting.
His name is Erik Poulsen and he is the co-founder and CEO of Cortrium. Much of the original team at Cortrium is no longer there. The Premier League Soccer partnership never came together and so the group disbanded, except for a few key people who saw that perhaps there was a greater opportunity in the marketplace for Cortrium, and that maybe, just maybe, they were thinking too small when they were looking at the device from the purview of athletic performance enhancement. In fact, there was one member of the team, Erik Poulsen, who had done enough hospital rounds as a medical doctor to see that this device was better suited to improve, disrupt, and change the medical community and the lives of millions of patients around the world.
Cortrium is a device and technology platform designed to assess body surface temperature, activity, and respiration rate and also includes a high-performance three-channel ECG for screening and diagnosing cardiological diseases. As well, tests are progressing to qualify their next prototype which will add oxygen saturation (SpO2) and blood pressure sensors into the device. With the usage of Bluetooth (BLE) and other wireless interfaces and nothing but off-the-shelf standard components and electrodes, the Cortrium tech platform is a uniquely affordable solution for measuring all five vital sign parameters which will truly take healthcare into the 21st century.
I recently spent some time with Erik Poulsen learning what it takes to build a business that is all heart…
Exponential Change: With a resume like Poulsen's, he could have easily just hunkered down into a highly successful career in cardiology after the original team at Cortrium disbanded. Doing so would have been less risky than diving all-in to a start-up medical device company. Poulsen says the reason he decided to stay and to lead Cortrium was that he saw the ability to change the healthcare industry and the lives of patients at scale. He says that working in cardiology would have been rewarding, but it would have been a lifetime of helping one patient at a time. At Cortrium, he says he and his team have pioneered a simple non-evasive technology that will eventually do away with the clunky ECG machines of the past, offering massive savings to the healthcare providers and, more importantly, fast diagnosis of heart issues (at the hospital or at home), preventing people from having strokes. Dr. Poulsen says that the idea of making a substantial impact on the world is exciting to him, and he says that the product is designed to be a win-win-win for medical providers, insurers, and patients, making it an ideal fit for the regulated healthcare market once the company has completed regulatory compliance approval around the globe. Based on their current pace, they plan on being able to sell in the European market by the second quarter of 2017.
Partners Matter: Poulsen says that Cortrium has gained massive momentum in the world of medical devices thanks to amazing partners. He recently announced that the lead investor at Cortrium is Denmark based Area9 and that with partners Ulrik Christensen and Khurram Jamil, who are also medical doctors and technology junkies, the momentum of his firm is unstoppable. Poulsen's advice for other entrepreneurs starting a company is to find partners who mirror your passion. Christensen and Jamil are passionate about solving world problems, and so, explained Poulsen, they totally understand his mission and vision for bringing his device and technology to every medical practitioner in the world. Poulsen says that he admires their tech savvy and is grateful that they are also medically trained so that they understand the nuances of the device, the mindset of the medical community, and the potential Cortrium has for disrupting old-school medical equipment that has changed little in twenty years. In addition to Area9, Poulsen says he is grateful for having participated in Bayer Healthcare's Grant4Apps accelerator program in Berlin, and for his partners in the medical industry and hospital sector. Recently, a strong collaboration with another large pharmaceutical company, Pfizer, was announced. Pfizer is helping Cortrium to hit the German market in 2017. Poulsen says that the success of any business is a by-product of the people, companies, investors, and clients that believe in you early on.
Know Your Core Product Offering: The core value of Cortrium is a precision monitor and technology focused around a high performance three channel ECG for screening and diagnosing cardiological diseases, such as atrial fibrillation. The longer-term goal, says Poulsen, is to offer patients and doctors a simple, non-invasive, way to monitor vital signs and screen for a wide verity of diseases, even from the patient's own home. The challenge, says Poulsen, is that his technology does much more than this. For example, the technology allows both doctor and patient to monitor the information real time through software running in the cloud. As well, the information can be used to enhance performance, just like their original mission to help Premier League Soccer athletes turn the data into a game day performance enhancer. The problem with all the extras that the technology offers, says Poulsen, is that the message gets muddied when presenting to investors and to the medical community. He says that for his product, when the message gets muddied, the product gets compared to the vertical of wellness and fitness activity trackers, like Fitbit, which is not the vertical they want to be lumped into. Poulsen says that he and his team have worked relentlessly at pairing down their message, focusing on their competency of diagnosing more people with heart diseases faster, and with greater cost-effectiveness. And, as much as he loves all the extras that his medical device has to offer, he's become really good at focusing on the ones that matter the most to the medical community. It is about making pragmatic choices and avoiding adding extra product features solely because technology allows it. The focus is on the patient outcome and more often than not, the simple solution is the fastest and best way to reach that goal.
He's a doctor, an engineer, a techy, and a start-up entrepreneur who has little interest in changing the world one patient at a time. His mission is simple, substantial change in healthcare, saving the lives of millions of people at a time. He is Erik Poulsen and he is All Heart.
This post was published on the now-closed HuffPost Contributor platform. Contributors control their own work and posted freely to our site. If you need to flag this entry as abusive,
send us an email
.