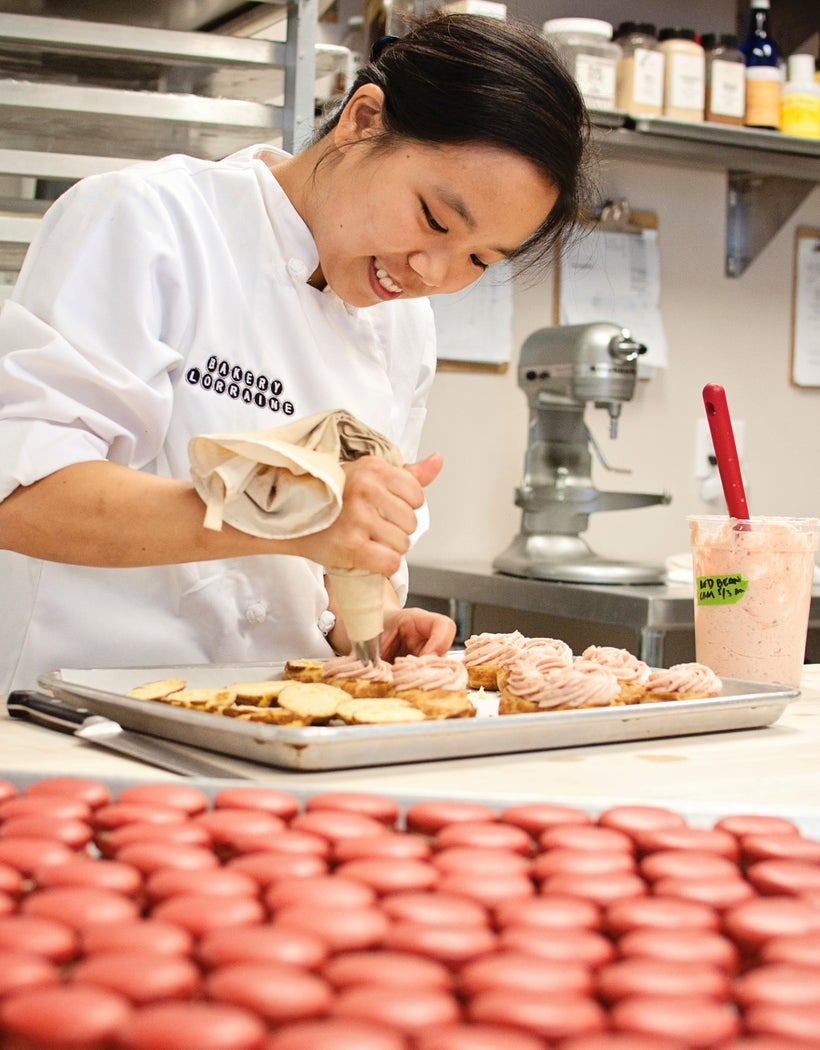 San Antonio is not just about Tex-Mex and chicken-fried steak anymore. A recent visit to this family-friendly Texas town opened my eyes to a quietly growing gastronomic scene that doesn't center around chips and salsa. Don't get me wrong—a regular dose of chips and salsa does a body good. But as San Antonio redefines its culinary strengths, savvy diners are discovering diverse offerings that will please the pickiest of palates. Watch out, Austin.
A new hotel with a delectable vision
Any local "foodie" will tell you that besides the happening Southtown district, the Pearl Brewery Complex, a neighborhood of gourmet eateries and upscale boutiques built upon the grounds of the defunct Pearl Brewery, is a must for visitors seeking good eats in San Antonio.
So it's no surprise that I began my food adventures in the Pearl, spending a night at Hotel Emma, a 146-room hotel that was recently resurrected from the bones of the 19th century Pearl Brewhouse building. The original industrial structure is revealed throughout the hotel's rooms and various airy spaces in rich layers of brick, painted steel beams and repurposed brewery equipment.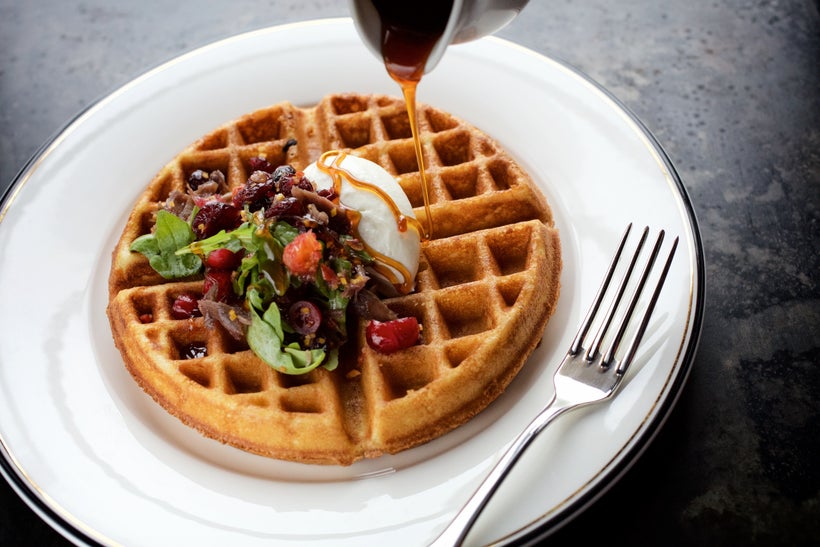 After checking in, I entered the cozy, two-level library wherein stood a suited margarita man who mixed my welcome drink. I sipped my La Babia margarita after plucking enticing treats, sweet and savory, from a few silver trays: a delicate citrus cookie with poppy seeds, a hunk of creamy camembert laid upon a thin cracker topped off with a slice of candied pear. These flavors perfectly accompanied the house-made, unsweetened ice tea and lemonade that I sampled after finishing my cocktail. It became quickly apparent that here in Hotel Emma, there's no need to search for great food—great food comes to you.
Like the delightful menu of refreshing, under-the-sun snacks delivered to your lounge chair or cabana as you chill at the rooftop pool (which is actually on the third floor). Then just beyond the lobby, there's Supper, the well-renowned hotel restaurant that combines farm-fresh fare with south Texas comfort food. And of course, across the way from the hotel entrance, you have Sternewirth, a stunning bar that's popular with locals and guests alike, and has a sort of living museum feel to it, with vintage furniture, regional artifacts in glass display cases and collections of Pearl Brewery nostalgia lining the shelves. Where else can you gorge on a plate of lamb meatballs smothered in poppy seed and mushroom gravy or brown butter spaetzle with sweet potato while seated deep inside the hollow of a 20-foot tall, cast-iron fermentation tank?
The architectural innovation of the hotel design aside, what really stood out was Larder, a very thoughtfully curated store of gourmet groceries from Texas and all over the world, combined with a deli-cafe that features house-butchered meats and indulgent salads. But why sell ingredients in a hotel? Consider it the hotel's souvenir shop, where guests (and locals) can pick up something to remember their delicious San Antonio getaway. This appealing addition to the already wide range of food offerings—and the fact that there is a culinary concierge on duty--made it suddenly clear that the management isn't messing around when it comes to Hotel Emma's status as a culinary leader in town and about exposing its visitors to the best flavors that Texas (and the world) has to offer.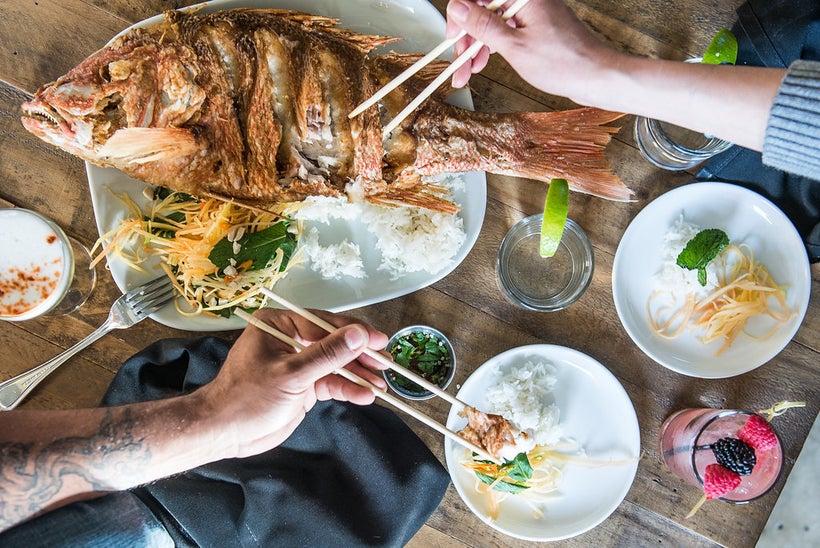 Where gourmands go to dine
While Hotel Emma is a self-contained foodie destination, my late August visit coincided with the city's annual Restaurant Week (it's actually two weeks, but who's complaining?), helping me discover several other noteworthy eateries.
When I read that the Pearl's Bakery Lorraine was on a list of bakeries in the world to try before you die, it didn't really sound like I had a choice. The fantastic lunch options surprised me, like the roasted cauliflower-curried chickpeas-pomegranate-feta-kale salad that was as crunchy as it was refreshing. And the tomato soup that is way more than meets the eye—I could down a bowl of that velvety ambrosia every day. Now for the sweets: this place is an abundant playground for the dessert lover. But the chocolate macaron is pure perfection. Lucky me, I already knew that, since Hotel Emma includes these magical treats as part of their turn-down service. The macaron flavors change daily but include lavender, Earl Grey, orange and even s'mores, which had a nice hint of bonfire char.
While the Pearl can satiate a variety of food cravings, there is one dining spot outside the trendy complex which cannot be ignored: Restaurant Gwendolyn. If you want to party like it's 1899, this is the place to do it. In a small, unassuming downtown space that sits along the San Antonio River, Chef Michael Sohocki brings back genuinely old-fashioned methods of cooking by working from a kitchen absent of electrical appliances or tools (there is a fridge, though) and consulting recipes from cookbooks written in the 1800s. As you enjoy your Victorian meal, you can watch the team of cooks through the kitchen window (sometimes they watch back!), caught up in a choreography of slow chopping, gas stove tending and cast iron skillet maneuvering.
As a 100 percent locally and sustainably sourced restaurant, Sohocki purchases meat by the animal in its entirety—and no part goes to waste. (No wonder the rabbit gumbo had rabbit sausage instead of pieces of rabbit meat.) That's also part of the reason the menu changes every day. Sohocki calls his restaurant a "revolt to the industrialized way of life" we have become so used to and an antidote to the idea that our food comes from "the pipe in the sky" to land on a grocery store shelf or a restaurant plate. To get a nice overview of Gwendolyn's thesis statement, try the tomahawk pork chop (be quick—there are only 5 available for dinner each night!). For the revolutionaries, take up the battle cry with an order of barbacoa de cabeza de vaca.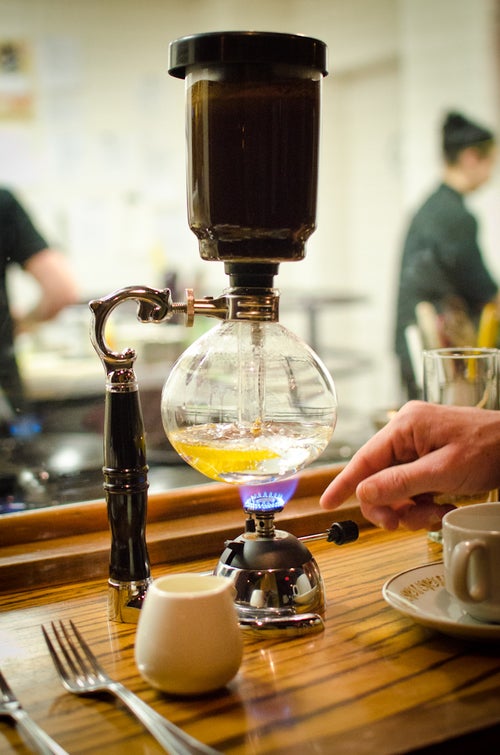 Back to the Pearl, and the modern age, Botika is an Asian-fusion spot with a casual chic vibe that represents another facet of the city's evolving food scene. Run by chef Geronimo Lopez, a native of Venezuela and recent executive chef and instructor at the Culinary Institute of America (also in the Pearl), Botika serves up Peruvian-Chinese (or Chifa) and Peruvian-Japanese (or Nikkei) dishes. Beverage-wise, the sake beer is an interesting alternative to the traditional pisco sour. Produced by Southerleigh Fine Food and Brewery (also in the Pearl), the "Godzilla Go Juice" is a beer made with sake yeast that brings a hint of rice sweetness. Digging into Botika's chaufa (fried rice) dish with perfect slices of asado beef and imbibing the blend of subtle and sharp flavors of their ceviche left me with some fierce food memories that refuse to fade. To witness the art of fusion in action, sit across from the open kitchen.
San Antonio often draws visitors for its Six Flags theme park and River Walk, but it won't be long before people will also be heading to this city to get a taste of brave, new Texas cuisine.
This post was published on the now-closed HuffPost Contributor platform. Contributors control their own work and posted freely to our site. If you need to flag this entry as abusive,
send us an email
.