If you have kids—and if you are reading this you probably do—empowering them to not just survive but to thrive is probably your goal. And for our kids to thrive as global citizens they must learn compassion, empathy and generosity.
This is why most parents work the holiday season to remind their kids that giving is good.
However, this version of good tends to manifest more like an emergency sprinkler system, beating down the Christmas gremlins (or gremlins of whatever you celebrate) who eat our children inside out with fiery greed.
Just as the battle isn't the best place to train the warrior, using the holidays isn't the best way to develop a world changer.
Hence, I am proposing we do Christmas good in summer. Christmas in July, Christmas in August, Christmas in September too—and heck, all twelve months! Even when the halls aren't decked and the world isn't jolly, we need to adopt a lifestyle of generosity. To raise compassionate humans we must train all year.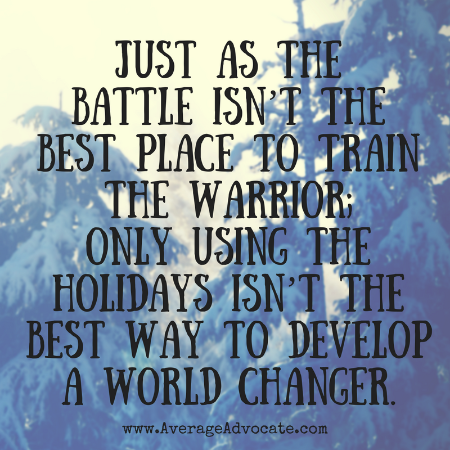 Faith's Christmas All Year
Teaching kids to do good all year might sound ideal, but it's easier said than done.
Considering, I thought I would introduce to you Faith, whose family found a way to empower her to be generous all year long through Operation Christmas Child (OCC).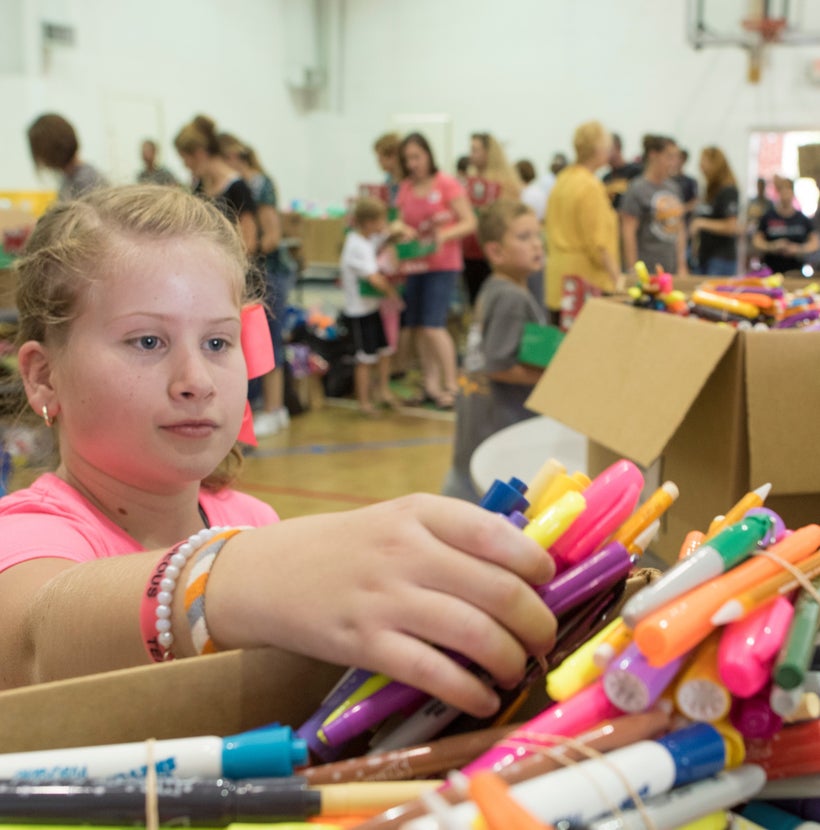 OCC is run by the humanitarian organization, Samaritan's Purse. It specializes in facilitating the delivery of shoebox gifts to children on the far reaches of the globe—from the Andes Mountains to the jungles of Southeast Asia—by leveraging our desire to do good during the holiday season. However, most volunteers and donors aren't even aware that OCC operates all year long.
Once Faith became aware of the mission of OCC she was hooked. From one holiday season to the next, Faith spends her time running in 5ks and packing boxes to raise awareness and funds for this organization.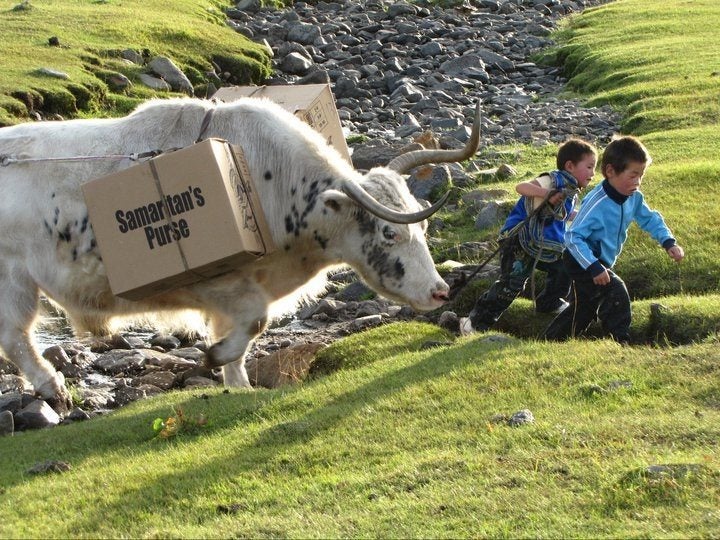 "Anyone Can Make a Difference"
To help our children practice generosity all year long, I thought we could glean from an interview I had with Faith:
Of everything, why OCC boxes?
After the 2010 Haiti earthquake, my brother, Griffin, wanted to do something to help the kids who had lost everything in the earthquake. My parents found out that Operation Christmas Child sent shoeboxes packed by families like ours to children in need all over the world. That year we packed our first shoebox gift to help the kids in Haiti. We have been packing shoeboxes for OCC every year since.
I wanted the kids to know that they were not forgotten. I wanted them to be happy and to know that they were loved.
Can you tell me the basics about what you did for OCC?
I had a goal of packing 20,000 Operation Christmas Child shoeboxes for children in need.  With the help of my family, friends, and community, we packed 20,001 Operation Christmas Child shoebox gifts last year.
What was the hardest part, what surprised you the most, and what have you learned from this experience?
Sorting all the items for the twenty-thousand shoeboxes was challenging. It literally took us months, but we had a great time! I was shocked at how much our community helped us. It doesn't matter how old you are, anyone can change the world.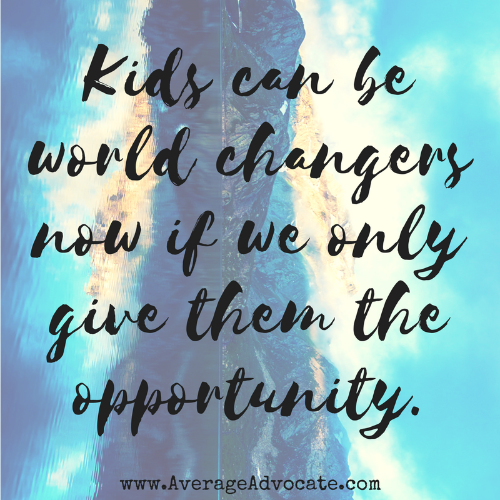 How have your parents helped you?
My mom is the organizer and planner, so she planned it all. My dad, he is the talker. He told tons of people what we were doing and helped get them involved.
What advice do you have for us adults as we help our kids be world changers? 
Teach your kids to love everyone regardless of who they are or what they look like.  Always support their dreams. Anyone can make a difference.  Even a small act of kindness can make a big impact on someone else's life. It's really simple, just be kind.
Can you tell me a little bit about yourself?
I am eleven and was born with the worst form of spina bifida.  My parents were told I would not walk. Not only do I walk, but on September 10th, 2016 I completed my 100th mile in 5k races! I love to ride bikes, sing, and dance. I am also in American Heritage Girls.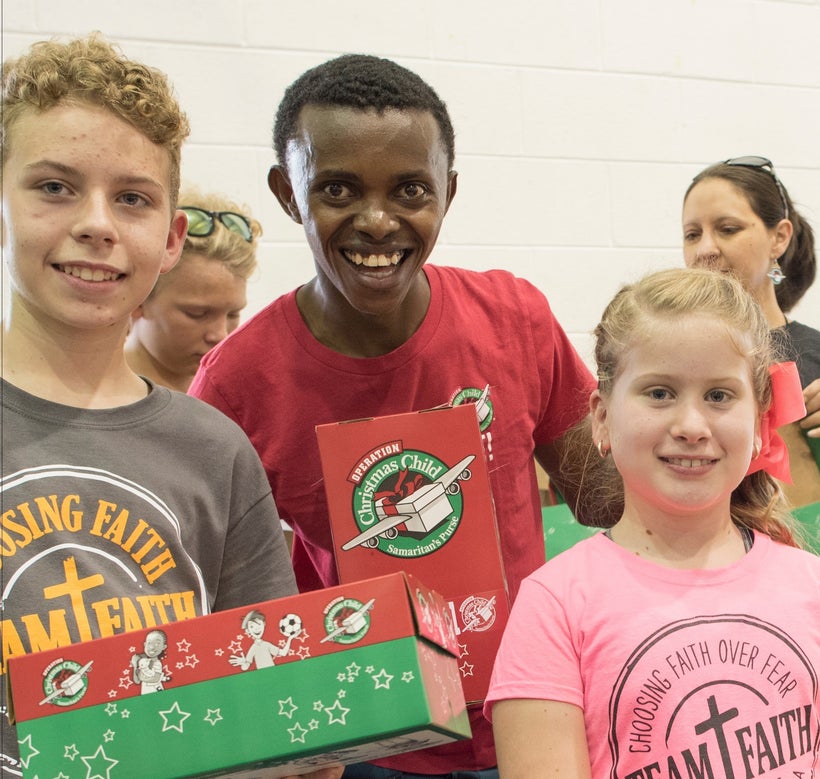 Since this interview, Faith has run another 5k and is planning on running three more this fall, one of which is dedicated to OCC. Her goal is to pack 1,000 shoeboxes this year.
Faith's story reminds us that our kids aren't too young to learn those thriving skills of compassion, empathy, and generosity all year-round. They can be world changers now if we give them the opportunity.
Ways to Keep Good Going All Year
Faith is all about living out Christmas good all year through Operation Christmas Child. You can learn how to pack a shoebox of school supplies, hygiene items, small toys, and a personal letter by going to the OCC website. Alternatively, you can pack a box online, which is pretty fun. Then, login later to see which of 160 countries your box went to!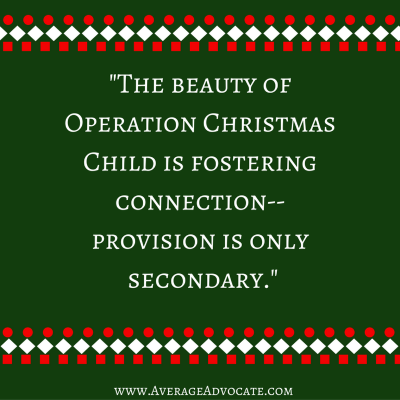 Faith is thriving, fully believing she can do great, big, and good things for the world because she was empowered to do so at her young age, and all through the year. We too can help our children thrive as global citizens by guiding them into a lifestyle of generosity and not just during the holiday season.
Let's bring the good of Christmas to summer and beyond.

This post was published on the now-closed HuffPost Contributor platform. Contributors control their own work and posted freely to our site. If you need to flag this entry as abusive,
send us an email
.