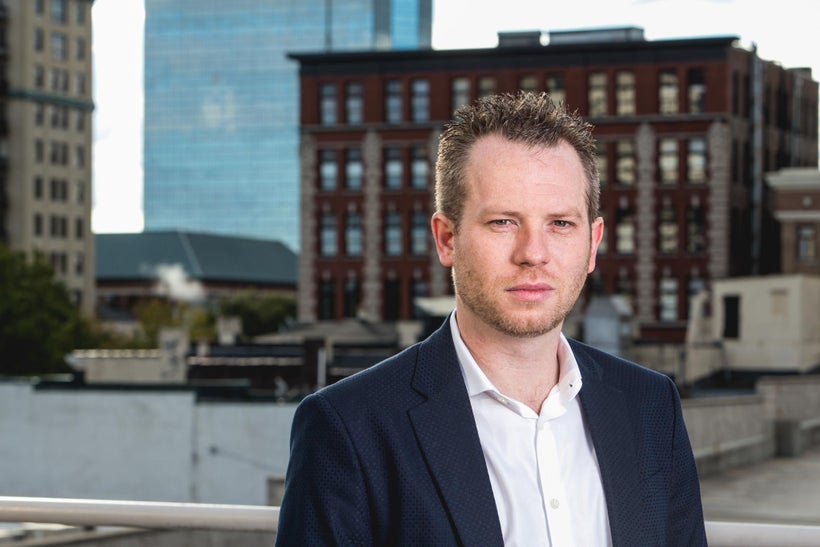 Once a pencil salesman in elementary school, Justin Jones is now a successful entrepreneur as the CEO of Internet Marketing Expert Group (IMEG), a trusted agency in the tourism and hospitality industry that he founded in 2009. They perceive the values and psychology of the people they serve as a huge part of the services they provide.
One of the company's primary focuses is handling all of the marketing for every single local hotel and cabin in Pigeon Forge, Tenn. It may sound like a small town, but it's one of the best travel destinations for families with younger kids. They've got the Dollywood amusement park and a lot of local spots which usually attract families.
He's created a program that helps these smaller hotels stay away from online travel agencies (OTAs), like hotels.com or Orbitz, and get more direct bookings so that it does not hinder their profits, but also lets tourists experience mom-n-pop-style customer service instead of a cliche` "corporate" environment.
OTA's take about 30 percent cut in profits every time someone books through their website and does not directly book through the hotel. That is why so many hotels try and start loyalty programs to get them to book directly with them instead of using an OTA. This is more of an issue for small and locally owned hotels and not the big chains.
Something about this startup which cannot be given a miss is the way they keep their employees motivated and constantly inspired despite all those setbacks.
"We don't believe in motivating others or something," Justin says. "What we believe in is 'self-motivation.' Everyone is connected with our mission which in itself is huge. So when someone is related to a vision which is much larger than a person, it directly contributes to helping others -- and that individual stays self-motivated."
His company works on innovative marketing and leadership strategies that would benefit them, as they strongly believe in the fact that although someone can be good at one thing, that someone definitely needs to be great at few things. And Justin has those values which help him in solving problems, helping others, learning, researching and traveling. They bring out that creativity and innovation just by hiring right people, and he has a complete set of categories:
Yellow: Hard workers who value their responsibilities and commitments (accountable people)  
Blue: Sensitive idealists who stay motivated by their deeper personal values (creative people)
Green: Logical, independent and creative problem solvers (analytics team)
Orange: Risk takers, motivated and gregarious traditionalists
He also has a sorted ladder of steps that acts as a process for bringing out the required creativity:
Organizing that creativity
"In our organization, ideas are shared," Justin says. "We review the design first, and once it's approved, we execute those ideas. We encourage people to bring and exchange ideas. If the idea is worth it and can bring money to business, we share some part of the revenue with that particular person. But that idea should be worth investing in and implementing."
"There is always a dilemma for the owner and the company to decide upon the importance and rank, the mission, vision and core values accordingly so that the company knows which is most important out of the three," Justin adds. "The mission is for the people of the outside world and to show them that why businesses fail easily."
Justin says that the following three variables are the major reasons for such failures:
People are doing things they think they want to do. They tend to confuse ideas with the urge that wakes them up every day.
They have a good idea, but they don't know how to make the sale and how to get into market properly.
People who have marketing and sales skills sometimes have rotten methods. They need help to optimize with new and modern things.
Accountability plays a vital role when we talk about any sort of leadership, whether at home or at work.
Taking responsibility and accountability for superior outcomes transforms that individual, in his client's eyes, from a salesperson to a value-creating trusted adviser," Justin says. "In the past, one might have gotten away with selling something and quickly disappearing when things went wrong, but that cannot be a scenario anymore."
Today, when one sells, he owns the outcome. Justin very well understands that with the business models shifting from a product-centric ROI to a customer-centric ROI, there is a need to keep your customers happy at all costs and he does that by:
Using technology and excellent communication
Always communicating with clients. He spends 40 to 50 hours every week in meeting clients. They do it through a meeting or by phone. They are a digital company, but they still meet with clients in person as well. 
Justin says that the biggest thing they've learnt is that one can be excellent at what he does, but if he doesn't have a relationship with his clients, it's hard to keep customers. 
"The difference between contact and a contract is the 'R' which is a relationship," Justin says.
He knows that it takes a lot of energy to pursue and fulfil what one loves, and he's ready to give all he's got. He's also got an amazing takeaway for all the readers who struggle with the ways in which they can help the CEO of their respective companies:
Reaching out to own customers and know what one can sell them. If one sees he or she is losing customers, solve that.  
Client retention and expansion 
Going to buy new customers.
Justin adds that he probably sees himself solving problems and keep doing what he believes is right in all his future endeavours. The guy works 16 hours a day. He believes in constant growth and development which also enhances leadership skills. He keeps pushing himself forward, keeps himself motivated and works on constant innovation.
This post was published on the now-closed HuffPost Contributor platform. Contributors control their own work and posted freely to our site. If you need to flag this entry as abusive,
send us an email
.