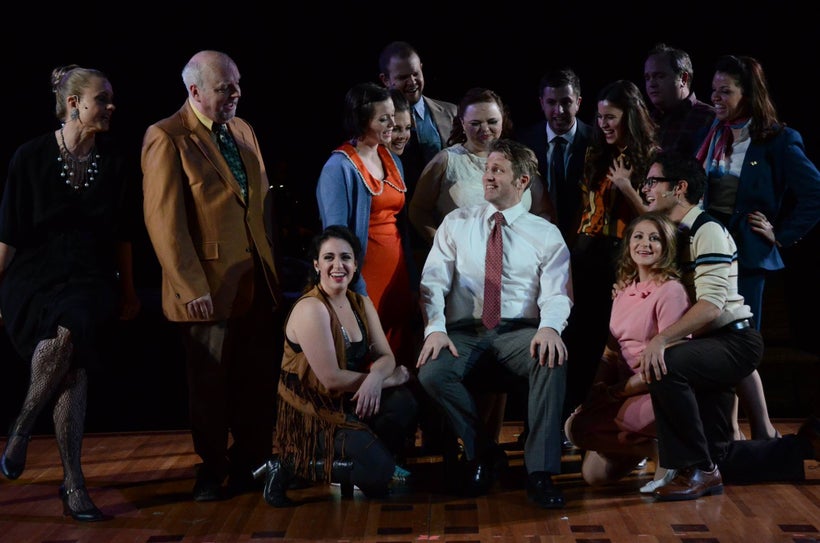 90 years is a long, long time for a community theatre company to be in existence. I should know. Over the years, I've been involved in one way or another with just about every major community theatre company in New York City. I have acted, directed, produced, worked backstage, designed and built sets, and pretty much even run my own community theatre group. I know what it takes and it's not an easy endeavour. I can can attest to the fact that keeping a community theatre company running year after year, facing membership and audience challenges, raising funds and basically just holding on to a venue makes it close to impossible. So when the folks at the St. Bart's Players in midtown Manhattan reached out about their 90th Anniversary, I was not only surprised, but very impressed. This type of achievement is very uncommon in the fickle world of community theatre. But if you've ever seen any shows at St. Barts, you would soon realize that there is community theatre...and then there's St. Barts. I talked to Lauren Conlin, a member for 5 years, and co-chair of the group along with Alex Farlow to learn more about St. Bart's and share some of its history in this exclusive interview. With help from Melissa Broder and Merrill Vaughn, both who have been members over 20 years, we are able to share a little history about this remarkable group.
Q ~ Why was the group started? I'm curious to know about the early history, and how it endured for so very long.
Lauren Conlin: In 1927, the St. Bart's Players, a non-denominational organization, was founded as part of the Community Club at St Bartholomew's Church. Its initial mission was to serve as "a place where young poets, musicians, artists and dramatists could express themselves." It was essentially a haven for young adults who needed a place for expression within an often inhumane city. As the longest-running community theater in New York, the St. Bart's Players is unique in the city's theater history. Members and audiences alike have long considered The St. Bart's Players the friendliest theater company in New York – a welcoming and inclusive theater "home." The group survived the Great Depression, the Second World War, and the Turbulent Sixties, remaining through it all, a sanctuary for those seeking affordable theater. Its continued existence attests to unequaled endurance in the toughest theatrical city in the world.
Q ~ 90 years is a very long time. Why do you think the group has lasted so long? Is there anything different about it has helped St. Bart's survive this long?
Lauren Conlin: The dedicated members/volunteers of the group and their love of community and theater have been imperative to the groups' survival and existence. Quite a few members of the group have been around for more than 25 years, and even met their spouses through the Players! While The Players receive significant administrative and logistical guidance and support from St. Bartholomew's Church, the group is volunteer-driven, including our governing Board of Directors. Most of us hold full-time day jobs in a wide variety of careers during the day and pursue our love of theater in tour free time. The group is a melting pot of creativity, talent and management skills that is infused with a hard-work ethic — all of which serves us well in putting together professional shows for our audiences. 
Q ~ How has the mission of the group changed over the decades? Has it always been the same? What type of shows and programs do you offer and why?
Lauren Conlin: For 90 years, our mission has remained the same: to serve the community by presenting quality theater at affordable prices and to provide an outlet for the artistic interests of performers in the metropolitan area who might otherwise have no venue in which to perform. The Players used to produce as many as 5 main stage shows per year under the management of a full-time Artistic Director. The St. Bart's Community Club underwrote the theater with a modest budget, including the Artistic Director's salary. Through the years, funding to the group decreased. The Players adapted as its financial and management situation changed. The group has been operating since 1994 without financial backing other than private donations and ticket sales and, for the first time in its history, without an Artistic Director. In 2015–16, the Players presented Urinetown and The 25th Annual Putnam County Spelling Bee at the Hudson Guild Theatre on the West Side of Manhattan. This November, we will be performing the Sondheim musical A Little Night Music there as well. We will also be producing One Flew Over The Cuckoo's Nest in May at The Poet's Den, a beautiful theater space on the Upper East Side. We generally produce one straight play and one musical per year, and offer various membership perks like vocal workshops, dance and audition classes and many social events!
Q ~ Who are some of your oldest members? Can you give us a taste of anyone who's been in the group for a very long time? If so, would you like to acknowledge them in the article?
Lauren Conlin: We are honoring two of our longstanding members, Barbara Blomberg and Ulises Giberga, at our 90th Season Gala. Barbara has been with us since 1973, and most recently appeared as the Mother Superior in our 2014 production of Nunsense. Ulises, now age 84, has been with the group for nearly 20 years and most recently appeared in the 2015 production of Our Town. And we could never have survived all these years without Merrill Vaughn, who, until recently, was the long-time Co-Chair of the group and remains an Advisor to the Board, along with Alyssa Somers Farlow, previous co-chair and now advisor to the group. She has been with The Players for nearly 40 years. Jim Mullins, Tracey and Ken Altman, Hope Landry, Melissa Broder and Dan Grinko have all been with the group for a minimum of 20 years and as many as 30.
Q~ what are some highlights of your 90 years of existence? Any famous people go through there? Anything worth noting?
Lauren Conlin: Former Artistic Directors of the St. Bart's Players include actress Linda Hunt and Tom Jones, the librettist and lyricist of The Fantasticks and lyricist of 110 in the Shade. Many composers, lyricists and playwrights have attended the Players' revivals of their works, including Yip Harburg (Finian's Rainbow); Betty Comden and Adolph Green (On the Town); Charles Strouse (Applause); Sheldon Harnick (Fiorello!, New Faces of 1952 andShe Loves Me); Mary Rodgers (Once Upon a Mattress); Clark Gesner (You're a Good Man Charlie Brown); Harvey Schmidt (110 in the Shade) and Rupert Holmes (The Mystery of Edwin Drood). Steven Press, who played Peter van Daan in the first Broadway adaptation of The Diary of Anne Frank, directed the Players' 2004 production of that play. Braden Danner, who originated the role of Gavroche is Les Miserables and starred in Oliver on Broadway (with Patti Lupone) played Tiny Tim in A Christmas Carol in 1984 with the Players. Ron Kross, one of our Lifetime members, was in the original Broadway cast of 1776.
Q~ What is the exact anniversary of your group?
Lauren Conlin: Although the Players were born in 1927, the first show that The Players produced was a play entitled "The Flattering Word" in 1928. That's the most "exact" info we have!
One Flew Over the Cuckoo's Nest Opens May 17-21st at the Poet's Den Theater on the Upper East Side. For more information on upcoming productions or to join the company, please visit The St. Bart's Players at www.stbartsplayers.org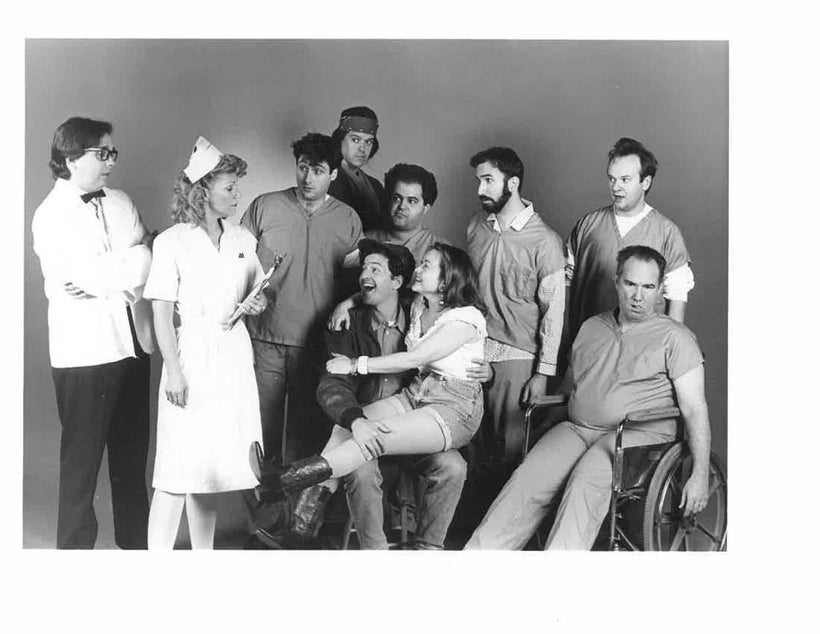 This post was published on the now-closed HuffPost Contributor platform. Contributors control their own work and posted freely to our site. If you need to flag this entry as abusive,
send us an email
.