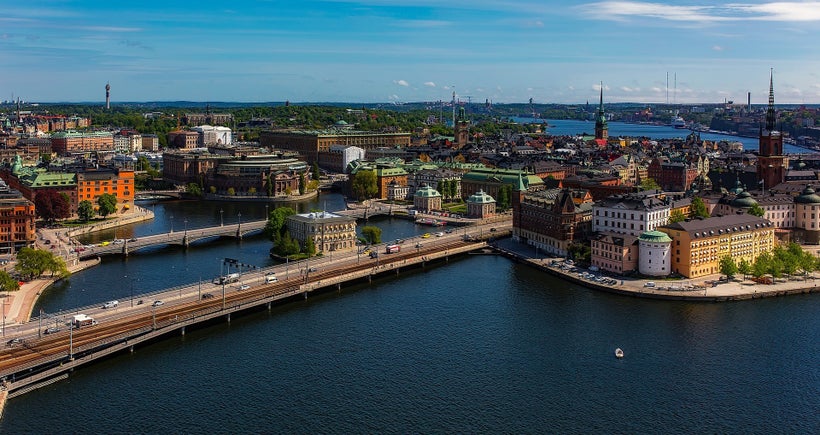 In the wake of a refugee surge, a country of strong unions and employment security adapts to the fast, digital labor market
Zaher Barood had made it his job to promote other people's talents. A well known name in the trade show business, he worked in Aleppo, Syria, with artists as well as entrepreneurs to put on expos and have visitors come for a boost of inspiration.
The unrest outside would feel more distant within the walls of his conferences.
But reality eventually caught up with the 27-year-old, just like millions of other Syrians who had to pack up and embark on an uncertain journey to find refuge from the brutal civil war.
"The business of putting on expos died in 2012 because of the war", he says, looking back at the last four tumultuous years.
Learning by doing
We should tell you right away that this is not one of those stories about well-educated refugees having a hard time getting equal level opportunities in their adopted country.
But it is a story about jobs in a foreign business climate, and about Barood, now 31, who put his finger in the wind and found it was blowing towards the "gig economy", especially in his new home of Stockholm, Sweden.
Now, it is his own talent being put on display by a new Swedish web platform, called "Just Arrived", through which he has already managed to get several assignments from different employers. The most recent was a part time caretaker gig at "Väsby hem", a property owner in suburban Stockholm.
"It's different than what I've done before, but it's a job and I like it and I learn more about Sweden while doing it," he says.
Sweden has, along with Germany, been recognized for absorbing the most refugees coming out of Syria. In 2015 alone, close to 163,000 people sought asylum in this country of just under ten million people. If all of them would have settled in the same place, it would have made Sweden's fifth largest city.
Needless to say, it hasn't been without friction, and that has made the nation the subject of a curious amount of interest from American conservatives.
Former prime minister Fredrik Reinfeldt famously pleaded to the Swedish people to "open your heart", hoping to gain support for the mass surge of refugees.
It didn't really help, and the touchy subject continued to polarize the country the same way it did in the UK and France (and basically all over Europe). As the debate climate got more intense, the right-wing party, the Sweden Democrats, kept climbing in the polls with their anti-immigration message.
A start-up point of view
But another movement has also grown stronger – a movement of entrepreneurs who took it upon themselves to try to ease the situation, rather than just counting heads to figure out how many refugees Sweden's social security system could afford.
"The gig economy, or platform economy if you wish, can really help in this situation", says Andreas König, CEO of the start-up Just Arrived, who went live only last fall.
"Our app matches newcomers with employers in need of workers, without them having to actually hire anyone full time", he says.
The sharing economy in general has been booming in Sweden in recent years. Uber's presence has made the new center-left government take a closer look at the regulations of the whole taxi industry. The tax collecting agency "Skatteverket" has published a two-part report on the impact of the sharing economy on the tax system. The minister of financial markets, Per Bolund, has made his own inquiry into crowdfunding. But the strongest stance yet might be that of Mikael Damberg, minister of enterprise, who recently announced federal funding of SEK 50 million ($5,3 million) to spur the market for business matchmakers, such as Just Arrived.
His fight for more "easy jobs", as he calls them, is somewhat uncharacteristic for a Social Democrat like himself, but sends a clear message that all means have to be considered in order to tackle the many new and unemployed citizens.
"The politicians have started to realize that the cost of exclusion, and the social strain it leads to, is higher than the cost of lowering the barriers into the labor market", says Anna Felländer, a gig economy advocate and former chief economist at Sweden's largest consumer bank, Swedbank.
It might sound like a no-brainer, but this is Sweden after all -- a country with strong unions and where some 90 percent of the labor market is regulated through collective agreements.
The platform economy is, in many ways, in stark contrast to "the Swedish model", where employment security and consumer safety have been cornerstones, upheld by strict licensing rather than the platform economy's popular five star rating system.
"Sure, the gig economy is challenging the Swedish model", says Andreas König. "But we like to think of us as running alongside it. We're doing everything by the book. We're using the self employment-method (a tax classification) when setting up contracts between the employee and the employer and our partner 'Frilans Finans' (a freelance administrator) takes full responsibility of all social obligations that comes with employments in Sweden".
Some unions agree
He says the unions who disapprove of short term gig economy thinking, "focus more on their own members, who are already on the inside, than what's good for the society as a whole".
But being skeptical towards the new platforms is not true for all unions. One in particular has come to terms with the changing times.
"The platform economy may create a way forward for a group of people who otherwise would have a hard time finding a job", says Fredrik Söderqvist of "Unionen".
He points out that, in a best case scenario, Just Arrived and other business matchmakers ("Task runner", a local version of "Task rabbit" is another) can help find potential workers, otherwise at risk of falling between the cracks of a system they know nothing about.
"Having said that, in practice there are risks – these people are vulnerable. They're new in a country where they don't understand the system, nor the language. It's of great importance they're not taken advantage of. Without collective agreements and proper insight into these services, workers could be working under appalling conditions and be paid below subsistence wages", says Söderqvist.
Mikael Damberg, the minister of enterprise, echoed that in an op-ed in the Swedish daily "Svenska Dagbladet":
"A government led by the Social Democrats will never allow wages to drop", he said, adding "we're convinced there are room for more jobs, with lower qualification requirements, even in the private sector".
"Migration and digitalization are the strongest driving forces of change in Sweden right now", adds Anna Felländer. "We have to embrace both. Digitalization and the gig economy can be a searchlight for untapped potential, putting people in motion and making it easier to move between different jobs".
Baby steps
The platforms are still too few and too small to make a real impact, but their way of thinking is catching on.
Zaher Barood, who used Just Arrived to make himself available to companies, agrees. Without services like these, the barrier into the labor market is high.
The gig approach can also help with assimilation. Barood now speaks Swedish, having worked alongside Swedes on a daily basis and is looking forward to the summer when he thinks he might be able to work with expos and events again. But he hasn't decided what his next step is.
"It's not my long term goal. I think I want to study to become a social worker here in Sweden. I feel I can really help with my experience, using both Swedish and Arabic. But we'll see."
Indeed, we will have to wait and see. His current employer, Väsby hem, is eager to extend his employment. Proof enough for him that the platform take on immigration is paying off.
This post was published on the now-closed HuffPost Contributor platform. Contributors control their own work and posted freely to our site. If you need to flag this entry as abusive,
send us an email
.