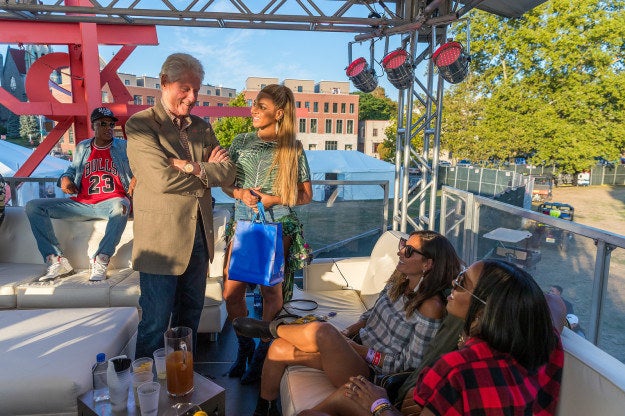 In the fall of 2015, Nadine Ghosn was filing her application to Columbia Business School and in the middle of launching her own jewelry line. She quit her job at Hermes and turned down a promotion to be Head Buyer in London at the age of 24 - in order to pursue her passion.
Over the next year Ghosn's self-named line was picked up by Colette, Bergdorfs, and Le Bon Marche - three of the most influential luxury destinations worldwide. Her pieces have been featured in Vogue and adorned repeatedly by Beyoncé. (What's more is that all of this success stems solely from her work as she is a one-woman-show.) In just one year, with only one member of the team, Ghosn herself, a new contemporary jewelry brand was formed.
After talking with Ghosn about what the process was like, how she was able to grow so quickly, and create such a unique and evocative brand these were the 4 key takeaways for anyone interested in the fashion space or even anyone aiming to do Millennial brand management.
1. Find your own voice.
Ghosn's line finds inspiration in "everyday beauty" as she puts it, featuring designs ranging from a hamburger and sushi, headphones, and various battery charge levels. With so much emphasis placed on being unique and keeping up with trends it is easy to over think brands, design, and fashion, but Ghosn says she came up with her entire first line in a single day. She just designed what she liked, what she would wear.
Whether working on a technology brand or high fashion aesthetic, authenticity is important and often authenticity will give you the uniqueness you need for success. Avoid getting caught up in being different and just try to be you.
2. Have an active social media presence.
I first found Ghosn on Instagram and was captivated by her fresh and real content. Many brands, especially in fashion, go for the clean and Photoshopped graphics and images, but Ghosn updates her Instagram consistently with pictures of her daily life. It is often hard to understand the people, thoughts, and emotions behind companies, but with Nadine Ghosn Fine Jewelry, just a few minutes scrolling through her feed will have you walking away as if you really know her.
In the spirit of authenticity, Ghosn is proud to note she has never done sponsorships and never paid for shout-outs. Hard work, high-quality, innovative pieces suffice for engaging the right people receptive to your brand. When she saw Beyoncé wearing some of her pieces, she was astoundes, but retrospectively notes authenticity and quality product development are the best ingredients and hopefully luck will play in your favor.
3. Beware and be fearless.
The first three months before launching her brand were some of the darkest months of her life according to the designer. Letting go of what society would deem as the right path, with no background in jewelry or connections to the fashion industry she was fixated and passionate about the idea of learning the ropes and proving that all voices count.
She says her atypical journey, from studying Economics and Art at Stanford to working at Boston Consulting Group to her time at Hermes, actually helped her build the strategy and foundation for her brand. Hermes highlighted the importance of craftsmanship and soft marketing – two things the designer pays a lot of attention to.
Choosing the name Nadine Ghosn Fine Jewelry was an intentional decision, but not an easy one. This decision however also placed an immense pressure on her to perform since if the brand failed, she failed and would be tied to the sinking ship. Anyone looking to get into startups needs to know how hard and emotionally straining this process can be, but if you believe you have found your voice and know what is needed for success, do not be afraid to take the plunge.
4. Focus on your customers.
Working at Hermes taught Ghosn just how large the profit margins are in jewelry and how expensive clothing and jewelry is purely to give profits back to the companies. Ghosn wanted to create a brand which would offer fine jewelry made with real gold, not gold-plated or inferior metals, that was also more affordable.
Lowering her prices additionally allows her to push larger volumes, not only compensating her for her reduced profits, but also letting her give more business to her artisan manufacturers in Lebanon.
It can be easy to get caught up in industry standards and to think of yourself as a business-owner first, but choosing to help your customers and your manufacturers at your own expense is also the right thing to do and can lead to long term benefits.
In February 2017, Nadine Ghosn launched her second line of jewelry and shortly after was asked to speak at the Columbia Business School, where she denied her admittance and decided to continue to grow and pursue her jewelry venture.
This post was published on the now-closed HuffPost Contributor platform. Contributors control their own work and posted freely to our site. If you need to flag this entry as abusive,
send us an email
.