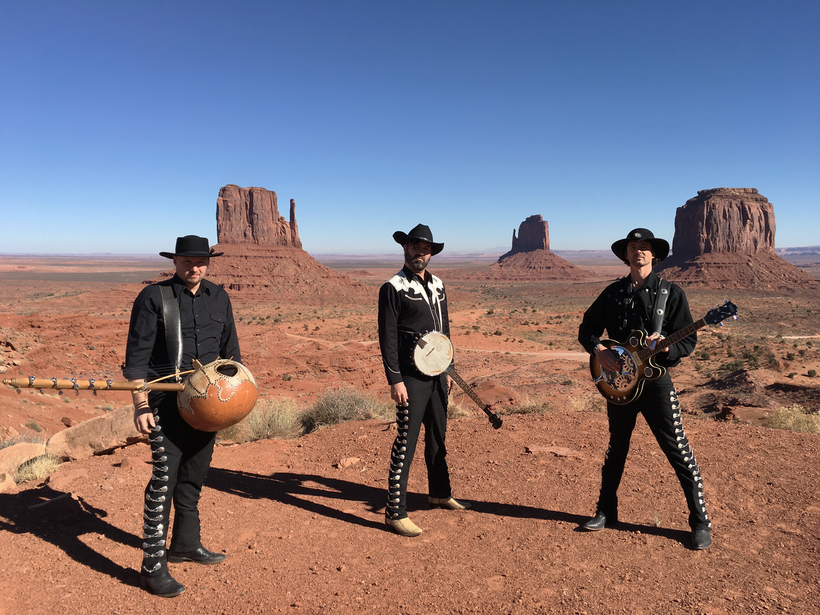 Multicolored tumbleweeds drifting through space leaving galactic dust in their wake are the types of images that are conjured while listening to Dirtwire's new album Showdown. The duo, who recently became a trio, are known for their inimitable blend of Americana, world, funk, blues, and electronic bass music. Showdown is the culmination of the many cultures and dimensions of sound they have explored.
David Satori (Beats Antique), Evan Fraser (Bolo) and Mark Reveley (Jed and Lucia) all met while studying music at the California Institute of the Arts in Valencia. Though a longtime friend of the duo, Reveley is the most recent addition with Showdown being his Dirtwire debut. According to Satori and Fraser, he was the final character needed to complete the band's story.
Known as future cowboys, Dirtwire's music has become a staple of the transformational festival scene because of their gritty blend of swampy instrumentals and infectious beats. Having played events such as Symbiosis Gathering in Northern California with an upcoming performance at Santa Barbara's Lucidity Festival this April, they are no strangers to dusty dancefloors and psychedelic party-goers.
Reveley's skills as a mastering engineer played an integral role in the band's evolution. "Having Mark in the picture really enhanced the sound," Satori says while describing the new album. "His involvement was a big change in terms of production style and another set of ears to mix with."
Each track on Showdown takes listeners on an aural journey through Satori, Fraser and Reveley's musical inspirations. Featuring vocals on select tracks by Maria Del Pilar—whom they also met at CalArts—the album showcases various soundscapes ranging from the Latin-influenced "Viento" to the experimental beat-driven track "YES" which also features vocal samples from Pilar.
When professional snowboarder and GoPro extraordinaire Tim Humphreys heard "YES," he felt compelled to use it as the soundtrack to an experimental video he was working on. Through long exposure techniques, Humphreys captured the cascading lights emitted by rising and setting stars, transforming the night sky into a kaleidoscopic light show that dances to the music. A perfect fit for "YES," Humphreys presented the video to Dirtwire who were instantly enamored with it.
The album Showdown is significant for Dirtwire's career—not only because of Reveley's contributions, but also because of their time spent among the water protectors of Standing Rock. Surviving in subzero temperatures, they were actually able to record and collaborate with various native artists that came from as far as the Arctic Circle to stand in solidarity. "It's a wild world out there," says Fraser. "We're doing what we can to unite the people through music and bring attention to causes we feel are crucial to these times. We're all in this together."
With kazoos, space fiddle, jaw harp, a cigar box guitar, percussion and bass, Dirtwire has built an incomparable sound that can stir up dust on a festival dancefloor or inspire deep, self-reflection. Showdown is polished and multidimensional with a soundscape that is so rich you feel full after listening to it.
"Showdown is for anyone who believes America should be a leader in promoting diversity and tolerance," Reveley describes. "And it's for anyone who thinks cowboys wearing Mariachi pants and riffing on Skynyrd's three-steps over 808-beats is a good idea."
This post was published on the now-closed HuffPost Contributor platform. Contributors control their own work and posted freely to our site. If you need to flag this entry as abusive,
send us an email
.