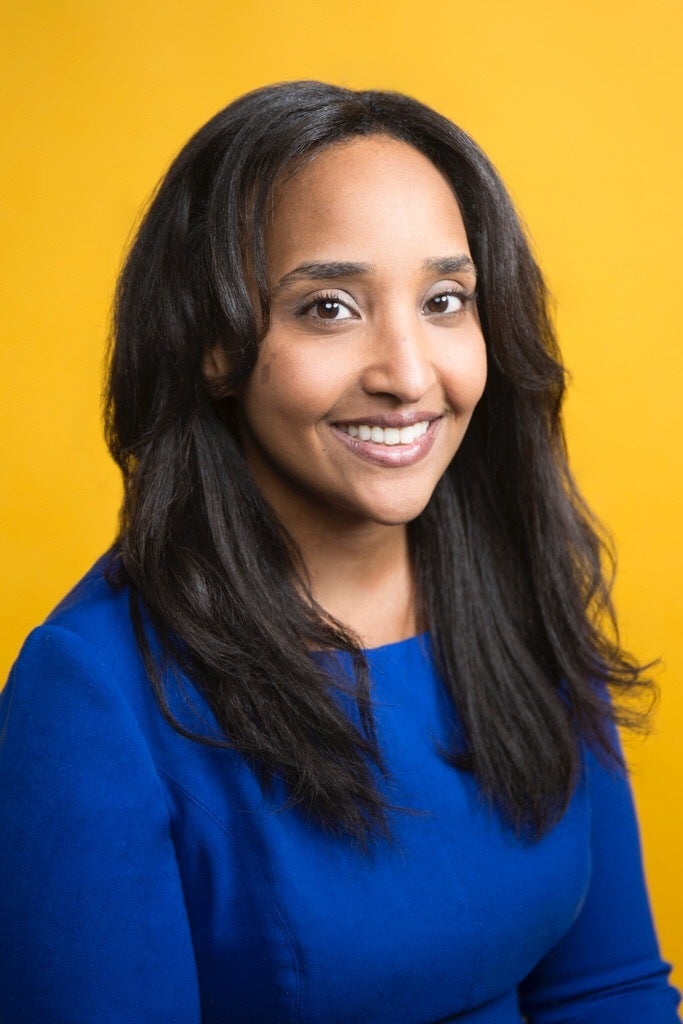 As the Head of Insurance at NerdWallet, a go-to personal finance resource that provides consumers with tools and information for all of life's financial decisions, Nahu Ghebremichael is responsible for leading a critical growth team for the business. Nahu is passionate about helping people make the best financial decisions and creating better experiences for consumers and agents alike. Prior to NerdWallet, she launched the west coast office of a corporate wellness company and worked with several consumer, tech, and finance clients for Bain & Company. Nahu holds an MBA from Stanford Graduate School of Business, AB from Harvard College and insurance licenses across personal lines.
How has your life experience made you the leader you are today?
Several professional experiences have shaped my leadership style, but perhaps nothing was more impactful than my first experience with a team - my family. Growing up in a household with three siblings taught me the power of teamwork, brokering, and friendly competition, whether you're leading from the front of the pack or from behind. My immigrant parents also instilled in us a healthy work ethic and a comfort with aiming high. Through watching them, I learned that obstacles are to be expected, and resilience and creativity are your best friends in any journey.
How has your previous employment experience aided your tenure at NerdWallet?
I spent a significant amount of my career prior to NerdWallet at Bain & Company, where I established the fundamentals that power my day-to-day - strategic and analytical thinking, tactics for influencing various stakeholders, and skills to effectively manage projects as well as people. Applying these skills to experiences outside of Bain allowed me to develop a deeper appreciation for the complexities of leading a business. For example, I prioritized investing time with consumer startups to further develop my sense of consumer empathy and understanding of how critical a clear product vision is to successful execution.
Collectively, I think my experiences have helped me become more unflappable in the face of uncertainty and more ruthless about prioritization - both helpful at a fast-growing start-up!
What have the highlights and challenges been during your tenure at NerdWallet?
I love that NerdWallet is a deeply mission-driven organization, through and through. The value of "Consumer, Company, Team, Self" is an authentic northstar; hardly a day goes by where I don't hear the question "what's best for the consumer?" Amidst a recent onslaught of news around financial challenges and instability across America, my colleagues are asking how we can best use our platform to help. That's been a powerful, inspiring experience.
I also love when we get great pieces of feedback from users who we've helped save money, avoid debt, or re-evaluate financial planning. We recently had an overjoyed consumer share how our auto insurance tool helped save him $60/month- and he ended up with a better policy to boot! Those wins are priceless and worth celebrating.
My biggest challenge has been saying no to good ideas and opportunities that just aren't the most important for the insurance business or the organization to pursue right now. But, as the saying goes, you can have it all, you just can't have it all at once.
What advice can you offer to women who want a career in your industry?
Fintech and the insurance industry specifically are undergoing a massive revolution. Do not be intimidated by the status quo; everything is ripe for change. You don't need to be male with 30 years of experience under your belt - learn, leverage your strengths, take chances, and drive that change.
Recently, two of the women on my team asked a great question - is the state department of insurance really helpful to consumers? After deep investigation and analysis, they developed a data-driven NerdWallet ranking for all 50 DOIs. They then reached out to several DOI to share their findings and ways to improve. Not only has it spurred changes on 8 department websites already, but the National Association of Insurance Commissioners plans to adapt its own website resources, citing the study as a driver of that change. All from a simple question. Never be afraid to ask questions and take charge because your ideas can be more impactful than you think.
What is the most important lesson you've learned in your career to date?
There are a few lessons that, layered upon each other, have been particularly impactful for me.
The first is that a good idea will only get you so far, and a good idea without feedback will get you nowhere. It's easy to want to protect your ideas when really the most valuable thing is to put it out in the wild and let it evolve.
Second, every moment of effort you spend on building and empowering the team of people around you will pay dividends as you work towards your goal. It's so important to never underestimate what people can accomplish together with supportive leadership. That person with just one or two years of experience may come up with the out-of-the-box idea that truly drives the business forward.
Why are they so powerful together? There's a decent chance your first idea will fail, but an engaged, high-performing team will create the solution and business model you need faster and more effectively than you ever could alone.
How do you maintain a work/life balance?
I try to think of 'balance' as a weekly or monthly target versus something I'm optimizing for every day. That said, I commit to some 'offline time' every day and meditate most days. I try to focus on higher quality time doing things I love with the people I care about (including myself) over high frequency socializing. I take 1-2 week vacations twice a year because it gives me something to look forward to when the day-to-day gets tough. My favorite new thing is treating myself to a local day spa for a weekend afternoon - it's an easy recharge for $25. Of course work bleeds into my plans sometimes, but I consider it a success if I check most of these boxes over the course of a quarter.
What do you think is the biggest issue for women in the workplace?
Unfortunately, I don't believe there's one 'big' issue that can be singled out - it's a multitude of infractions. However, I will point to a pervasive theme that comes up again and again in Silicon Valley: casual sexism.
I'm still struck when I encounter casual sexism in environments where the men are peers with whom I've studied, worked, and socialized. The intersection of tech, finance, and insurance is even more riddled with 'moments' - at one point, a hopeful partner walked through his insurance product, indicating how easy it would be to increase property coverage "for my tiaras and things." In case you were wondering, not a business development tactic I'd recommend.
It's because of these experiences that I'm particularly proud we invest in a culture that supports gender and diversity at NerdWallet. I know we can lead by example and raise the bar for the rest of our community.
How has mentorship made a difference in your professional and personal life?
Mentors have played a tremendous role throughout my life. I truly believe in the wisdom of experience and value my advisors for helping me reflect on aspects of my own development. At NerdWallet, I'm fortunate to have both formal and informal mentors across our leadership team. Beyond the office, I keep in touch with a handful of old bosses, colleagues and trusted counselors to help me think about my long-term goals. My mentors have helped me reframe situations and redefine my priorities over time; they've also introduced me to new learning opportunities, whether through shared experiences, conversations with contacts, or jobs and internships.
Which other female leaders do you admire and why?
Diane von Furstenburg and Serena Williams. They are both excellent at their craft, unapologetically true to themselves, and fearless. I remember reading a Diane von Furstenburg interview when I was younger and learning that she had always been her own boss. Something about that notion was so inspiring to me. She didn't set out to 'rise the ranks;' she had a vision and chased after it persistently, building an enterprise around her all the while. As I got older, I learned more about what a feminist rockstar she is, which only reinforced my admiration.  
Serena Williams is someone who, to me, embodies the relentless pursuit of excellence. I love that her passion is palpable in everything she does - whether it comes across in setting records, fighting personal obstacles, or standing up to injustices. It's inspiring to think of the reach that one person's energy can have. She's an unstoppable, positive force - something I absolutely love to see in a leaders, especially a fellow woman of color.
What do you want NerdWallet to accomplish in the next year?
Today, consumers struggle to get good financial advice because they either turn to friends and family who are well intentioned but not well informed or to financial advisors who may have competing incentives. I deeply believe that NerdWallet's efforts to provide consumers with objective, trustworthy resources will change the way people think about all of their financial decisions.
We're taking this on from several angles and seeing positive consumer impact on decisions across many categories - from investing and insurance to mortgages and personal loans. And while our credit cards business continues strong growth, there's still massive opportunity to increase our reach and help millions of consumers through our content and products.
Wouldn't it be amazing if the average person who needed insurance, a loan, or a credit card immediately thought of NerdWallet as their go-to personal finance resource? Becoming a trusted, household name will take longer than just the next year, but I would like to see us make meaningful strides towards that target during 2017.
This post is hosted on the Huffington Post's Contributor platform. Contributors control their own work and post freely to our site. If you need to flag this entry as abusive,
send us an email
.