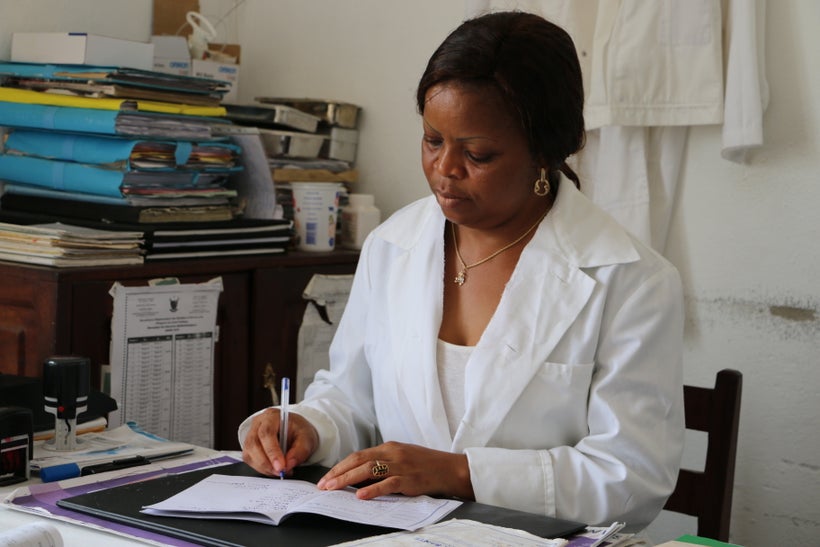 There's a saying in business: If you can't measure it, you can't manage it.
The same is true for the global fight against malaria.
One of the most compelling achievements in this fight to date is the dramatic 60 percent decline in the malaria death rate since 2000. Major advances in preventing and treating the disease have saved more than 6 million lives, and more countries than ever are now malaria-free.
From this vantage point, the outlook for malaria is positive, but the fact remains that malaria still took more than 400,000 lives last year, most of them young children. The disease burden is highly concentrated: 15 countries account for nearly 80 percent of global malaria cases and deaths.
As the malaria map continues to shrink, we'll need more information – more data – to understand the disease in individual countries and individual communities. Identifying those cases and reaching people at risk will require robust surveillance at the local level.
Through my work with the ExxonMobil Foundation, I've been inspired by malaria experts from around the world – from organizations as diverse as Harvard University, Jhpiego, Africare and Grassroot Soccer – using data in innovative ways to advance the fight against malaria. And I was encouraged to see that earlier this month, the World Health Organization released a new framework for malaria elimination that puts strong surveillance front and center. There's no question that accurate data help countries get closer to elimination.
Take the most recent success story in Sri Lanka, which completely eliminated malaria last year.
By proactively searching for people carrying the malaria parasite – instead of waiting for them to seek care – Sri Lankan health authorities pinpointed vulnerable populations, efficiently dispatched mobile malaria clinics and provided swift access to treatment. Surveillance enabled health officials to target the distribution of bed nets and insecticides that repel malaria-carrying mosquitoes even when drugs were unavailable.
Improved surveillance will also help move the needle in the highest-burden countries like Nigeria. Data will play an important role, and I was encouraged by a recent study, funded by the ExxonMobil Foundation, which found that Nigeria is collecting more data than ever before to guide its malaria programming.
The study was also useful in identifying gaps in how the data are used. State and district-level surveys often focus on indicators such as the number of malaria cases reported, bed nets distributed or treatments administered. These metrics, while important, don't always provide the full story and may fail to illuminate when efforts need to be redirected.
Sharpening malaria surveillance at the local level will help countries reach the next frontier in the malaria fight. In other words, measurement ultimately has to be used for management. The best data will do no good if left to gather dust.
Donors and governments have an opportunity to invest in the people and systems that make accurate data collection possible. The return will be significant, because the power of innovative malaria tools like diagnostics and new medicines is enhanced by timely information on where and when they are needed. Prioritizing the operational research that enables scientists to gather quality data can help uncover what works and what doesn't – and better inform the development of more effective malaria interventions.
We were pleased to help advance this conversation through our support for Harvard's Rethinking Malaria Leadership Forum in February, which brought together national and global policymakers and program managers to discuss emerging trends in the fight ahead. We know that some programs will need to be adjusted and that new tools are needed. Frontline health workers, who fight malaria valiantly every day, will need to use data to identify operational and logistical challenges, and decision makers need to be up to date on new developments at the local and national levels.
Underpinning successful measurement and management are strong partnerships to facilitate exchanges of information. We still have a long way to go, but when all the players are on the same page, guided by a shared goal, we can maximize our impact in this critical fight to save lives.
This post was published on the now-closed HuffPost Contributor platform. Contributors control their own work and posted freely to our site. If you need to flag this entry as abusive,
send us an email
.