This week, the City of Philadelphia will play host to citizens of the world and legions of fans of the wide-worlds of the NFL, track-and-field, and Caribbean food.
An estimated 200,000 people will participate in what is being billed as one of the National Football League's greatest fan experiences, the NFL Draft Experience, produced to date. Philadelphia officials state 156,000 fans signed up by March to attend draft related events taking place throughout the city, triple the 48,000 fans that did the same for NFL Draft  in Chicago last year.  
Officials anticipate generating $80 million in local economic impact, from the draft, including direct and indirect spending, such as on food and beverage, lodging, retail shopping, local transportation, entertainment, and miscellaneous expenses.
"There was no better way to highlight the city of Philadelphia than to showcase some of its most iconic venues – from the Benjamin Franklin Parkway, to the Philadelphia Museum of Art, to the Franklin Institute," NFL communications director, Kamran Mumtaz, told the Associated Press. 
The 82nd NFL draft is returning to its birthplace for the first time since 1961, coinciding with the 123-year-old Penn Relay Carnival and the Young Caribbean Professional Network's famous Caribbean Cuisine Week, an annual dining-out event that engages Philadelphia's finest restaurants. In a fun-filled week of food, music and community service, a portion of each meal's proceeds goes towards helping hundreds of disadvantaged Caribbean students participate in the Penn Relays.  
"Philadelphia is a global city and was recently named the first U.S. World Heritage Site," Rob DeAbreu told Philly Grub last year. "This event is an opportunity for our great chefs to draw on the international flavors that influence their creativity, and to give back to the community."
The St. Kitts native, and owner of Sabriná's Cafe,  is a proud co-founder of Caribbean Cuisine Week and lead sponsor of the initiative. All five of his locations are participating this year.
More than 300,000 visitors will be in Philadelphia this week. The Penn Relays is the largest annual track-and-field meet in the United States, drawing approximately 115,000 visitors to the City of Brotherly Love each year. Over the past 25 years, the Relays have had a $360 million economic impact on the region.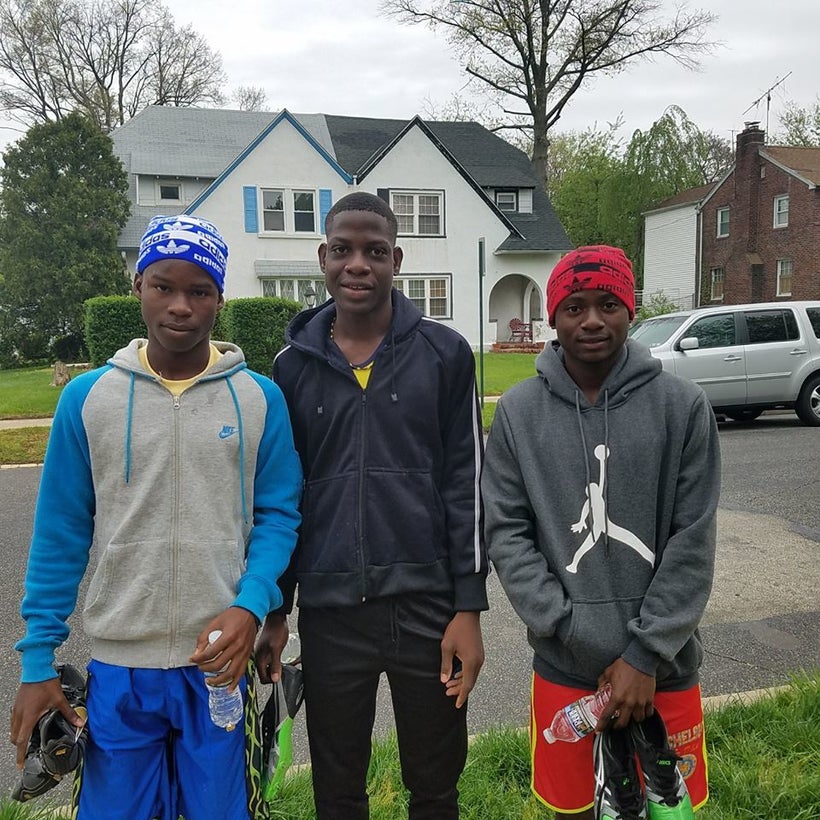 "It's a global event every year," former NFL player and track-and-field legend, Renaldo Nehemiah, stated during the press conference earlier this week. "I'm happy that it has taken place here at the Penn Relays. I always thought that this is the grand daddy of all the relays." 
The synergy between the Penn Relays and Caribbean Cuisine Week is even more evident in the sponsors of the two events. Grace Foods (GraceKennedy Limited), the Caribbean's leading food manufacturer and distributor, sponsors the Penn Relays and its products are used by many of the restaurants participating in Caribbean Cuisine Week.
"Our first year was 1964, that a high school from Jamaica ran in the Penn Relays," Grace Foods USA business development manager, Shelton Rose, told The Philadelphia Tribune Donald Hunt. "That was Kingston College. I believe this year we have around 30 teams from Jamaica." 
Like the Young Caribbean Professional Network, Grace Foods provides support to visiting Caribbean students, particularly to those deemed low-income.
"A lot of kids look forward to coming to Philadelphia, which is a proven ground for kids from Jamaica. If you make it in Philadelphia, you can go to the Olympics," said Rose.
The leaders of Caribbean Cuisine Week anticipate that while enjoying the football festivities and watching feats being accomplished on the historic Franklin Field, traffic will spill into the host restaurants spread throughout the city.
"We have 13 restaurants participating in this our 13th year, and we expect this to one of our best years ever," said DeAbreu.
"We have 300,000 visitors in town, and they will all need a place to eat. We suggest a restaurant that's serving the rich tastes of the Caribbean, Africa and Latin America. This event features the international flare of Philadelphia's great chefs," DeAbreu stated.
Sponsored by DeAbreu's Sabriná's Cafe, VISIT PHILADELPHIA, BFW Group and FutureNET, participating restaurants include Cuba Libre, Reef Restaurant & Lounge, Flambo, Fine Palate, Karma, Kilimanjaro, Ibis Lounge & Restaurant, Youma Ba African Cuisine and 48th Street Grille.
Earlier this week the Young Caribbean Professional Network kicked off Caribbean Cuisine Week by hosting its International Awards, honoring those who have contributed to help make Philadelphia an inviting global city. 
"I'm excited and honored to be awarded the International Award by Young Caribbean Professional Network," said Zabeth Teelucksingh, executive director of Global Philadelphia Association. She received the International Entrepreneur of the Year Award 2017 for her leadership role in advocating for Philadelphia to obtain World Heritage City status.   
Yocasta Lora, AARP Pennsylvania associate state director of community outreach, received the International Community Service Award for her work with Dominicans United and advocacy for immigrant businesses and older Americans. 
Chef Carl Lewis, of 48th Street Grille, and Julio Ugarte, general manager of MIXTO, received International Awards of Merit for supporting community outreach initiatives. Young Caribbean Professional Network also presented three scholarships to deserving students at the awards ceremony held at the exquisite and stylish Estia Restaurant in Center City.
Philadelphia Mayor Jim Kenney believes the city will handle all of the events just fine, including the tail end of a major insurance conference.
"We're up to it," he said, following a news conference on Monday afternoon at The Shops at Liberty Place. "We've done multiple events before at the same time. We're looking forward to a great week!"
"You can't put a price on the exposure the city gets nationally and internationally," Kenney added.
This post was published on the now-closed HuffPost Contributor platform. Contributors control their own work and posted freely to our site. If you need to flag this entry as abusive,
send us an email
.