Do you ever wonder what drives individuals to start blogs for niche subjects? From kombucha to smoothies, from firefighters to the National Park Rangers—there are blogs on everything! My own blog, Average Advocate, is focused on helping everyday people find their best path to change the world. After having Jill and Luke from Sutton + Grove post for me on Conscious Fashion & Why Our Choice Matters, I couldn't help but wonder how they got into this niche in the first place!
Sutton + Grove is a lifestyle blog covering social good companies, conscious fashion, and living ethically. I decided to interview Jill and Luke and share it here because there might be juicy pieces we can pull out from their story to empower us to make the difference we were born to make. As you skim through what they say, I hope you are inspired to live a meaningful life too, even if you don't move across the globe.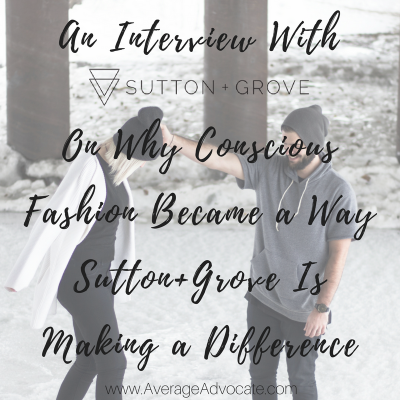 As I only followed Luke's Instagram account, I didn't realize at first you were a couple.  Which came first, your shared love of ethical fashion or love for one another, as Jill and Luke?
Jill: We met seven years ago and have been married for 4 ½ years. When we met our favorite brands were Zara and H&M and we were both pretty obsessed  (well I was) with shopping and clothes, so our relationship came first before our love for ethical fashion.
While we are on the subject of love, how did you two get together?
Luke: We met when Jill was visiting her parents during Christmas break a few years. I knew them before I knew her, and she was still living in New York at the time. Once she moved back to Kelowna, BC (where I lived at the time) we started hanging out and I started working my magic to try and get her to like me. She was a difficult one to catch and after a long summer of me liking her and her kind of blowing me off she decided to go on an adventurous trip to England and visit some friends. At the time we were basically dating (unofficially of course) and I was pretty confident she would be ok to admit it publicly. So I decided that to make it official and seal the deal I would fly out to England and surprise ask her out. So I booked a flight that evening and surprised her at a broadway play in London and asked her during intermission.
Just to lay the foundation for this interview properly, are you cat couple or a dog couple? Or, maybe you aren't into animals, but are into, um . . . skiing?
Jill: I grew up with my own cat and loved him to bits (probably cause he could hold his own against my two dogs) but since then I think I'm a lot more of a dog person and we really want to get one once we feel ready to be a little more stable in life.
Back to ethical fashion, why did this become your niche?
Jill: Well, it started for me when I took my first course together with Luke for my International Development degree. I always knew the world was a bit unbalanced economically and that history had some pretty dark secrets to hide, but I never knew to what degree. Since working at a children's nonprofit in New York for 4 ½ years I knew I wanted to continue my path in humanitarian work and for a few years after I left there I felt a bit lost in how or what that would look like. This course opened up my eyes to a lot of the hurt and pain that has taken place in the world, and it honestly stumped me even more with what my place could be in my position as a global citizen. So after diving deeper into my courses, and watching documentaries like The True Cost I started to realize that economic power and control is really in the hands of the consumers and that even if it's not making a massive shake in the world my purchases and conscious consumption could help make some small change. Also since I had a love for fashion and consumerism before our blog I figured I could try and connect passion with new passion, and that's where Sutton + Grove started for me.
Luke: I love not owning much. It makes me feel free and able to move at the drop of a hat. My journey to ethical fashion began with my interest in minimalism, which for me  is owning less and being intentional about what I choose to own. After taking a course in International Development with Jill it pushed me to research more on the fashion industry and what I discovered left me with no other option other than to pursue buying my clothes more consciously. We both felt that if we documented our journey it could help keep us accountable and maybe inspire others to do the same, so that's when our blog Sutton + Grove was born.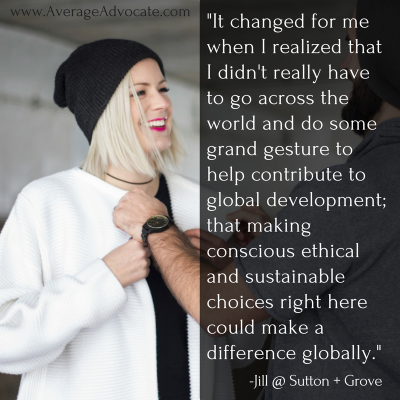 What caused you to care so much about this that you moved forward by teaching people through your blog?
Jill: It changed for me when I realized that I didn't really HAVE to go across the world and help in an orphanage or do some grand gesture to help contribute to global development; that making conscious ethical and sustainable choices right here in Canada could make a difference globally.
I think I have always loved and been intrigued with how things shift culturally through trends. Knowing and seeing ethical and sustainable shifts taking place in the economy has really made me feel excited to be apart of that movement and helping people have a voice in it too. It took me watching, reading and learning about the value of my purchases to make a change in my life, and I know that it can happen for so many other people out there just like us.
Luke: I like to think of our blog as something that we are sharing with people rather than teaching. When I discovered the startling behind-the-scenes information on the fashion industry it led me to begin changing the way I purchased my clothes. Sharing this information in a way that intrigues people and makes them think is something that I really enjoy. If someone thinks a new thought after reading an article of mine I feel like I've accomplished my goal. Whether that thought is a step towards conscious fashion or a step away from conscious fashion, it's a step nonetheless and I like that.
Folks that are walking through life 'numb' and ignorant to the world around them are really missing out. My goal is to poke that numbness and provoke a response, good or bad. By opening up dialogue, the discussion of opinions and exposing problems, I feel like I am helping bring awareness to slow fashion, brands and business trying to do things the right way and ultimately provoking discussion as to what it means to live a more conscious lifestyle.  
What obstacles did you have to overcome to start Sutton + Grove?
Jill: I have the hardest time motivating myself. On the days when I'm all on my own I always get pulled to binge watching Netflix in bed. One of my New Year's resolutions this year was to find new ways to motivate myself independently and I think I've been able to come up with a few helpful ways to do so like make friends online, keep lists that we both check up on and more.  
Luke: I had to be open to learning a lot of new skills. I've spent hours teaching myself to become the web designer, photographer, marketer, SEO expert, writer, etc... It's a lot of work and you can't short cut the time spent and effort put in to make something of your own success. We love learning it all but it's hard work. Trying to balance paying the bills and a day job with building an online business is a challenge, as many fellow online entrepreneurs can appreciate.

I bet you have some great stories to enforce to you that you are needed in this sphere, of blogging about ethical fashion. Can you share one or two?
Jill: Well I know personally, my friends have gained a lot of insight and helpful knowledge in their own conscious journey from some of our posts. A lot of the time it's not knowing where to look or what to look for that prevents people from buying consciously and some of the brands we've met and created relationships with have really helped to not only open up our options but also do so for our friends and family. We've heard from our friends and even some readers that what we've shared or a brand we have featured has helped bring a new awareness and perspective to their purchasing.
How do you feel like you are making a difference in the world?
Jill: Well I don't know if I'd go as far as making a difference in the world. I'd like to think that by promoting and talking about brands, people and charities that are doing good and making a difference that we are some how connected to that good. But I do believe in the power of promotion, social media and individual collective voices so if what we write about, and the products we share help people gain insight into the options and the greater connection to the beautiful world we live in, then that's good for me!
One thing I like to do with my readers at Average Advocate is to help them understand their worldview so they know why they care about social issues in the first place. What do you think drives your desire to bring awareness to ethical fashion and products?
Jill: I'm a pretty passionate person when I make changes or choices in my life, so when my convictions caught up to my purchases I felt like it was the only way to really move forward in life. When I'm sold on an idea, or change I can't help but share it with the people around me, so I think that has really motivated me to bring awareness to this new found passion and life change that has taken place.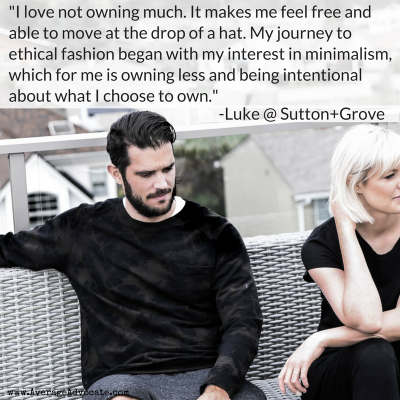 Do you believe that if we really want to live a "just" lifestyle, do we actually have to use ethically sourced clothing? Is it really that important?
Jill: I think it all stems from our individual convictions. Just doing something because it's "right" isn't enough to me. I think in order to make a lasting impact in our own life for ourselves, we need to be aware of the choices and consequences. That's why we use the word 'conscious' a lot in our branding and blog because it starts with being aware of who you are, what you are doing and the impact you as an individual has on the world around you. Knowledge is weighty and knowing for ourselves where something is coming from, who made it, the impact it's having on the environment, etc..., and that information will help shape the choices we make moving forward.
Living a just life is holistic, it should affect every aspect of our lives including our purchasing. For years we've been conditioned from history that doing good is really only helping the poor, doing good charity work overseas, providing for the local homeless, etc... (all good and noble work).  But what we often don't realize is that the world functions on a capitalist world system and a lot of the issues related to need in the world come from years of exploitation of resources and human labor for capital gain, primarily in the global north (ie. North America, Australia, Europe). So our knowledge and power in this not only comes with our ability to help the need in the world (poverty, global warming, animal exploitation, humanitarian needs, and more)—it also comes with consumerism and our purchasing which is a direct connection to capitalism.
If you watch The True Cost one of the factory managers in a sweatshop overseas explains that demand comes from consumers wanting lower priced items, which leads to a pressure on the company to accommodate, which leads to cutting costs in production which leads to lower wages on the workers.
This cycle starts with the consumer. If we as consumers demand healthier products in fast food restaurants, transparency in manufacturing, sustainable practices implemented in businesses, etc... then that's what we'll get. So although it may seem like a massive imbalance, run by large transnational corporations, the power is really on us, regular everyday consumers. That's what moves me and challenges me because we, as normal North Americans, can help shift culture and make changes that affect a historically global imbalance. That's exciting to me.
What do you find are your readers biggest stumbling blocks to embracing conscious fashion as a lifestyle and what are the best ways you've found to overcome them?
Luke: Knowing where to buy ethical and sustainable products. It's not as mainstream yet and although transparency is taking place in small and large companies it still is hard to truly know how and where your products are made. So knowledge I think is the biggest stumbling block and knowing how to take action and where to buy good stuff from is the second stumbling block.
Jill: For us we still face this dilemma too because it's a journey for us as much as it is for anyone else. The more I read and research about brands, about the global economy, about things that have shaped our world or even going and visiting first hand some of the lives that have been affected by exploitation helps me to feel more alive in my pursuit towards a conscious lifestyle. So that's my best advice and what we are working on doing on our blog; provide information, tools, and places to shop to equip our readers and viewers to live a conscious life.
What was the best advice you received that helped you move forward to the current role of changing the world you are in, leaders in the area of conscious fashion?
Luke: Hmmm . . . Well the best advice I have ever received was from a late great friend and mentor who told me 'Luke, it's not about you.' Trying to pursue living a more conscious lifestyle isn't just about fashion, it's about being aware of others and the world around you. It's pretty hard to influence anyone or anything positively if all you think about is yourself and your own desires.
What are your favorite books or movies on conscious fashion you can point us to if we want to learn more?
Jill: I haven't actually read many books on it (other than some textbooks for school), however if you are into documentaries then Netflix has a couple great ones I'd recommend. The True Cost is an absolute must see, Minimalism is great, & we like Living on One Dollar. I also would recommend watching a Norwegian 5 part mini series called 'Sweatshop- Deadly Fashion' you can find online (there are English subtitles you can follow along with, and even if you hate reading subtitles like Luke does, DO IT it'll be worth it). This mini series along with The True Cost were the original documentaries that shook me up and helped me see things differently.
What's next for Sutton + Grove?
We both really love traveling and for a while now we've had the desire to travel to a few of these countries where lots of production and manufacturing come from like Cambodia, & Vietnam and see and meet some of the people who make the clothes we wear. So we're actually really excited that we will be traveling in the early fall this year to explore some of these areas, and review some eco and sustainable hotels and locations along the way.  Then aside from that, we have also been working on some e-book and e-course ideas so you can look out for those this year too!
What advice do you have for us normal people who aren't necessarily into fashion, or haven't jumped on the bandwagon of conscious fashion?
Jill: I would say start asking yourself questions like why you need what you buy, or what is your place and impact in the world. I think just changing consumer habits from buying less conscious products to better products is only part of the battle.
Luke: Think, research, ask questions and keep learning. Conscious fashion isn't going to fix all the world's problems, so if you're not into fashion there are many valuable areas of society that you can contribute to and help make the world a better place. Life is better when you are helping contribute to a cause bigger than yourself.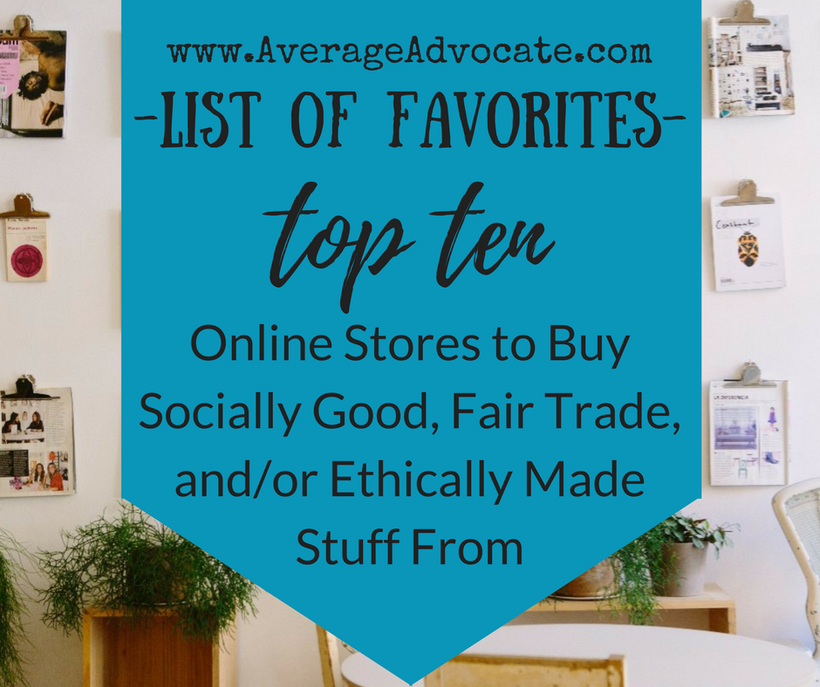 Be sure to check out Sutton + Grove and follow them on Instagram (and all the other places) as they do the time-consuming work of helping us know how to live consciously and ethically more easily!
This post was published on the now-closed HuffPost Contributor platform. Contributors control their own work and posted freely to our site. If you need to flag this entry as abusive,
send us an email
.