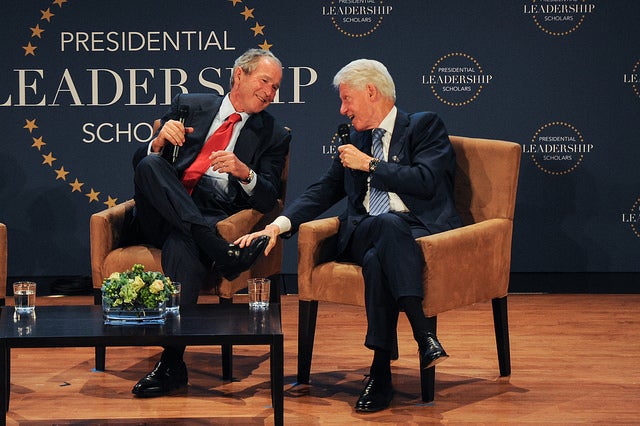 It did not take the 2016 presidential election and the turmoil following it for me to embrace "Bush nostalgia."
I realized it in the spring of 2015 after being the last person in a buffet line at a dinner, following my seating card to a table, and discovering that the one open seat at my assigned table sat directly across from the president I spent much of 2004 working to defeat.
"How ya doin', big fella, have a seat!," President Bush exclaimed as I approached.
"Uh, hello Mr. President."
We chatted. A lot. Covering maybe twenty different subjects. With the other five people at my table, we touched on many topics, including the Texas Rangers pitching staff and how he knew to move his head so quickly when a journalist threw shoes at him in Iraq during a press conference.
"The guy threw two shoes. On the first one I moved fast. Figured a second one may be coming, it was pretty close to dead-on, but I was ready. My biggest concern was what the security forces there were going to do with him."
But it wasn't all tinged with wry humor; we also discussed the more serious subject of his work and reputation in my adopted hometown of New Orleans.
As you might imagine, discussing Hurricane Katrina and its aftermath is a sensitive topic and had the potential to create awkwardness at the table. But I was pleasantly surprised that President Bush engaged with us all on the subject, answering some tough questions with candor and giving us clarity and understanding that didn't quite translate in coverage of the events at the time.
'That is a special place," he concluded.
I was seated at the table with the 43rd president because I was a member of the inaugural class of the Presidential Leadership Scholars (PLS) program.
And while I was shocked to be having an actual conversation with President Bush, I was equally surprised to be enjoying it as much as I was given my 2004 decision to quit my job in southern California and move to Iowa to coordinate rural counties for Bush's opponent that year, former Secretary of State John Kerry. The passion it takes to make such a career move can help mobilize communities to accomplish great things. But it can also, inadvertently, lead to divisiveness in thinking that may sometimes undermine the cooperation, partnerships, and understanding that it takes to achieve lasting impact.
The Presidential Leadership Scholars program is trying to change that and reframe the value of understanding. The program—a partnership of the foundations of former Presidents Bush, Bill Clinton, Lyndon Johnson, and George H.W. Bush—is intended to give professionals perspective on their own leadership styles, provide insights from presidents and their administrations and staffs, and perhaps spark future unexpected partnerships.
By the time I sat down at that table with President Bush, I had read up on the challenges of the 2008 Global Financial Crisis and the crush of decisions he faced surrounding it. I had sat in a room as his Treasury Secretary, Henry Paulson, detailed the difficulty facing the US automobile industry at the time and how President Bush and, later, President Obama were left with only unpopular decisions to make.
Aside from the presidents, their teams, and lessons from their time in office, I learned the most during my time in PLS from my fellow scholars. Among them included veterans and active-duty soldiers, entrepreneurs and innovators, doctors and a fire chief.
They shared struggles, admitted vulnerability, and aggressively sought ways to improve this country and planet. Their commitment to, and faith in, a better future for this country inspired me. And at no point during our six months together did anyone ask me where I stood politically, ready to cast a stone if I answered this way or that. We sought to learn from one another, and we did.
At that dinner, I recalled the many hours I spent driving along Interstate 80 during that 2004 election—between Council Bluffs and Atlantic, Iowa—and how much I questioned the morals and seriousness of President Bush while staring out at the Iowa expanse.
Sitting there, more than ten years later, sharing a meal and meaningful conversation with the president made me ashamed of how I'd oversimplified him, his work, and his convictions for too many years.
Leaving dinner that night, I was pleased to have been wrong about my initial assessments of President Bush. I don't mean to suggest I have changed my opinions entirely. I still disagree with many Bush Administration policies. But I no longer view them through the lens only of my experience or what I have read. I have a better understanding of his different perspective on topics I care deeply about. And because of that, I can no longer carelessly discount the convictions of the president himself.
A Gallup poll declared in late November 2016 that a record number of Americans, 77 percent in fact, believe we are a divided nation. Too many people in this country, at this time, cannot talk to one another. We all have our convictions, but lately those convictions don't extend to conversing with people who have different political opinions. And we all need that input. Conversations don't necessarily change closely held convictions, but there is value to them.
Talking to people—and learning how to truly listen—can sharpen those convictions, change a course that was flawed from the beginning, or lead to a better outcome than originally planned. I learned a valuable lesson through PLS and President Bush—to listen more and postpone my conclusions until I fully hear from someone I may disagree with.
At a time when people find it "too frustrating," "too silly," or "too stupid" to speak with someone with a different political viewpoint, or don't bother to engage others in political conversations deeper than those that can be had in a Facebook comments thread, it's critical to realize that individually, we do not have all the answers.
It is only by listening that we can ever find them.
Ramsey Green is a New Orleans-based entrepreneur focused in the construction, real estate, and finance sectors. He is a 2015 Presidential Leadership Scholar, a joint program and partnership between the Clinton Foundation and Presidential Center in Little Rock, the George W. Bush Center in Dallas, the Lyndon Baines Johnson Foundation in Austin and the George Bush Presidential Library Foundation in College Station, Texas. Read more about the Presidential Leadership Scholars program here.
This post was published on the now-closed HuffPost Contributor platform. Contributors control their own work and posted freely to our site. If you need to flag this entry as abusive,
send us an email
.