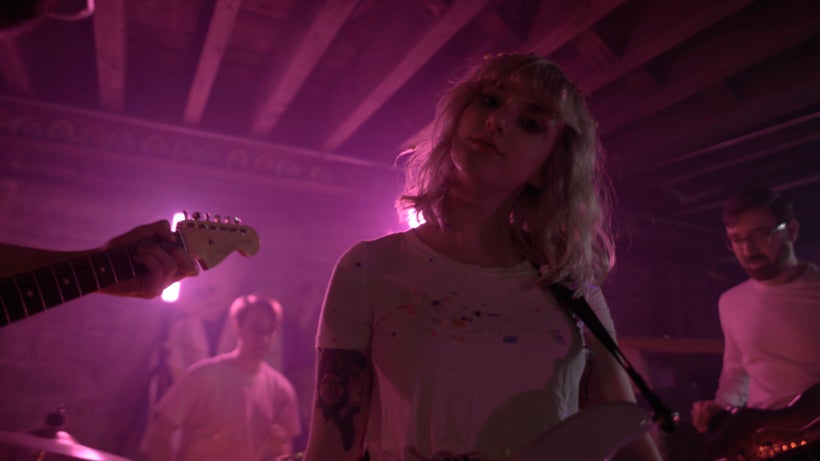 Following their debut album, Daughter in 2014, Tara Terra follows up three years later with Where's Your Light?. Carried by the ethereal and layered vocals of lead singer Emily Blue and accompanied by guitarist Colin Althaus's versatile lead textures and style, the new album shows a progression representative of their evolution from college band to joining the vibrant Chicago music scene.
Tara Terra's "Like the Clothes" was the first single released from Where's Your Light, where bassist Nicholas Soria and drummer Joey Buttlar show off their rhythmic chemistry underneath Blue's falsettos and Althaus's bright guitar riffs.
Although lead singer Emily Blue released a solo project, Another Angry Woman, last year, the foursome shows their continued dedication and commitment to collaborating creatively for audiences.
Below is a Q & A with Colin and Emily Blue of Tara Terra performed electronically. The band discusses influences, the creative process, and life since last album.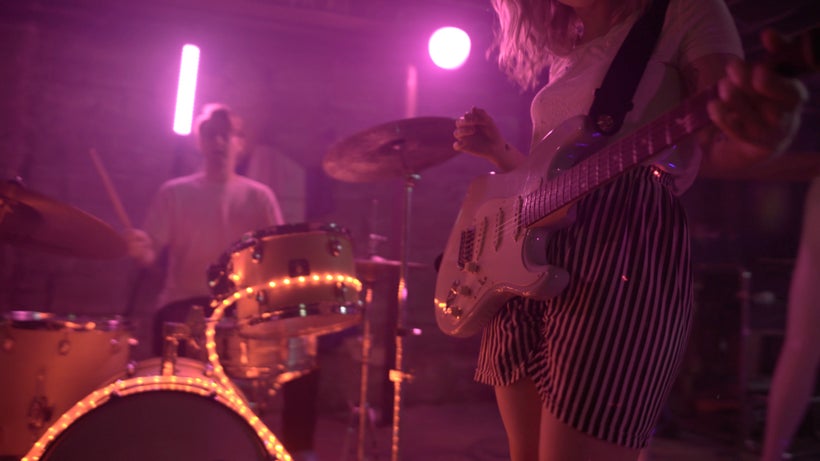 Rasheena Fountain: What is behind the name of the album?
Colin: Our new album is called Where's Your Light? and it's a reference to the second track on the album, Feel Better. I think it encapsulates the themes on the record, both in seeing someone's metaphorical light out, but also being an active participator in questioning and trying to fix it.
Emily: I think the album art kind of demonstrates the meaning of the record-- there are two people glowing, reaching out for each other, but they are blocked by all these dark figures. The light in our lives are really the people we hold close, or those we miss dearly. In this record, there's a lot of tension surrounding those themes-- "Where's Your Light?" is a question that we all ask ourselves, in terms of finding who or what is most important to us.
What was the first single released from the new album?
Colin: "Like the Clothes" was our first single, followed by "Feel Better".
Emily: LtC was a really involved writing process-- we spent a lot of time getting the rhythm, structure, and chord progression just the way we all liked. You can really hear our chemistry in that song!
What's new with everyone in Tara Terra?
Colin: I'm entering my senior year of college and that's both exciting and scary. Emily just finished school, Nick and Joey are getting ready to relocate to the city, so we're all in very transitional stages of life right now. Hopefully that makes for some interesting songs in the near future.
Emily: Living and thriving in the Chicago music scene, as well as getting ready for a tour! I am so excited to dive completely in with this group, we're ready to be involved in such a vibrant scene. There is so much happening, so many shows and collaborations, sometimes I'm so busy I can't even keep track.
Have there been any challenges for you and the band since last time we spoke?
Colin: As a band we're doing well. It helps that we're all friends, so a lot of the tedious parts of being in a band become more fun. That said, I think we've all faced our share of personal challenges the past year or two as well. So it's important to us that the band can also be an outlet for those things, whether through our music or just talking in the van on the way to a show. I think you see a lot of honesty through Emily's lyrics that really exemplifies that, in Tara Terra's new album and in her solo material.
What was the most enjoyable part of making and releasing this album?
Colin: The couple of weeks we spent tracking at Audiotree were some of the most enjoyable times I've had while making music. Our engineer and producer, Rick Fritz has a way of directing our flow of creative juices without ever treading on toes, but also being willing to challenge us to try new things like writing a song from scratch in the studio. "Blood Sister" was a track that we hadn't played together at all, but with Rick's focus and direction we shaped it up and laid it down in a matter of hours. It was humbling for me -- I was pretty pessimistic at first about "wasting" studio time jamming or writing, but was blown away with how it turned out in the end.
Also, Rick is a total professional -- he spent five years as Brian Wilson's personal engineer and more than three decades in the music industry total, but he's also a really humble guy and just the kind of person you could hang out with for hours. I learned so much from him during the making of the album, and I feel like a better collaborator and engineer as a result.
What's your favorite song on the album?
Colin: "Like the Clothes" is for sure at the top of the list for me, it's a blast to play but it just feels like a solid and coherent song to me, and we wrote it collaboratively. Being able to achieve that kind of song democratically makes me really proud of it. I also really like "In Between".
Emily: My favorite song is probably "In Between"-- I'm really proud that we have a slower song that truly moves me, and I hope it moves others as well. I'm also really into all the time changes in "I Need to Know Why."
Use one word to describe this album?
Emily: Thorough? I feel like we thoroughly explored some of the recent changes in our sound, especially Colin's many guitar tones, collaborative writing, etc. And the themes as well. The emotional journey from side A to side B feels really complete to me-- the record starts with some confidence, maybe even some sass, and then it dives deeper into the feelings surrounding losing someone, which often take a while to unpack.
Colin: Nuanced. I think it's easy to take some of these songs at face value, but I think it's even more rewarding to dig in and consider the lyrics as well as the musical choices. There is a whole lot more to "Like the Clothes" than a breakup song, a lot more to "Feel Better" than just wanting to feel better. I think a theme that keeps popping up is the need to let go of personal preferences for the good of someone else. But that's not immediately obvious. I would hope that digging into the music might inspire someone to live more selflessly.
Has everyone graduated? If so, how has that influenced the band?
Colin: I'm still in school, the others have graduated. It'll make the next year challenging as I try to manage my senior year around band stuff, but we all have life things going on too (moving, working jobs, etc.) so I don't think that being in school presents a special challenge or anything.
How has the political climate influenced your music/ performance?
Emily: The political climate is extremely stressful for a lot of people, including myself, and I think that's made me even grateful for Tara Terra. It's a place where I can truly feel safe, be myself, and feel supported. As a woman and a survivor I often feel out of place like this government, this country, is not welcoming to me. I can't even imagine what it must be like for people of color and other marginalized identities-- everyone needs a safe space and a supportive group of friends. Music is absolutely the most healing part of my everyday life.
Colin: Even though most of our songs aren't explicitly political, I would hope that our live show + meeting us would make clear our commitment as Tara Terra to loving our neighbor as ourself. We all value authenticity and being there for all people, regardless of race or gender or sexual orientation. In a political climate where truth is devalued and transparency is hard to find, I hope that seeing real people doing real things for the good of other real people would speak more than any lyric or song.
When is album release? Any events coming up?
Emily: Wednesday, 5/31. We are getting ready for a tour in August, so stay tuned for us in a city near you!
What are you hoping to gain from the releasing of this album?
Colin: Fame and fortune. But I say that facetiously. We want people to hear our music because we think it's relatable and fun to listen to. And it would also be nice to pay back the cost of making it.
Emily: I am hoping that these songs can reach people in their darkest moments, and help pull them into the light (to relate it back to the title). But yeah, honestly, writing these songs has helped me through a lot. And I hope that people can hear these words, these sounds, and grab onto something.
What have been some influences in the song writing/music composing for this album?
Colin: We don't really have many collective influences, we all listen to different music that overlaps with each other maybe 10% of the time. So our biggest influences are really each other, as odd as that sounds. We all come from very different places and I think that challenges all of us to play out of our comfort zones in order to create something unified.
Some of my more recent influences have been Mateus Asato, Pinegrove, The National, Cartel. Also I grew up in the church and play worship music on a regular basis, and that might be clear to some people who listen to my guitar work.
Emily: My influences are all over the place. I've answered this question in so many interviews so many times and my answers always change-- today, they are Pinegrove, Erykah Badu, and Top 40 from the early 2000s.
What are you most looking forward to as a band this year?
Colin: I'm looking forward to pushing the album and seeing where it takes us!
Emily: MUSIC VIDEOS! I love, love, love making videos. As an art form, I respect it heavily and find it amazing that indie bands have access to that kind of technology and visual content. Look out for one real soon, too!
This post was published on the now-closed HuffPost Contributor platform. Contributors control their own work and posted freely to our site. If you need to flag this entry as abusive,
send us an email
.