Lindi Ortega has explored the dark side of life on many of her songs, so it was only natural for the affecting Canadian artist to cover one of Americana's finest storytellers, then paint his tale black and white in a haunting music video.
The result is a stirring version of the late Townes Van Zandt's "Waiting 'Round to Die," visually presented by Ortega for the first time today (June 1) at HuffPost.
No matter the subject matter, Ortega enjoys making music videos, even if it requires going to great heights to get the perfect shot. Shortly after finishing her touring duties in support of Chris Stapleton through Canada in March, the Toronto native traveled to the "awesome" Alberta Badlands in her homeland to work on the video that she also directed.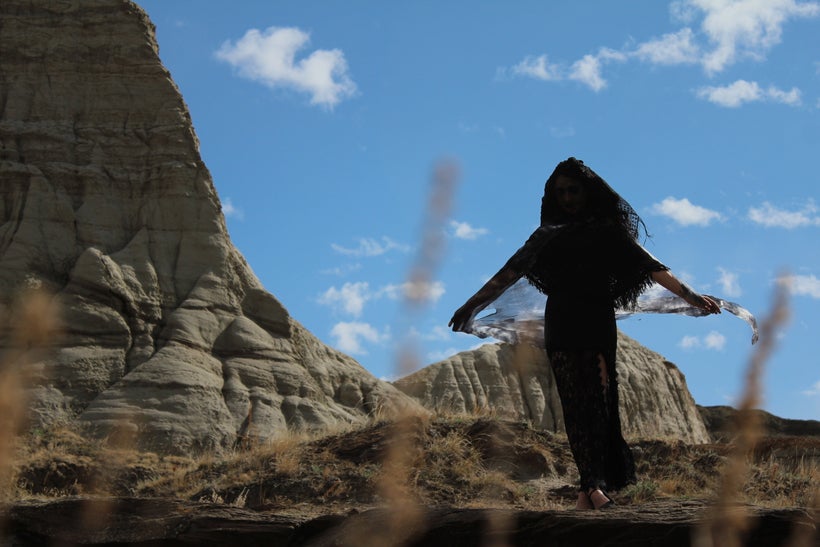 "The only real challenge for me was climbing what felt like a mini-mountain in my Grim Reaper outfit," Ortega said in response to a series of email questions for this article that accompanies the video. "I was a bit worried about how I was going to make it back down, but luckily I found a way, and it was totally worth it for the shot!"
A real trouper whether she's performing in her trademark red cowboy boots or directing herself under the toughest conditions, Ortega didn't think twice about her physical task. "I hoisted my skirt up, I took off my heels and I climbed that sucker!"
Her indomitable spirit shines through, even in a song and video with a "creepy vibe" in which Death plays the leading role. View "Waiting 'Round to Die" now, then follow the rest of Ortega's story about her experience and how she was motivated by Van Zandt, even though he's been gone for 20 years.
"I wanted (the video) to be a bit obscure, and wanted people to kind of draw their own conclusion about what was going on," said Ortega, whose videos for "Angels," "Cigarettes & Truckstops" and "Murder of Crows" she also directed. "At the same time, I had a general storyline in mind, and most of it centered on the fellow with the white beard and his path. It begins and ends with him, and the two Grim Reapers merely hover at the end of someone's existence."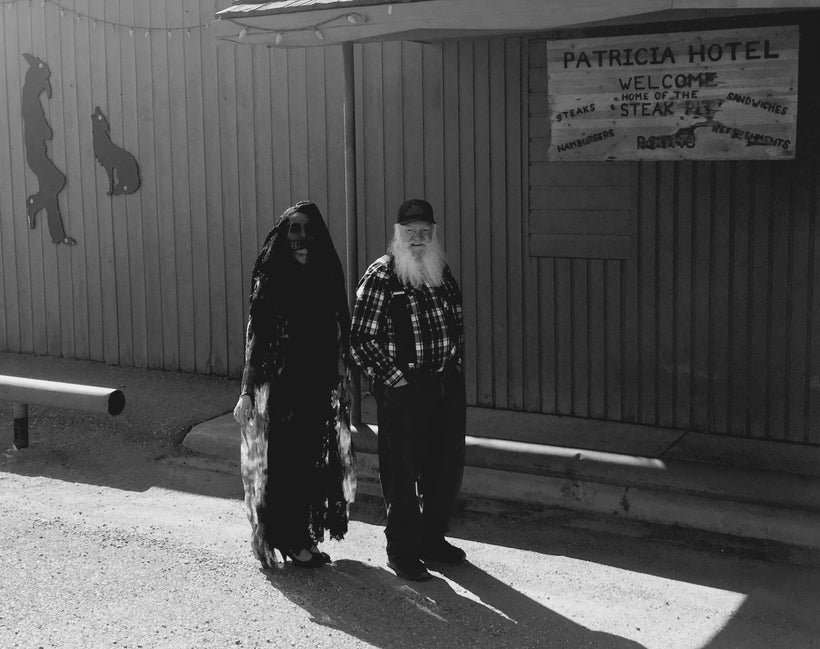 The Man With the White Beard — a key character who "was on the final phase of his journey" — appears alongside a cast of "volunteers and friends of friends" Ortega recruited to shoot in locales such as the Patricia Hotel and its tavern, where a sign at the bar warns "Red Neck Parking Only. Violators will be beaten."
"I really liked how stark it was outside, and it worked well with the lonesome vibe of the song. It's sort of this old legendary place with history and character," Ortega said of the area around Patricia, the closest town to the Alberta Badlands, a vast region with attractions at least a 90-minute drive east of Calgary, the city where she currently lives after spending several years in Nashville.
Despite the somber tone of the video, Ortega said, "It wasn't hard to brighten the mood, we were out in public dressed as Grim Reapers, and it was all very absurd. And it helped to be among friends and generous volunteers who all really enjoyed being in this video."
It was only until recently that Ortega discovered the music of Van Zandt, the Texas-born musician known for his sad songs and hard living. After years of substance abuse, he died at the age of 52. Moved by the gripping documentary Be Here To Love Me, Ortega thought it was fitting to include Van Zandt's ominous quote at the end of her video:
"I don't envision a very long life for myself. I think my life will run out before my work does. … I designed it that way."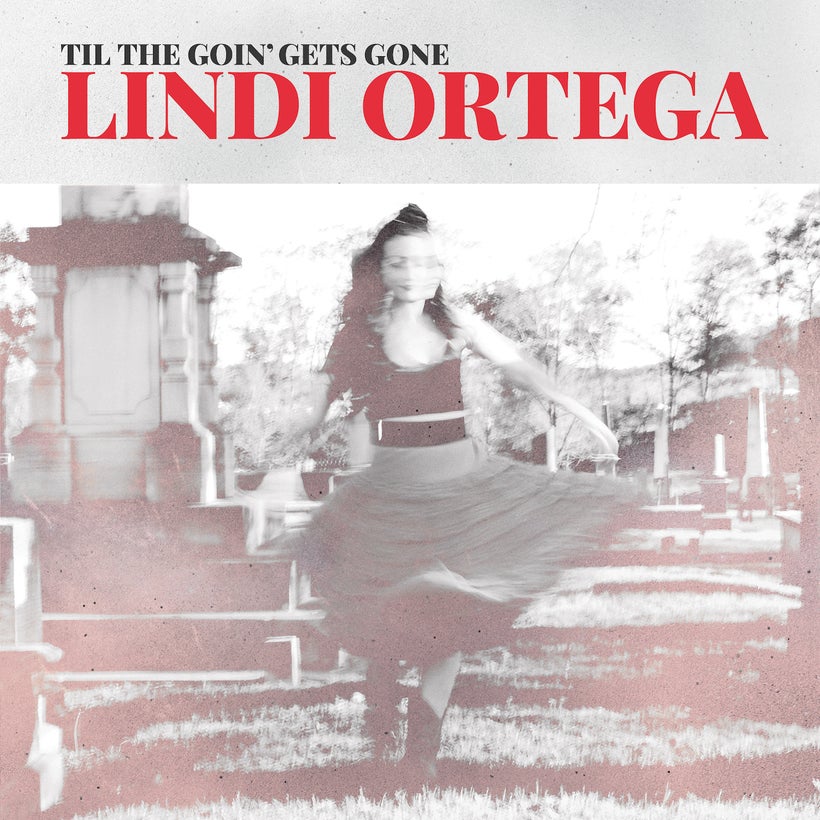 Ortega was drawn to his work, and while questioning her musical existence after a period of experiencing writer's block, she decided to put "Waiting 'Round to Die" and three of her new original tunes on Til The Goin' Gets Gone, an EP she co-produced that was released in March.
"All my music heroes are huge fans of Townes Van Zandt," Ortega offered. "I would read his name in all the biographies I had read. I knew if they were all fans of his music, then naturally, I would have to educate myself. I chose to cover 'Waiting 'Round To Die' because I felt like it fit in line with the rest of the songs on the EP. It was also the first song of his that I heard and I felt I could relate to his dark, lonesome lyrics.
"I fell in love with his style of writing, and it made me approach songwriting differently. He has become one of my top songwriters: him and Leonard Cohen."
This project and Van Zandt's legend continued to push her creatively, "though this time around was more of a deconstructing and dismantling," Ortega admitted. "Stripping things down and exposing the skeleton. I really wanted to get back to basics and I wanted the lyrics to take center stage."
Ortega's fourth and most recent full-length album, Faded Gloryville, included the striking video for "Ashes," which debuted in this space a couple of months after the record's August 2015 release. That only deepened my appreciation for Ortega, whose lovely charm and vitality offset the deep, dark material that first impressed me during one of her AmericanaFest performances at Nashville's High Watt in September 2014.
Interviewing Ortega following a brief set that included "The Day You Die" and "Demons Don't Get Me Down," she expressed her sudden interest in tarot cards, saying, "A lot of people always look at it like it's really hokey or whatever. I guess if you're trying to tell the future with it, it could be. But if you just take it for what it is, as good advice, it's great."
Now excited again about the possibility of another full-length album in her near future, Ortega concluded, "I have a newfound appreciation for writing songs and creating these days and I relish every amazing moment of it."
Even after spending time on the dark side, Ortega has seen the light.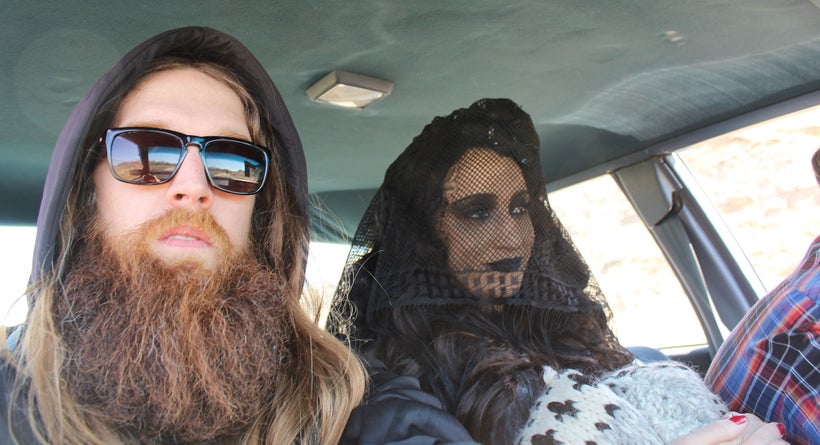 Lindi Ortega is back on the road for a summer tour that begins today and includes another appearance at AmericanaFest in Nashville. The dates:
June 1: Brewminatti, Prosser, Wash.
June 2: Brickroom Gathering House, Ashland, Ore.
June 3: Vintage Wine Bar and Restaurant, Redding, Calif.
June 4: Sweetwater Music Hall, Mill Valley, Calif.
June 7: The Wayfarer, Costa Mesa, Calif.
June 8: Saint Rocke, HermosaBbeach, Calif.
June 17: Berks Country Fest — An Americana Jamboree, Wyomissing, Pa.
June 18: Daryl's House, Pawling, N.Y.
June 21: Iron Horse Music Hall, Northampton, Mass.
June 22: Knitting Factory, Brooklyn, N.Y.
June 23: MilkBoy, Philadelphia
June 24: Ottawa Jazz Festival, Ottawa, Ontario
June 30-July 2: Stan Rogers Folk Festival, Canso, Nova Scotia
July 14: Stewart Park Festival, Perth, Ontario
July 15-16: Hillside Festival, Guelph, Ontario
July 21: Bolton Rotary Festival, Caledon East, Ontario
July 22: Gateway Festival, Bengough, Saskatchewan
July 27: Wide Skies Music & Arts Festival, Lethbridge, Alberta
July 28-30: Calgary Folk Music Festival, Calgary, Alberta
Aug. 4: Wichita Vortex Music Festival, Wichita, Kan.
Aug. 12: Boots & Hearts Music Festival, Oro-Medonte, Ontario
Aug. 15: Haskell Free Library and Opera House, Stanstead, Quebec
Sept. 1: Strawberry Music Festival, Tuolumne, Calif.
Sept. 8-10: Sisters Folk Festival, Sisters, Ore.
Sept. 14: AmericanaFest, Nashville, Tenn.
Michael Bialas is a journalist and photographer who enjoys writing about entertainment and sports for a number of online publications, including HuffPost. Follow him on Twitter: @mjbialas
Photos courtesy of the artist.
This post was published on the now-closed HuffPost Contributor platform. Contributors control their own work and posted freely to our site. If you need to flag this entry as abusive,
send us an email
.