The month of August is National Romance Awareness month, and while romance should be alive 365 days of the week, sometimes couples slack off and could use a little reminder on how to keep the spark alive in sickness and in health.
In honor of Romance Month, online dating site Match came up with five ways to be more romantic with your partner, based on their Singles in America Study, and buying roses or having sex isn't on the list.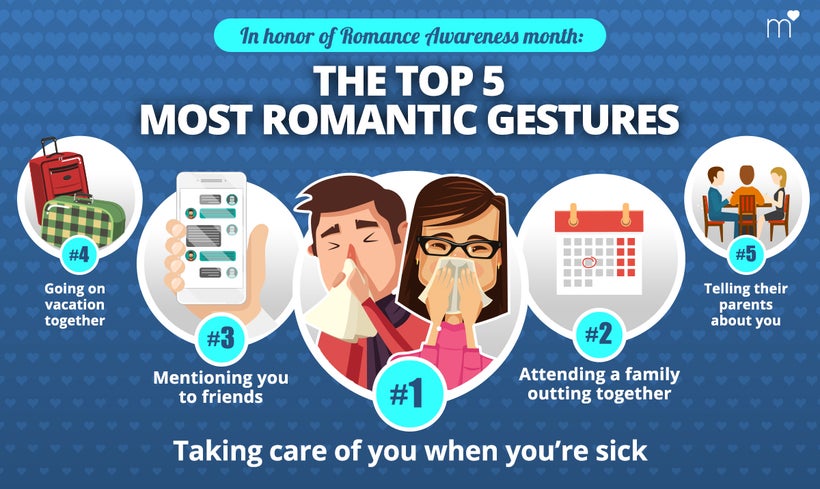 1. Taking care of you when you're sick.
We all know that you're more fun when you're in a great mood, excited about your date, and being bubbly, but the Match survey shows that the top most romantic gesture (87%), is taking care of you when you're sick.
If your partner is under the weather and you need to cancel your date, show him or her you care by sending over chicken soup and other things to help speed up the recovery.
I remember once a boyfriend bringing over an entire care package wrapped in a bow, which included magazines, a get well card, throat spray, lozenges, and food for three days, since I was unable to leave the house. He brought over the package, gave me a hug, and left so he didn't catch my cold. He quickly scored points and we went from casually dating to committing to exclusively shortly after.
2. Attending a family outing together.
Nothing shows the world she's your girl or he's your guy than taking the step of bringing you S.O. to a family outing and 83% of the survey results agreed. Whether it's a wedding, your grandmother's birthday, or an annual family barbecue, don't fly solo.
When you get an invite, have a convo with your partner and let them know you'd be proud to have them on your arm to show off that you're a couple. You may end up going from casual to committed once you arrive arm-and-arm to your Aunt's birthday party.
3. Mentioning your Significant Other to Your Friends.
Regardless of your friends relationship status, your BFFs will want to know how it went last night with the new person you're dating. The survey showed that 82% of singles believe this is important. If your bragging about your new date and showing them photos you've taken together, they'll know you're swooning over him or her.
While you don't need to kiss-and-tell, if you have a regular lunch or coffee group, walk in with a smile. Let them know you had a second date with someone you met online and pass around your photos on your phone and let them know you're excited about this person. It shows the relationship has potential and of course, your friends want to see you happy.
Summers are filled with first weekends away as a couple. It's a test of your relationship if you can travel together and share one bathroom. Scheduling a trip away shows you're serious about the person and the Match survey showed 79% agreed.
If you're in a new relationship, ease in with a weekend away with one or two overnights. If you're already a steady squeeze, expand that to a week away that includes a flight somewhere, so you can create new memories together.
5. Mentioning your Significant Other to Your Parents
I know it's tough to bring someone home for the holidays, but if you're having dinner with the folks or burning up the phone lines, it's time to brag about the person who has the title of boyfriend or girlfriend. The survey showed that 76% of singles feel this is important.
Let your parents know you've met someone special and are enjoying getting to know them. You'll notice pretty quickly that mom will ask you what your weekend plans are with your BF or GF on a more regular basis. If your SO got a job promotion, let your parents know. If she cooked you dinner, kiss-and-tell.
Finally, 45% of singles think turning your phone OFF on a date is a huge turn-on, so put your focus on creating memories with your date during Romance Month and all year long.
Julie Spira is America's Top Online Dating Expert , Digital Matchmaker, and is an award-winning dating coach. She was an early adopter of online dating and has been coaching singles on finding love online for over 20 years with her Irresistible Coaching programs.
SIGN UP for the FREE Weekly Flirt newsletter for dating advice delivered to your inbox.
This post was published on the now-closed HuffPost Contributor platform. Contributors control their own work and posted freely to our site. If you need to flag this entry as abusive,
send us an email
.