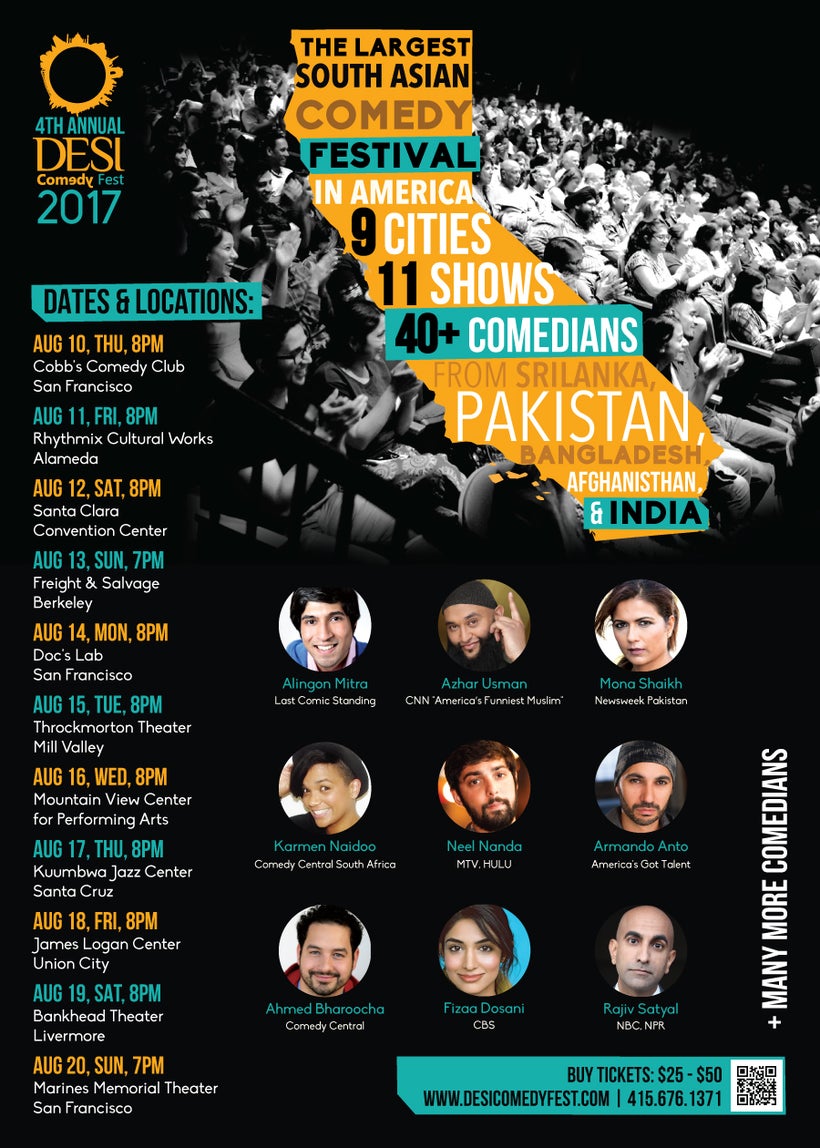 The largest South Asian comedy festival in the US will kick off this Thursday, August 10 and take place from August 10-20, 2017 in 9 Northern California cities (San Francisco, Berkeley, Mill Valley, Santa Cruz, Santa Clara, Union City, Livermore, Alameda, and Mountain View) and feature 40 South Asian comedians from all over the US, India and South Africa with diverse ethnic (Indian, Pakistani, Bangladeshi, Afghani, Sri Lankan, Iranian, Filipino, and African American) and religious backgrounds (Muslim, Jewish, Sikh, and Catholic).
Yes, there's a comedy scene in Pakistan and Bangladesh!
And there are Indian Jewish comedians…or at least there is one.
Samson Koletkar (aka Mahatma Moses) is Jewish and was born and raised in Mumbai, India. He moved to the Silicon Valley to work in tech and after some years in the field decided to explore the world of stand up comedy. Koletkar met fellow Bay Area-based Indian-born comedian, Abhay Nadkarni, who also worked in tech, and the two joined forces in 2014 and founded The Desi Comedy Fest.
The idea for the festival, which is now in its 4th year, was born on August 14 and 15, 2013, Pakistani and Indian Independence Days, respectively, when Koletkar produced a couple of comedy shows featuring Pakistani and Indian comedians. The response to the shows was so positive and planted the seed for something larger.
Last year's festival boasted attendance of 2100: up from 1200 in 2015 and 700 in 2014.
Koletkar notes, "In the current political climate, it's important to provide a platform for South Asian voices; breaking stereotypes with humor is an effective way to do so."
Nadkarni observes, "2017 has been a great year for South Asian comics. Aziz Ansari hosted Saturday Night Live; Hasan Minhaj hosted The White House Correspondents Dinner; Kumail Nanjiani is back with a new season of Silicon Valley; and Aditi Mittal got her own Netflix special, just to name a few."
[Desi (pronounced "THEY-see") is a term for the cultures and products of the Indian subcontinent or South Asia and their diaspora, derived from the Ancient Sanskrit (deśá or deshi), meaning Land or Country. Desi countries include India, Bangladesh, Pakistan, Afghanistan, Nepal, Sri Lanka, Bhutan, and Maldives.]
*Thursday, August 10 @ 8pm: Cobb's Comedy Club, 915 Columbus Ave, San Francisco, CA
*Friday, August 11 @ 8pm: Rhythmix Cultural Works, 2513 Blanding Ave., Alameda, CA
*Saturday, August 12 @ 8pm: Santa Clara Convention Center, 5001 Great America Parkway, Santa Clara, CA
*Sunday, August 13 @ 7pm: Freight & Salvage, 2020 Addison St, Berkeley, CA
*Monday, August 14 @ 8pm: Docs Lab, 124 Columbus Ave, San Francisco, CA
*Tuesday, August 15 @ 8pm: Throckmorton Theater, 142 Throckmorton Ave, Mill Valley, CA
*Wednesday, August 16 @ 8pm: Mountain View Center for the Performing Arts, 500 Castro St, Mountain View, CA
*Thursday, August 17 @ 8pm: Kuumbwa Jazz Center, 320 Cedar St, Santa Cruz, CA
*Friday, August 18 @ 8pm: James Logan Center, 1800 H St, Union City, CA
*Saturday, August 19 @ 8pm: Bankhead Theater, 2400 1st St, Livermore, CA
*Sunday, August 20 @ 7pm: Marines' Memorial Theater, 609 Sutter St, San Francisco, CA
This post was published on the now-closed HuffPost Contributor platform. Contributors control their own work and posted freely to our site. If you need to flag this entry as abusive,
send us an email
.