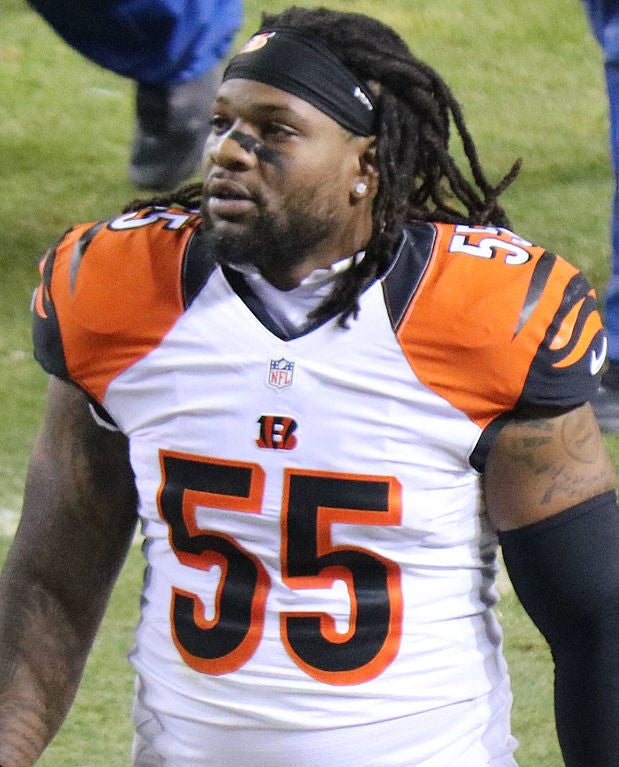 Cincinnati Bengals linebacker Vontaze Burfict was suspended five games on Monday for an illegal hit against a defenseless Anthony Sherman of the Kansas City Chiefs back on August 19. If that sounds familiar, it's because it is. Burfict has become known as an edgy, many would argue dirty, player in the league and it's getting harder and harder to dispute.
In Tez's first 53 games in the NFL, he accrued $805,000 in fines and missed game checks. His most costly mental mishap came against the Steelers in the AFC Wildcard game in 2016. Just after the Bengals took the lead with under 2 minutes, Burfict got an interception that all but sealed the Bengal victory. A few plays later, he was flagged for unnecessary roughness on a play that knocked Antonio Brown out of the game and spotted Big Ben just enough yards for him to lead the Pittsburgh offense to a last second field goal to win the game.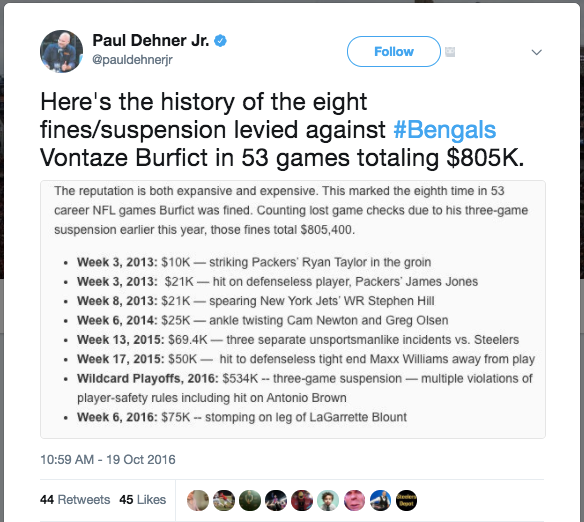 Now, just to be clear, I am a die-hard Bengals fan; I have the Bengals merchandise and a tattoo to prove it. But I'm a football fan above all. I try to see things for what they are and not what I want them to be. That said, as much as it pains me to admit, Burfict is the exact type of player that the NFL needs to get rid of if the game is going to exist in 20 years. 
We can debate the intentionality behind Burfict's actions, but only he can confirm those. What we do know is that it has happened repeatedly which reinforces the notion that it is hard to rewire instincts. For his whole career, while littered with infractions since his high school days, he's still been rewarded, in the end, for his reckless play. He made it to the NFL. He got the big contract. The risk of getting fined and missing games does not outweigh the reward of the $15.4M that the Bengals have paid him thus far. What that means is, he's going to continue playing this way. Why wouldn't he?
If the NFL is going to improve its image in the name of player safety, there has to be a deterrent for repeat offenders. The next bargaining agreement needs to contain a clause which states that if a player accumulates a certain amount of fines for unnecessary roughness penalties, they're removed from the league. There's a limit for how many flags you can get in a game before being kicked out. Apply that same philosophy to ejection from the whole league. Only the worst offenders will even be in jeopardy, most players will be fine. 
The fun part will be weighing the established precedents and determining what that threshold should be. But if the NFL and NFLPA truly want to make strides toward a safer game, players that have repeatedly shown an inability to censor their play can't continue to fill roster spots. Burfict is appealing the suspension.
This post was published on the now-closed HuffPost Contributor platform. Contributors control their own work and posted freely to our site. If you need to flag this entry as abusive,
send us an email
.