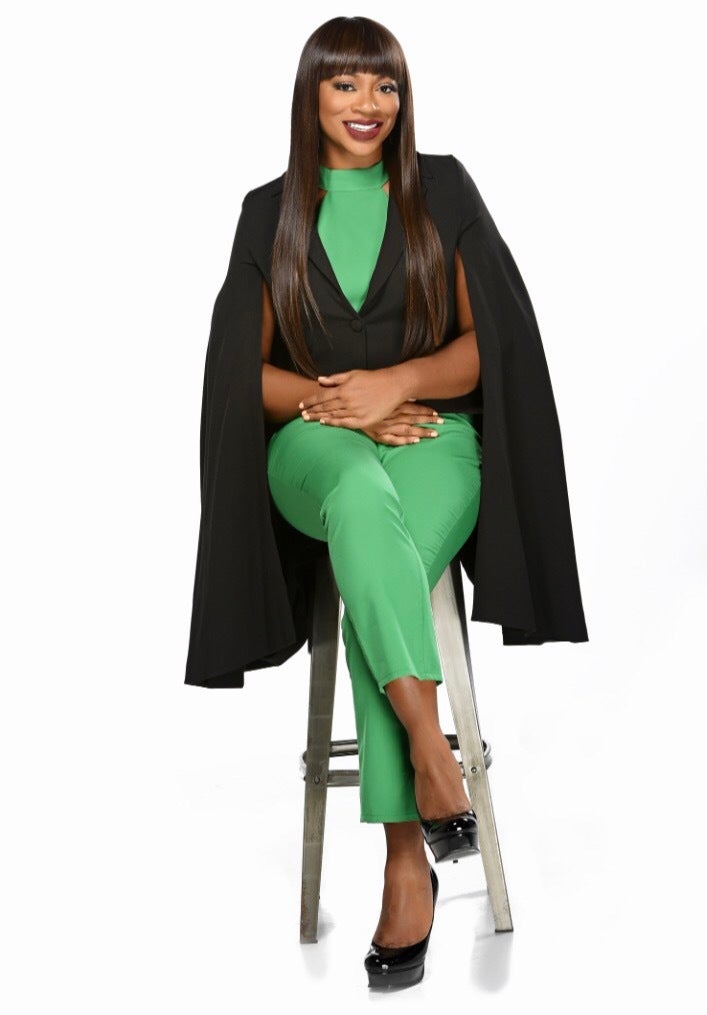 What's not to love about Bershan Shaw? She bold, daring, drop dead gorgeous, and she's UNSTOPPABLE! She not only is a 2 time Cancer Survivor, she is a woman who chose to LIVE AND NOT DIE! She is a walking, living testimony of God's healing power! "I made a choice every, single day that I was going to LIVE! I walked cancer out. I juiced cancer out. I was going to do what the scriptures said and, "live and not die and declare the works of the Lord", says Bershan! Just writing about her gives me chills – literally! When you encounter Bershan, you encounter power! I had the opportunity to have a raw conversation with the thriving, unstoppable Bershan Shaw. From the beginning to the end it is high powered, and fully charged with words of wisdom and knowledge.
CP: Who is Bershan Shaw at her core?
Bershan: Bershan Shaw is a survivor, a thriver, a friend, a daughter to her dad whom she is so close to like a best friend. Bershan is a tv personality who wants to spread love and motivation that nothing can get in your way only if you let it. Bershan is an international transformational speaker. Bershan is a business and leadership coach, a speaker coach and presentation skills expert. Bershan is a woman who has found herself and she finally has realized that she doesn't need validation from anyone anymore. Bershan is no longer a people pleaser. Bershan Shaw is a warrior.
CP: Why are you so passionate about helping young girls and women thrive?
Bershan: I am so passionate about helping young girls and women thrive because when I first got diagnosed and the doctor told me that my breast cancer had spread throughout my body and it was in my blood stream and that I had stage 4 breast cancer I thought it was the end. I thought my life was over. I couldn't believe this was happening to me and I didn't know why it was happening to me. I wasn't married. I didn't have any children and I thought my life was over. Until the doctor said, "Well Do you believe in miracles," Something deep inside of my spirit connected with my inner warrior and it was like a jolt of faith that went into my system and I said, "HELL YEAH" I believe in miracles. At that moment I said to myself yes I believe in miracles and I believe in myself. I have never been through such a huge battle but I can do this. I have overcome a lot of different things.
And that's just what I did. I'm ten years no evidence of disease-cancer free. I made a promise to God and the Universe that day that I will never let any doctor or man write my story. Cancer was my diagnosis not my prognosis. I went into the hallway and got on my knees between me and GOD. So I said I will promise help young girls and women realize that they can overcome any adversity they are going through. That they could be strong, brave and have confidence to go through whatever CANCER that is holding them back. Because CANCER is more than the disease its cancerous people and things in our life. I made a pact with GOD that I would be the connector in helping women and young girls overcome any obstacles that come their way. So, I began mentoring and coaching women at homeless shelters because just like I needed someone to support me through my difficult times I wanted to do the same for other women. It was called the Oprah coffee club. These women thought I was saving them in reality they were saving me. I made a pact with God to help women and I'm keeping my word until the day I die.
CP: Tell us about your businesses?
Bershan: I'm what you call a multi-preneur I'm an international motivational speaker. I have spoken in places like Poland, Ghana, Rome, Germany, London and more. I'm a business and leadership coach. I help managers and c suite level executives become better leaders and help them with team management, employee motivation and dysfunctional behaviors in their workplace. I have a personal development business where I coach individuals and corporate teams from speaker and presentation coaching to emotional intelligence. I would say I'm a strategist and a guru at human behavior. I invest in real estate so I own properties in multiple cities and I am launching my 'I AM A WARRIOR' Jewelry line and an IAMAWARRIOR app and digital academy for personal development. So, I would say I like keeping myself pretty busy. My brand is I AM A WARRIOR because it resonates with the soul. It makes you feel like even when you fall you can get back up and do it because YOU ARE A WARRIOR. My business is broken into four parts 1. business leadership coach/Emotional Intelligence Leader/Diversity & Inclusion Expert 2. Speaker & Presentation Coach 3. Personal development coaching and training in life and relationship 4. Products- workbooks, jewelry and digital academy and my jewelry line.
CP: Where do you see yourself in the next 2 years? 5 years?
Bershan: In the next two years I would have an International best seller book out and my business will be global in Europe, India, Australia and Africa. I will have my digital academy up and my app and I will be speaking on stages with politicians, leaders and CEO'S. I think big. If you think small you will be small and in five years I will have my television show syndicating world wide. I will have another international best seller. My jewelry line will be a sensation international and my personal development will be global helping women when they need someone to support them, coach them, mentor them or just to be a listening voice. My IAMAWARRIOR app will be there for them., my coaching business and speaking business will be universal.
CP: What's next for Bershan personally?
Bershan: My next is always something new and challenging. I challenge myself to do and go where many don't. I like going to third world emerging markets helping women become entrepreneurs and helping them see their self worth. I love helping women open up to new possibilities; that's my sweet spot. I help women to not play small in anything in their life and live with abundance.
I am a true woman that loves to help other women grow, expand and stretch themselves. I feel like women are the true leaders of the world. We just have been taught differently. Men have bamboozled us into thinking we are the smaller and weaker race when really we are not. When we wake up and realize we hold the power and we are multi-tackers and we are child bearers then we start to realize there is no one like us. We are the true warriors. So, my next is to keep spreading that word and uplifting women from one to as many as I can. I want to speak on as many stages globally spreading the message of finding your true warrior so You can step into your greatness. I think growing my product lines to clothes, Jewerly, books and apps is what's next for me and doing more television appearances to get the world out there.
CP: Are you your sister's keeper?
Bershan: I am my sister's keeper. I don't talk about all that I do to help women and I don't like to brag. People only see the tidbits that I share on social media. I put action behind my words. I just this week recommended two women for speaking jobs and they got it. I love to recommend women and help get them exposure to their dreams. I don't live in a lack mentality. I don't think someone is in my lane trying to take what' mine. I believe the universe has so much to give. That's why I can't take whats theirs and no one can take what's mine.
I can truly say that I volunteer at homeless shelters every other Monday and these women have changed my life, I mentor about ten women to be motivational speakers and coaches. I give money and time to women and young girls with cancer. I put my money and time where my mouth is. I don't just talk about it. I am about it. I have gotten where I am today for helping and giving back to others.
It's no doubt that Bershan is UNSTOPPABLE! Period. No doubt. She is making her print in this world! God gave her the ability to conquer death. "I am unstoppable. I can do ANYTHING I set my mind to! And I do mean ANYTHING!", says Bershan.
Follow Bershan on the following sites:
This post was published on the now-closed HuffPost Contributor platform. Contributors control their own work and posted freely to our site. If you need to flag this entry as abusive,
send us an email
.