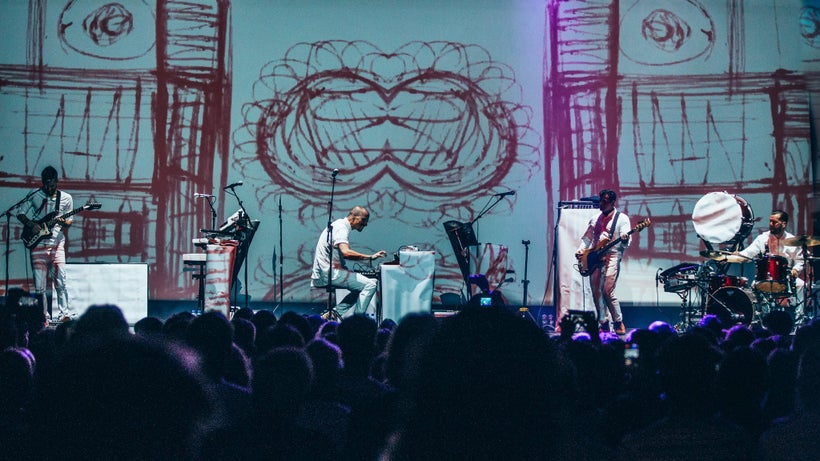 In just a few days, Grammy-nominated alternative rock outfit MUTEMATH will release their fifth studio album, Play Dead. Incorporating rock and electro-pop elements, Play Dead showcases how diverse the band can be. Today we are thrilled to share the latest single from the album, "Break The Fever," exclusively here on HuffPost. With glistening synths and spell-binding vocals, it's the perfect midweek pick-me-up that you didn't even know you needed. Give it a spin below!
Lyrically, "Break The Fever" discusses the noise and internal battles lead singer Paul Meany has to face. With each new day and new experience, voices find their way in his head, giving unsolicited arguments about what he should do next. Needless to say, it's crippling. "Break The Fever" pushes the idea that with these internal struggles, ultimately you're in charge of how things will go. With this concept in mind, the track played an important role in the overall shaping of Play Dead. Meany expands:
"The whole mantra of this album came from this song in the line "play dead, don't be afraid tonight." Playing dead became a picture of meditation for me. How to turn off the noise and realign myself back to a sense of wellbeing. How to evade the very thing that's trying to kill me. Thoughts. If I can get control of those, I've got a chance."
It may feel like summer is over, but with "Break The Fever," the party has only just begun! Play Dead will be released this Friday, September 8th, and is available for pre-order here. Next week the band will be heading out on tour in support of the album on September 14th in Boston and will wrap on October 31st in Chicago. Check out the full list of dates below and for more information, head on over to www.mutemath.com.
PLAY DEAD LIVE U.S. Tour Dates
September 14th –Boston, MA – House of Blues
September 15th – New Haven, CT - College Street Music Hall
September 16th – Pittsburgh, PA - Mr. Small's
September 17th – Cleveland, OH - House of Blues
September 19th – Philadelphia, PA - The Fillmore
September 20th – Brooklyn, NY - Brooklyn Steel
September 22nd – Silver Springs, MD - The Fillmore
September 23rd – Charlottesville, VA - The Jefferson
September 24th – Charlotte, NC - The Fillmore
September 25th – Raleigh, NC - The Ritz
September 27th – Charleston, SC – Music Farm
September 29th – Miami Beach, FL – The Fillmore
September 30th – St. Petersburg, FL - Jannus Landing
October 2nd – Atlanta, GA - Tabernacle
October 3rd – Nashville, TN - Ryman Auditorium
October 4th – Birmingham, AL – Iron City
October 6th – Austin, TX – Austin City Limits Music Festival (Weekend One Only)
October 7th – Houston, TX - House of Blues
October 8th – Tulsa, OK - Brady Theatre
October 10th – Phoenix, AZ - The Van Buren
October 12th – San Diego, CA - House of Blues
October 13th – Los Angeles, CA - The Wiltern
October 14th – Santa Ana, CA - The Observatory OC
October 15th – San Francisco, CA - The Fillmore
October 18th – Portland, OR - Crystal Ballroom
October 19th – Seattle, MA - Showbox SoDo
October 21st – Salt Lake City, UT - The Complex
October 22nd – Denver ,CO - The Ogden
October 24th – St. Louis, MO - The Pageant
October 25th – Indianapolis, IN - Egyptian Room at Old National Center
October 27th – Detroit, MI - St. Andrew's Hall
October 31st – Chicago, IL – House of Blues
This post was published on the now-closed HuffPost Contributor platform. Contributors control their own work and posted freely to our site. If you need to flag this entry as abusive,
send us an email
.