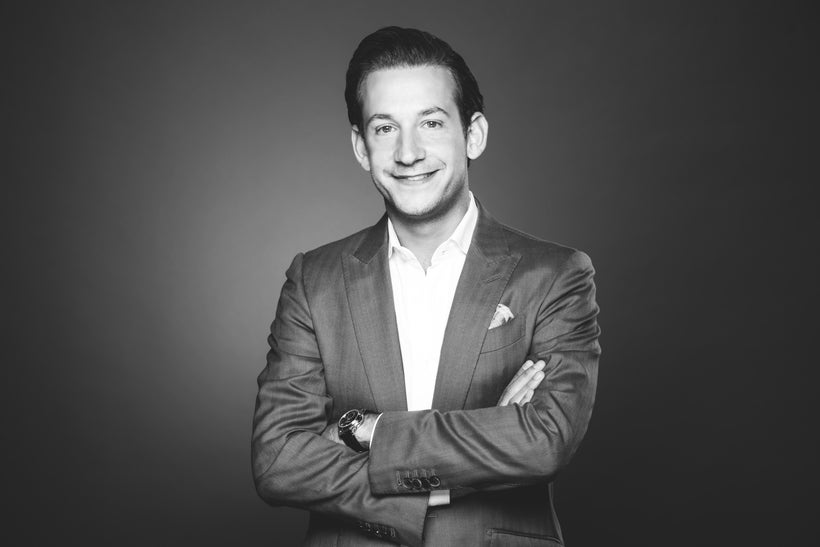 On Monday, I had the great pleasure of talking with James Harris, Los Angeles real estate broker and reality TV star at his office in Beverly Hills. We talked about Pocket Listing Service (PLS), a platform that allows realtors to share their listings exclusively — to test price points and without accruing days on the market — overcoming the challenges of overpriced listings and the importance of giving power back to real estate agents.
James and his business partner, David Parnes, have closed nearly $600 million is sales year-to-date — forty percent of which has been conducted off-market. Best known for his starring role on Bravo's reality show Million Dollar Listing Los Angeles, James makes a compelling case for how PLS will enhance agents' value and he has the numbers to back it up.
Tell us about PLS and how realtors can best leverage this service?
James Harris: As real estate agents, we sit through long listing meetings with sellers. By this point, we've done our research on pricing, we've looked at the comps, we've looked at the data and we've looked at price per square foot. Often we go in as the professionals, and let's just use a $3 million property as an example. The comps make sense that the property will sell at $3 million but after you've had a one hour meeting with your client they come back and tell you, "Well my property is the best and it's worth $4 million." As an agent what you don't want to do is "buy the listing" — you don't want to tell the seller what they want to hear just so you get the listing. Because, what happens is, you get the listing, you spend a bunch of time on it, you spend a bunch of money on it and it doesn't sell. That's not a good look for you and it's not a great look for the seller. And once you've hit the MLS, you start accruing days on market. Days on market become detrimental to the listing. We have a great portal here. Using the PLS to appease our seller and in some cases you might just get $4 million for say a $3-3.5 million dollar property, but you don't know that at the start, so we use the PLS as a platform to test price points without accruing days on market on the MLS which is actually linked to 500 other sites like Zillow, Redfin, Trulia, Homes.com, etc. So, we use the PLS, really, as a platform to test price points which gives the seller the opportunity to market the property without going on the market and then after a 2-week period, we may sit down with our seller and say, "Hey we put your home on the PLS, we've had 100 hits, we've had 3 showings, and nobody thinks your property is worth $4 million." Now we're in a better position to price reduce the property and go on the market at the accurate price. That's the first thing. The next thing is the PLS is bringing power back to real estate agents. So that each realtor has a platform to view properties that aren't on the open market. Often people want something that they don't have full access to, so they use this platform to kind of quietly talk about their listing within their broker community.
"As an agent, if a seller says their home is worth $4 million and you think it's worth $3 million, well, you have two choices 1) you either buy the listing or 2) you pass on it. And, neither of those are good options. So what PLS does is rather than passing on the listing, you can actually test that price point with the seller and then go back with compelling information after the fact. You may sell it and if not, you have ammunition and compelling data that you can present to your seller to try to reach a price that you believe their home is worth. It's important in this day and age to use technology to help us rather than to hinder us. It's very important that agents are able to get inventory and offer a more complete inventory list and have access to information that their clients may not. It adds value to the agent. And, frankly, it will ensure that we'll all be able to have a job in 15-20 years and our kids will too," says Christopher Dyson, creator of PLS and Los Angeles real estate agent.
As a realtor in Orange County, who has seen the lack of homes on the market really eating into demand and pending sales, I can see the value of this service. How will PLS sustain its growth when inventory rises?
James Harris: The pocket listing market is going to be hot no matter what the situation is with inventory because there's always an element of people wanting something they can't have. Right? If you take $10 million property, the seller may not want it on 1,500 different websites that MLS is now linked to. We have a consolidated website platform to market a property — broker to broker — without actually accruing days on the market. By the way, there's a lot of sellers out there that will only sell if they get their number. How many times have we heard that? So no matter where inventory is there's still going to be sellers out there that want to test price points, test if we can sell the property without putting it on the market. Inventory doesn't play a huge part in the PLS.
I don't have the official stats, but I guarantee that if we had title start pulling actual statistics on the amount of business that is done off-market vs. on the market, you'd be very surprised by how much business is conducted off-market. Where their property never went onto the MLS. I can say that this year, we've closed almost $600 million in sales, and I would say at least 40% was done purely off-market. The point that I'm making is that it doesn't matter what market you're in — whether there's high or low inventory — people still want to see their properties off-market. People still want exclusivity. People don't want to be on the MLS because you might have a seller who says, "You know, I'd sell if I got $10 million today but hey in a year I'll be more realistic." Well, guess what? Now you can put it on the PLS and not worry about it in that year's period because you're not accruing days on market and you're not sabotaging your own property because you're overpriced.
"Luxury clients demand a level of discretion when it comes to the sale of their home. PLS provides a platform to market these homes to the tight-knit real estate community without placing the property on the MLS," says Michael Bianchi, Regional Real Estate Manager at HÔM Sotheby's International Realty. 
What is your response to the critics who say that marketing homes off the MLS is controversial? Adding, that the practice denies a home exposure to the full universe of buyers — creating the potential for it to sell for less than it should.
James Harris: Disagree. Here's the reality, and I always say this. A property is not worth what I think it's worth. A property is not worth what the seller thinks it's worth. A property is worth what the buyer is willing to pay for it. Bottom line. You're going to get sellers that want to be on Zillow and MLS. They want all the ads: LA Times and this magazine and that magazine. They think that the more they throw it out there, the more people are going to come through and they might get multiple bids and their house might even go up in value and they might get a higher number. In some cases, usually on development deals, that may be the case. But on a typical home, that one only uses to sell to another, that is simply not the case. A property is worth what a buyer is willing to pay for it. So, if your property is on the PLS platform, and receives exposure within the broker community in that market that you're working in — let's just use LA as an example for right now. You only need that one buyer, right? So if you have that one broker that sees that one listing that has that one buyer and they come see the property and they're willing to pay what the seller is offering it at, your job is done. It's only that seller who can decide if the price is acceptable. So the best case scenario is the seller says, "Yep, that's a great number." And, they've just sold their property off-market. And, guess what? Worst case scenario, they just say no and then they put it on the market. So, we're [PLS] just the step before going on the market. We're not trying to take away from the MLS or any other platform. We're just offering a platform where as a seller, you have an opportunity to market your property without going on the MLS or as an agent, we're giving you your power back. We're just creating another platform for the agents to further market their listings. That's it.
James Harris: I would like to see us have 10,000 members by the end of next year.
Here's the thing, I sit in front of my computer and say after a 12-hour work day, I'm not kidding you, I might receive 60 off-market e-blasts from different brokers in areas that I've never even been to. An agent has a pocket listing. They'll go to their marketing team in their company and say, "Oh, my seller doesn't want to put their property on the market for whatever reason, can you create an e-blast? I want to send it out to my database." And somehow I'm in everyone's database. So, I'm sitting there getting 50-60 of these e-blasts a day, and in areas that I've never even heard of. In some areas that make sense and some that don't. I'll get it and before I even open it I usually delete it, unless it says Beverly Hills, Bel Air, Brentwood, or an area that I'm familiar with or I'll look at it and if I have a buyer that second, I'll put two and two together. But, if I don't have a buyer right there and then, I basically delete it and I'm on to the next. Then tomorrow I get another 50. So, if you have a platform where you can consolidate that information and actually put it on a hub — now if I have a buyer that is looking under $10 million — instead of having to shuffle through 5,000 emails looking for different keywords trying to locate different emails, I'll go to PLS, similar to how I would on the MLS, and look at everything that falls between $8-10 million in Brentwood, for example. And it's all consolidated right there. It's just a matter of putting the information together in one place rather than receiving it in an unorganized fashion in thousands of e-blsats.
Dyson adds, "We have over 2,000 members in just 2 months. We are valued at over $1.2 billion. We'd like to see the PLS being used to test price points, so that when you do go on the MLS, it's with compelling data. We'd love it to be a prelude for all listings. We want to make sure that as the agent community, we're staying as relevant as possible. Whether we like it or not, more and more sellers want to market their properties off-market. And before the PLS, this was all conducted in a very inefficient and scattered process. About next steps, the first stage is to make sure that it's successful nationwide. It's important to us that it's relevant in the areas that we're concentrating in, which is why LA is where it started. But, it's a platform for everywhere. We obviously have relationships with people in the UK, throughout Europe and Dubai. It could certainly translate to those areas."
James Harris: PLS is absolutely expandable worldwide. We want to perfect and dominate the U.S. market before expanding worldwide. That's our primary focus right now. I truly believe in the platform. I love tech. We haven't reinvented the wheel here. We didn't come up with this genius idea. We've simply found a way to aggregate and consolidate it onto one platform where we're bringing power back to the brokers. This is an incredible opportunity for brokers to not only please their sellers but also do business off-market. There's so much business being done off-market. We just want to help other brokers make a lot more money.
For more information about Pocket Listing Service and to join PLS, please click here: The PLS
Author's note: Between James, Chris and I, the word 'brilliant' was used a total of 18 times in 21 minutes; namely, by James.
This post was published on the now-closed HuffPost Contributor platform. Contributors control their own work and posted freely to our site. If you need to flag this entry as abusive,
send us an email
.