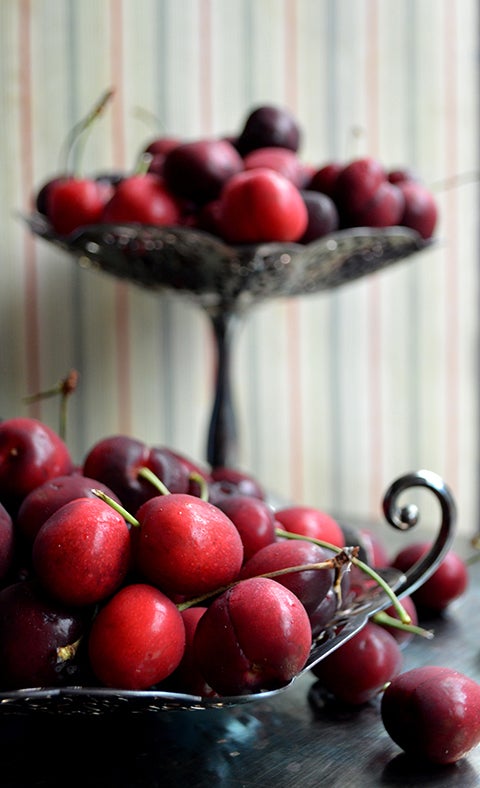 November 1994. Bombay, India.
We had just observed Diwali, I had created elaborate rangoli designs outside our front door, touched my parent's feet to get their blessings, and helped my mother cook festive treats, lit fireworks, entertained guests, and visited friends. My parents smiled through a rejection from an arranged marriage 'vetting visit', and swallowed another reminder that their educated daughter was not good enough to be someone's bride just yet. I joked about it with girl-friends – we were conditioned into the art of accepting rejection and subservience with a smile.
Little did I know that in a few weeks, my father, who was posted in a different town, would need to rush back for my mother's emergency hospitalization, or that I would lose a dear girl-friend a few weeks after that or that another few weeks later, I would be nursing my mother back to health after a very tricky surgery, or that amidst it all, I would be fielding refreshed and awkward arranged marriage proposals.
In those few months, so much of life happened, and so quickly. There were moments when I felt that the depths of fear, sadness or loss would swallow me whole. There were moments when I doubted self-worth. But I was around family, I knew I would be OK. Despite the emotional trauma, their love lifted, held, and comforted me. I felt safe.
November 1995. Mid-west, America.
Three months prior, I had left my family to come to America to study. That November Diwali had come and gone without celebration or pomp. I had just finished observing a faint, Americanized, tepid version of this loud and colorful festival. There were no sweets or treats exchanged. I did not have the tools to cook anything 'special' for myself. I attended a Diwali 'dinner' and unknown to the host, was seated next to and sharing the meal with an individual who had attempted to molest me a few weeks before. Another Diwali dinner with a male friend had invited rampant community gossip. No one knew how alone I felt that year - I hated that Diwali, it somehow reinforced all the things I did not like – accepting status quo, male privilege, and the fallacy of the merits of being a 'good Indian girl'.
What a difference a year made. What a difference being surrounded by loved ones made, or even people who care about the well-being of a loved one makes!
Being an international student in America, over family-centric traditional holiday celebrations at a time when the internet and video conferencing did not exist, felt incredibly isolating. People did not realize how susceptible young women like me were to bouts of being homesick or long spells of depression, or how we navigated the murky space of being around Indian male acquaintances, or fellow students like us – who were equally homesick, hungry for compassion, acceptance, and the comfort that comes from being part of a family.
My work-shifts at the University Dining services were getting even more taxing. As students picked up their meals they talked about 'going home' for Thanksgiving, spending time with their family, enjoying home cooked meals, pies, mashed potatoes, turkey and home-made cranberry jam in a few days, going shopping for Christmas presents and more afterward. I stuck on a flat smile and said 'Oh, how fun..' hiding the internal monolog: 'Home. This is not home. How can I go home? Home is so far away. Maybe I will sleep in.' I felt like the alien from the movie ET, joking to myself: "ET.. ET phone home!" I paced out every expensive International conversation, knowing nothing would be good enough.
Molly G worked one of those shifts with me. We incidentally shared a birthday. I did not know anyone else like that. When she came for her Tuesday afternoon shift, she came armed with an invitation: Would I like to come to her house for Thanksgiving?
I knew nothing about Molly except that we shared a workplace, a graduate level class, and a birthday. With nothing else more promising to do, I accepted. She picked me up from my apartment the next afternoon. I packed a small weekend bag, not knowing what to expect or where we were going. I was going to take a leap of faith. But not without taking a small precaution first. As my father had taught me, I left a note on my bedside table with my parent's phone number for my room-mate, and the name of the girl I was riding with for the weekend, just in-case I did not return home on Sunday night.
Two hours driving down an Illinois highway, I arrived at Molly's parent's house – the 'G' residence, tucked at the edge of a mass of rolling cornfields. I did not recognize any of the songs on the radio. Molly explained - her parents worked in the Ministry, they were devout Catholics, it was always Fish FM. They were corn-farmers, she had a large family and hoped to help her parents once she graduated. She had a steady boyfriend, they would marry after she graduated. If nothing else, I felt assured that I would not encounter ax-murderers that weekend.
Mom and Dad G were quite shocked and later entertained by my lack of an Indian accent, my clear and fluent English, and my even more fluent recitation of the Lord's Prayer during Thanksgiving services. They asked me to stand up and introduce myself to the congregation. I suspect that several folks in the pews wondered if I was about to convert to Catholicism. I smiled politely. I was going to keep being the good Indian girl.
Thanksgiving dinner happened at 1 p.m. at Molly's sisters' home, with her nieces and nephews, her brother and his wife, and her parents. I gawked at the spread. There was little space for frivolous things – a large turkey graced the center, something brown they called 'gravy', a large bowl of salad, a large platter of green beans covered in fried onion rings, a bowl of home-made cranberry jelly, two kinds of potatoes: mashed and scalloped, a baked mac and cheese covered in crushed potato chips and cheese. There were rolls of bread and plates of butter. Dad G said the blessing and carved the turkey, I got a light piece and ate some green beans. They told the story of the first Thanksgiving. I laughed and said to Molly: Well, I'm the 'Indian' at the table. The table fell silent. Molly laughed nervously and broke the silence.
Unlike Indian meals that followed specific courses, here I did not know what to eat first - even a small serving of each item made for a full plate. And after the table was cleared of the feast, Mom G brought two kinds of cheesecake and a cherry pie. I had not eaten either before. I lamented, if only I knew, I would have saved room for dessert. The cherry pie was utterly delicious. So this is what they called 'Thanksgiving', I said to myself.
But the Illinois winds had turned very cold that evening. A blustery snow laden winter was headed our way. I was not dressed well, and I had no clue what to expect from the weather over the next few months. I was raised in a subtropical climate. I happened to mention to Mom G. She took one look at me and my flimsy fleece jacket and said: Well, we'll just have to take you shopping now, won't we?
Two hours into the next morning, I was standing in a Macy's, trying on very heavy large floor-length coats, not knowing why Mom G was donning me in them. She checked the sleeves, the labels for size, the lining, whether or not it had a breast pocket, drawstrings on the inside, or a hood and how did it fit under my armpits. I felt awkward, like a mannequin. Molly stood there, giggling at me, egging me on to pose with my arms out wide, making me bend over to see how far the coat hiked up. Mom G asked if I had good winter shoes and checked the underside of the ones I wore - the shoes could wait. I did not understand anything.
After she was done, I looked at the price-tag: $123.00 plus tax. Was this expensive? It was, for me! She looked me over and asked if I had a check-book? I was not prepared. She said in a very calm voice: Just send the check with Molly when you return to campus.
That morning in that Macy's, holding a down-filled jacket that would protect me from the horrific Midwestern winters over the next few years - was my Thanksgiving Day. She sent me back to campus with two kinds of cookies and my down-filled floor-length maroon winter coat. I was going to be OK. Someone had cared enough to make sure I was.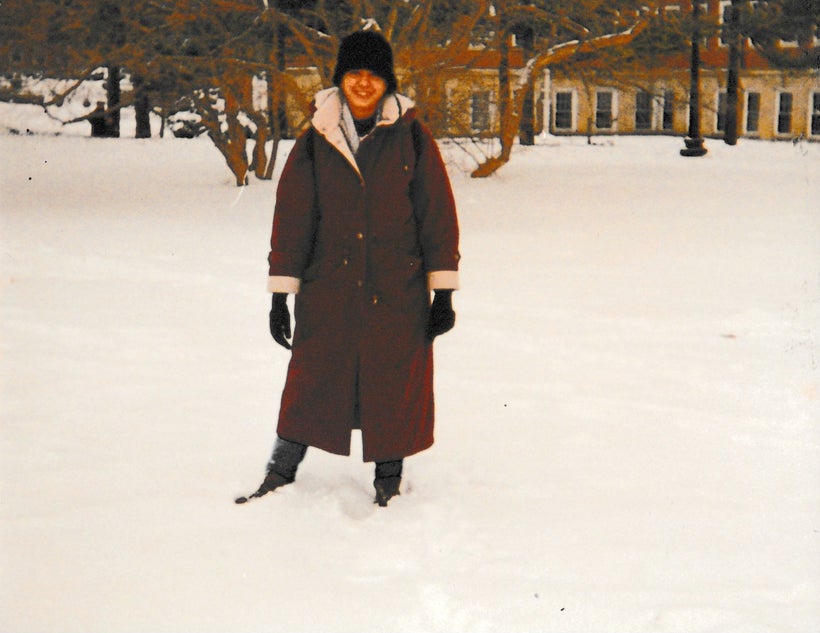 #Thanksgiving # family #winter #coat #student #UIUC
This post was published on the now-closed HuffPost Contributor platform. Contributors control their own work and posted freely to our site. If you need to flag this entry as abusive,
send us an email
.