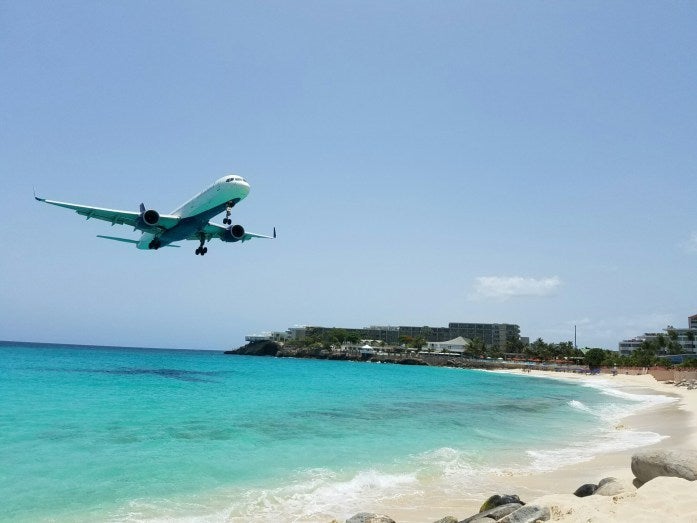 St. Maarten is one of the most interesting islands in the entire world. While each and every island is unique and special in its own way, St. Maarten stands out in ways that others cannot.

I had been wanting to visit St. Maarten for years (about 4 to be exact), and finally took my trip! The island not only met my expectations, but it exceeded them.
I had heard of many others visiting this island and family visiting more than once. Now, I see why.
Before I share all the adventures and exploring I did in St. Maarten, let me start out by sharing with you 7 interesting facts about the island. These might entice you to take a trip as well:
1. The Famous Airport & Maho Beach
If you haven't seen photos or videos of the Princess Julianna Airport, then you are missing out! It is one experience to view them online and a whole other to be there in person.


Daily, flights take off and touch down over Maho Beach, where the runway is a few yards behind. The Sunset Bar is the place to go to grab a seat, or a drink, and watch the planes. There is a list of daily arrivals that you can view on the surfboard. If you are up for it, get close to the middle of the beach so you can feel the wave of the plane! When they take off, be careful as you may get sandblasted.
2. Invisible International Border

One of the most attractive facts about St. Maarten is indeed that it is half French and half Dutch owned. Christopher Colombus actually set foot on it while back and then it was fought over.

The Dutch side is now the southern part of the island, and the French is the north. You can drive and cross the invisible border without any border control. Go back and forth as much as you like.

While the island uses the Euro on the French side and the Netherlands Guilder on the French side, you don't need to have that currency on hand. The U.S. dollar is accepted everywhere. Credit cards are taken commonly, but many restaurants still take only cash so do bring that.
St Maarten, by some chance, does not get mentioned as much as it should for its diving. Going there to scuba dive is amazing though. There are plenty of reefs and about a dozen wrecks. Some wrecks are broken up into multiple mini wrecks while others are big enough to enter. Dive shops attempt to visit a wreck site daily. You will see more when I post about my trips with Dive Adventures.

When you go to St. Maarten, you can actually visit two other islands as well. This is commonly done by many travelers, as it is so easy and much cheaper than flights. From St. Maarten, you can ferry over to the islands of Anguilla (U.K.) and St. Barts (France). The trip will cost you less than $100 round trip, while flights go for much more than that. If you can, get the ferry from Marigot to Anguilla for $40 roundtrip plus taxes (I believe they were $15). From Philipsburg, the ferry to St. Barts will cosat you $80 roundtrip, taxes already included in the price.

St. Maarten also has delicious guavaberry rum. Even if you do not enjoy cocktails, try one on the beach as they are tasty and not that sweet! You can also go guavaberry rum tasting at the Guavaberry Emporium in Philipsburg.
7. Medical School


If you are looking to become a doctor, you can attend the The American University of the Caribbean School of Medicine in St. Maarten! I stayed very close by it in Cupecoy Bay and met many people who were students, or significant others of the medical students. They love it and to be able to be in paradise while going to medical school - why not?
Have you been to St. Maarten?
Follow Angelica Troeder's blog at The Paradise Blogger for beach and island adventures. She is the sole author of "How to Afford to Travel to Paradise" . In her spare time, she enjoys scuba diving, hiking, and tasting new foods. You can find her on Snapchat or Tweet her @ParadiseBlogger.
This post was published on the now-closed HuffPost Contributor platform. Contributors control their own work and posted freely to our site. If you need to flag this entry as abusive,
send us an email
.