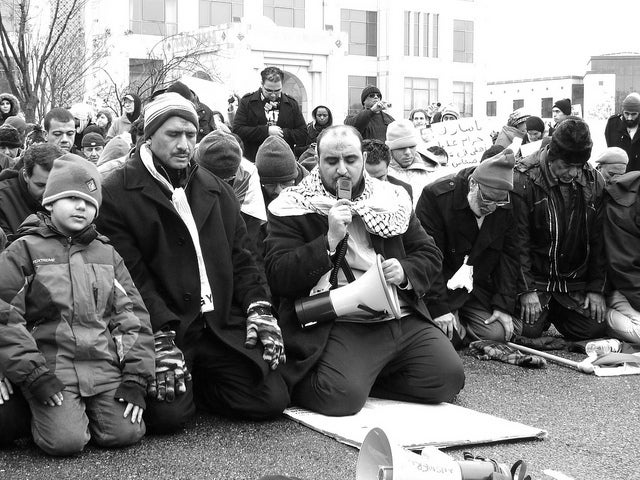 It is 40 degrees on a sunny, windy March afternoon. Crisp air competes with the sun's rays against my face, and I hop around the piles of snow to cross the street. I climb up the steps of an apartment building and take off my shoes before I enter the prayer space. I feel my toes go ice-cold as they curl into the flimsy red carpet — attempting to insulate as much heat as my thin, black socks can capture. The heat hasn't been on for a while. Everyone sits uncomfortably with their jackets tightly fastened. The other women and I sit in silence, listening to the Friday prayer sermon next door from an intercom. An older woman sits near me with her feet pressed against a small space heater. I continue to shiver.
As I look around, I notice that we sit surrounded by random, mismatched objects. An out-of-use printer sits on top of a pool table. A plastic, white tablecloth ripped at its edges conceals a cluttered, beige metal desk. A five-foot metal fan stands in a corner near the window. A three-shelf, mahogany-colored bookcase leans against a white wall. It holds Qurans, paper folders, a cardboard box, a clipboard, a yellow and green plastic toy boat and two bottles of Elmer's glue.
This is what worship looks like for Muslims in Bayonne, N.J.
This past March brought the sad news that the Bayonne Zoning Board refused to approve the building of an Islamic community center and mosque. To make matters worse, we can no longer use the space we had been using because our community has grown.
We had to resort to the apartment-turned prayer rooms. Our plight is especially hard now as we approach the holy month of Ramadan on Saturday. Ramadan is a time for us to reconnect with God, but we have no space that is fitting for that kind of worship.
"I remember our first Jummah (Friday prayer service) there were maybe 30 people," said Waheed Akbar, one of the Muslim leaders in Bayonne who has been in the frontlines of this issue. "But now we have two [prayer services] with about 130 people each."
Akbar emigrated from Pakistan at age 10 to Jersey City, N.J. His parents immigrated to America seeking opportunities for a better life. Since Jersey City's Muslim population is quite large, Akbar grew up active in his Muslim community.
He was the Jersey City chapter coordinator for Young Muslims, a grassroots organization that fosters a safe environment for high school and university Muslim students to question and learn about their faith.
Akbar moved to Bayonne in 2003 and made it his mission to establish a proper place where Muslims can gather and practice their faith.
It began with a 1,500-square-foot basement of a church in 2006. But as more Muslims attended, the community overgrew the space. Sometimes the basement got so full, we had to pray in the parking lot.
We tried to find a new space with the permission of the zoning board, but the board denied our bid. Their reason? Traffic congestions and zoning concerns. The real reason? Bigotry.
During one of the zoning board meetings, opponents of the mosque held and waved signs that said, "IF THE MOSQUE COMES THE MAYOR [GOES]," written in blue and red text on white poster boards. Since then, The New York Times reported the Department of Justice is looking at discrimination as the reason for the zoning board's decision. I called the DOJ and was told that if the case isn't on the Department's website, then the investigation hasn't begun. The DOJ website makes no mention of the case. Given that Jeff Sessions now heads the DOJ, I am concerned about whether the Department will pursue the investigation.
The board members and those who opposed the mosque may not have known it, but their actions led to my and the rest of the Muslim community's deprivation of a place to practice our religion in the city I call home. Akbar and I can't help but feel deep spiritual homelessness.
"We're scattered," Akbar. "Not having a place to congregate gives me a homeless feeling."
This past Saturday marked the start of the holiest month in the Islamic calendar— Ramadan, in which we fast from sunrise to sunset, attend mosque, pray, recite the Quran and get involved in charity work.
For me, it is a special month because it is a time when I renew my spiritual connection with God. And while one may wonder why can't I do that at any time during the year, I tell you that as a Muslim, I believe Ramadan is a highly spiritual month because it is a month of soul-cleansing and relationship-building with God. In turn, while the mosque is the heart of a Muslim community any day of the year, it becomes increasingly vital during Ramadan.
"The mosque has always been a central part of communal life for Muslims," said Hina Sanaullah, a 24-year-old Muslim activist and Bayonne resident. "It also is a center for education, refuge for the needy, an outlet for community services and activism, a space for building bridges among people and a source of peace."
But right now, the Muslim community in Bayonne is not at peace. We see the denial of a holy place for us by the city's zoning board as another example of Islamaphobia.
"I feel very dejected," said Dina Sayedahmed, a Bayonne Muslim resident. Sayedahmed, 22, wears hijab, a headscarf she chooses to wear. Because she is a visibly Muslim woman, she is subject to Islamophobic comments nearly on the daily. She told me she gets comments like "go back to your country" and "rag-head or "towel-head" from strangers.
"But it was always easy to brush [them] off, because [they] didn't really affect me too much. But now with the mosque issue, it affects me directly, and it affects my community," she said. "That's where it gets very personal, and that's when you start to feel like you're really not wanted here."
Aya Elamroussi is a spring communications intern.