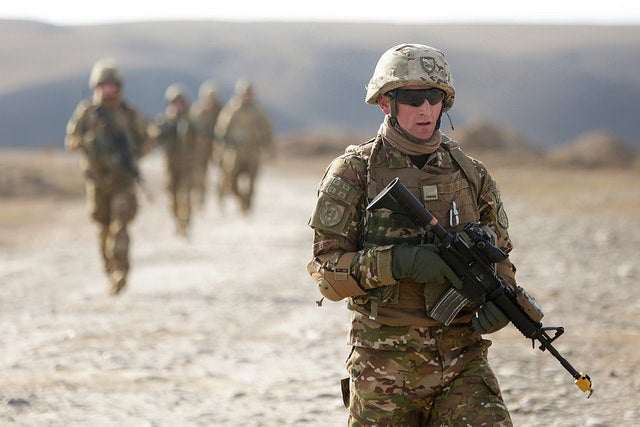 Today marks the 16th anniversary of the September 11 terrorist attacks on our country.
Those dastardly attacks killed 2,977 innocent men, women and children, including 55 military personnel who died at the Pentagon when American Airlines Flight 77 slammed into the building during the attacks.
In response to those attacks, our nation embarked upon what most likely will be the longest, most difficult and perhaps never-ending military campaign: the "Global War on Terrorism," GWOT.
Called by different names – initially the "Overseas Contingency Operations" -- and consisting of several "Wars" and "Operations," the resulting military campaigns to combat terrorism world-wide have claimed nearly 7,000 additional lives and more than 52,000 wounded from among the more than 2.5 million Americans estimated to have been deployed in support those Wars and Operations.
Americans have always been bighearted and scrupulous about honoring and memorializing those who have sacrificed so much.
The nation has thousands of statuary, monuments and memorials honoring those who have fought and died in all our wars and battles, from the War of Independence to the Iraq and Afghanistan Wars. There are additional memorials and tributes honoring those who perished on September 11 and who continue to die in the GWOT.
The Pentagon Memorial (below) honors the 184 people who died in the building and on American Airlines Flight 77 during the September 11 attacks.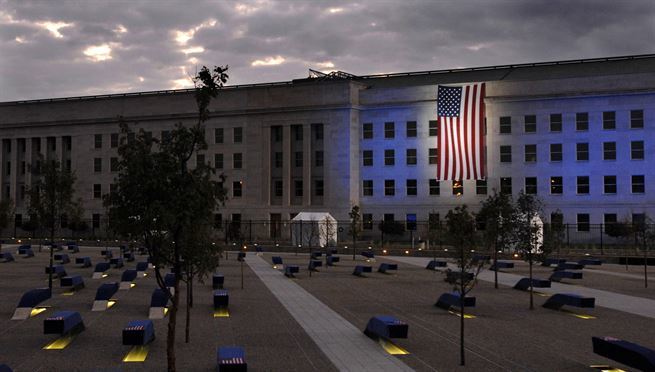 But, at times, we have been slow in establishing a "national war memorial" in our nation's capital. That is, a memorial meeting the strict interpretation of what a "national" monument is or should be: a monument "commonly accepted as the nation's memorial for all its citizens who died in a particular war," and a project that takes an act of Congress to authorize and implement.
It was nearly 60 years after the end of World War II before the National World War II Memorial was dedicated on the National Mall.
In January 2016 26, the Centennial Commission announced it had selected the design concept "The Weight of Sacrifice," below, for the National WWI Memorial at Pershing Park. It is expected that the Memorial will be opened to the public by Nov. 11, 2018, the centennial of the Armistice.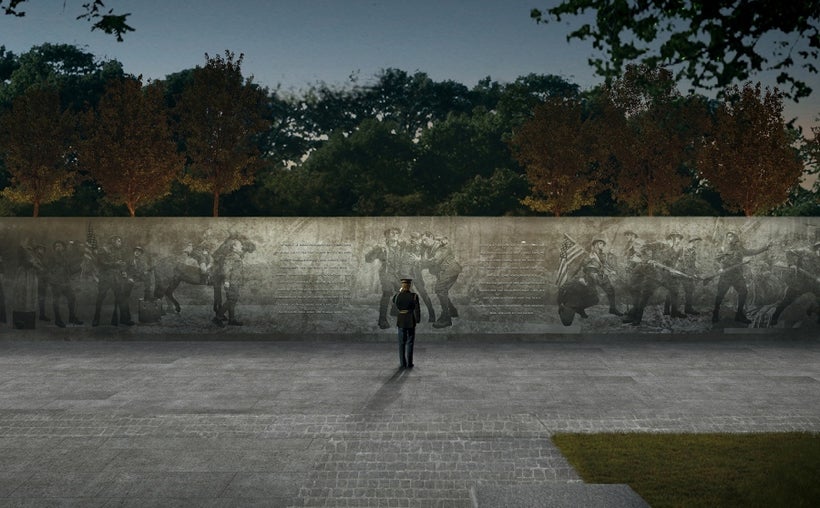 Which brings us back to the Global War on Terrorism.
As mentioned before, there is no "national" memorial honoring those who have given their lives in those wars and operations.
The 1986 Commemorative Works Act requires Congress to wait 10 years after the official end of a military conflict before considering a memorial in the nation's capital.
That means it will be the year 2020 before a memorial can be considered for the 4,486 U.S. soldiers who died in the Iraq War, "Operation Iraqi Freedom," or the year 2024 before Americans can honor the 2,345 U.S. soldiers who died in "Operation Enduring Freedom," the "original" Afghanistan War — even longer when one considers "Operation Freedom's Sentinel" the continuation of that never-ending war in which our troops continue to make the ultimate sacrifice.
But how about the Global War on Terrorism, including its major and newest element, Operation Inherent Resolve, a war that on this grim anniversary has already lasted for 16 years.
A war for which President George W. Bush in 2003 approved the Global War on Terrorism Service Medal (below) to recognize those military service members who have supported operations to counter terrorism in the GWOT. The period of eligibility says it all: From 11 September 2001, "to a date yet to be determined."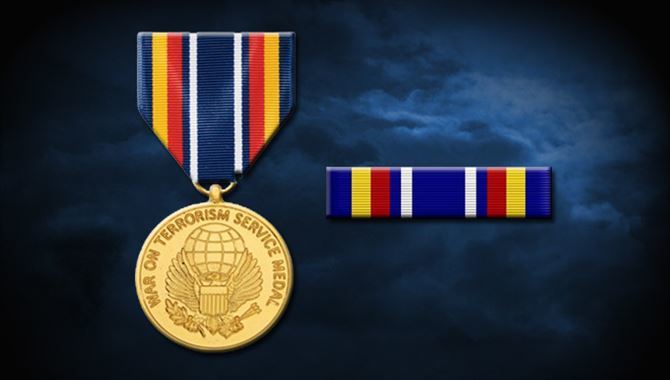 A war which "unlike any war preceding it…has no V Day or VJ Day…[a war where]there's still no end in sight." *
Many have, for years, fought to persuade Congress to grant a waiver to the 10 year "waiting period."
One of them, Andrew Brennan, a former Army Captain who flew Black Hawks in the Afghanistan war, has been fighting for several years to have Congress authorize a national Memorial for his fallen GWOT brethren.
Brennan created the nonprofit Global War on Terror Memorial Foundation to get legislative support, hold a national design competition for the memorial and to raise the millions it will take to build the memorial.
Brennan received backing from veterans organizations, retired four-star Army generals David Petraeus and George Casey and, more recently, bi-partisan support in the House and Senate and also support from the Trump administration.
The president signed the bill at Camp David on August 18.
In a statement, Brennan said:
Today's historic signing is dedicated to our 3 million brothers and sisters who have deployed in the Global War on Terror, especially to the ones we have lost, and those who face great obstacles since their return home…We're looking forward to building a sacred place of healing and remembrance for our veterans and their families and want to thank our partners and advocated who worked tirelessly on Capitol Hill to pass this bipartisan legislation.
The Stars and Stripes expects the project to be completed in 2024. The memorial will include six themes: endurance, sacrifice, all-volunteer, global, multicultural and unfinished.
"The 'unfinished' theme not only will embody the ongoing war around the globe, but also the continued personal conflicts our veterans wage here at home," says George Chewning, the legislative director of the Global War on Terror Memorial Foundation.
To donate or to learn more about the Global War on Terror Memorial Foundation, please visit www.gwotmf.org.
* Bill sponsor U.S. Rep. Mike Gallagher, R-Wis. -- a Marine Corps officer who served in Iraq -- during a hearing of the House Natural Committee on Natural Resources.
This post was published on the now-closed HuffPost Contributor platform. Contributors control their own work and posted freely to our site. If you need to flag this entry as abusive,
send us an email
.