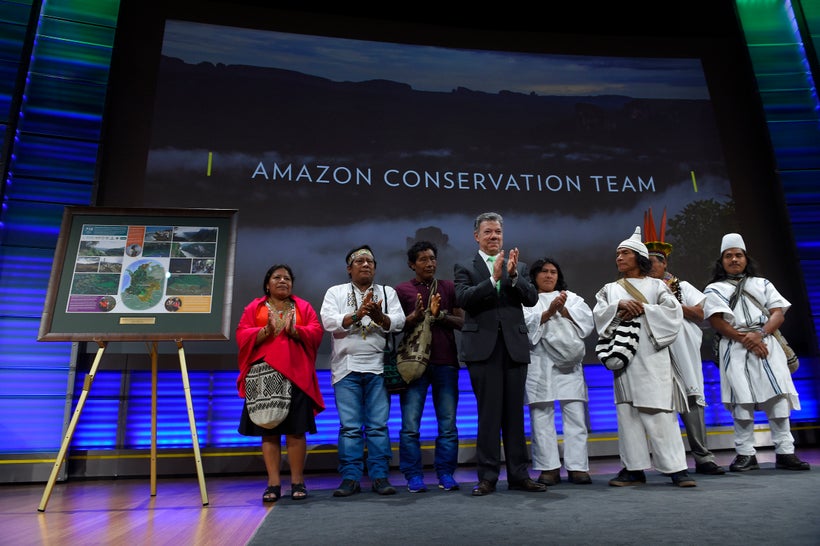 Environmentalism seems to be in retreat around the world. President Trump has withdrawn the U.S. from the Paris Agreement on climate change. Brazil has made huge cuts in their environmental protection budget, and Amazonian deforestation – once greatly reduced – has mushroomed again. In Indonesia, the government presses ahead with infrastructure development in Borneo, one of the most biodiverse islands in the world.
The Kogi Indians of Colombia, partners of my organization, say that Mother Nature is crying out for our help. Poor environmental stewardship eventually incurs great costs, and those bills are rapidly coming due: we are experiencing some of the most bizarre and destructive weather ever recorded. Wildfires have raged in California, Oregon, Washington, British Columbia, Alberta, Nova Scotia, Algeria, Tunisia, Portugal and Greenland. This summer, a triple-digit heatwave fried Los Angeles, while scorching weather engulfed Europe from France and Spain in the west to Bosnia, Croatia and Serbia in the east. Record monsoons have drenched Bangladesh, India, Nepal and Pakistan. Meanwhile, Hurricane Irma – the most powerful storm in US history—socked Florida, mere weeks after Texas was pummeled by the extremely destructive Hurricane Harvey. And just last week, Hurricane Maria ravaged the archipelago of Puerto Rico—a cyclone the strength of which its residents had not seen since 1928—leaving 3.5 million Americans without water, food, electricity or any means of communication.
Against this calamitous backdrop, some consolation can be found in large-scale "help" for Nature. Specifically, in the western hemisphere, one country has decided to take decisive action, fighting climate change, granting some long overdue land rights to indigenous peoples and protecting ecosystems from snow-capped mountain peaks to verdant rainforests to offshore coral reefs. That country is Colombia.
Colombia is one of the most biodiverse countries in the world. Within its territory are three branches of the Andes, the 15,000-foot Sierra Nevada, coasts on both the Pacific and the Atlantic/Caribbean, extensive grasslands (the llanos), and two distinct rainforests, the Amazon and the Choco. Formal conservation efforts were initiated in the country as early as 1948, long before many formal Latin American governments had designated such areas off-limits to extractive industries. Even through periods of unrest and outright civil war, Colombia has tried to protecting her natural heritage.
Few regard Colombian President Juan Manuel Santos as a bleeding heart: before assuming the Presidency, he served as Minister of Defense during some of the fiercest fighting that marked the civil war. It was in that capacity, however, that he visited many of the remote corners of the country, seldom seen by most urban-dwelling Colombians. There he witnessed the true natural beauty of his native land, and how dependent the most economically disadvantaged Colombians were on clean water, abundant fish and game, and plants for medicines, food and shelter.
Santos and his team have greatly expanded the reach and scope of environmental protection, establishing not only new national parks, but also new categories of protected areas to better safeguard both sacred sites and indigenous societies, including some of the last uncontacted tribes of the Amazon rainforest. On September 21, 2017, the National Geographic Society, the Amazon Conservation Team and seven indigenous leaders recognized President Santos in Washington, DC for his leadership in conservation. Gary E. Knell, president of National Geographic praised Santos as "a bold leader with transformative ideas and a fearless trailblazer who champions policies that will help achieve a planet in balance—and help change the world."
In August 2017, at the request of resident Uitoto communities, the Colombian government expanded the scope of two indigenous reserves in the Amazon – Monochoa and Puerto Sábalo – spearheaded by the national parks department and with the legal and cartographic assistance of the Amazon Conservation Team. The result was another three million acres of Amazonian rainforest brought under protection. This action joined the indigenous lands to Chiribiquete National Park, home to many undocumented plant and animal species, tens of thousands of Pre-Columbian drawings, and as many as three uncontacted tribes. To the south, the expansion joined these areas with the Predio Putumayo, Colombia's largest reserve. The result is a continuous conservation landscape as important anywhere in the world, the size of Virginia.
As Colombia ascends to regional and global environmental leadership, it needs the support of international communities to sustain this momentum in one of the last bastions against deforestation in the world's largest rainforest. President Santos' conservation legacy is secure—how many other politicians, near and far, may avoid history's ash heap of ignominy by following his heroic lead?
This post was published on the now-closed HuffPost Contributor platform. Contributors control their own work and posted freely to our site. If you need to flag this entry as abusive,
send us an email
.